Description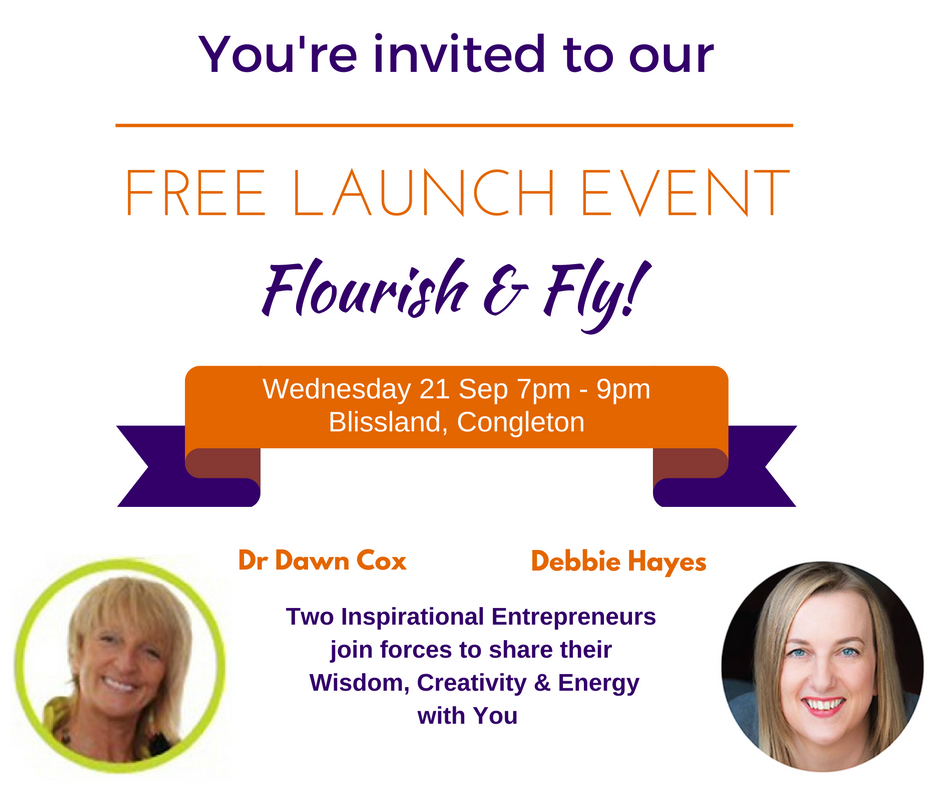 Debbie Hayes and Dr Dawn Gibbins-Cox wish to invite you to this FREE Event as they launch Flourish & Fly!
For generations like minded people have gathered together to share wisdom, form lasting friendships and a build a sense of community.
Both Debbie and Dawn share a real passion for empowering men and women to be truly successful not just in business but to also seek happy and fulfilling lives for them and their families. They have decided to join forces to share their wisdom, creativity and energy with you.
Flourish & Fly evenings will take once a month. At the launch event you will learn about the plans for the year and experience a taster of things to come.
Don't miss out on this fabulous opportunity
Investment: FREE!
Guaranteed: To be inspirational, fun and empowering!
Limited Places Available: Just 30 places available - registration essential
Venue: Dr Dawn Gibbins-Cox MBE's Stunning and Peaceful Retreat, Blissland, Congleton Edge Road, Congleton
Date: Wednesday 21st September 2016,
Time: Registration and mingling from 7.00pm, for a prompt 7.30pm start - 9.00pm (ish - time flies when you're having fun!)
More about your hosts:
Debbie Hayes
Pioneer in Organisational Transformation -Changing our working landscape to have Success without Sacrifice, Founder of Flourish Group Coaching Circles for Women in Business and soon to be published author. A.K.A. Mrs Motivator and Goddess of Clarity!
Dr Dawn Gibbins-Cox MBE MBA Awarded Pioneer of the Life of our Nation by HRH The Queen for her role in Transforming British Manufacturing and Construction Industry, Secret Millionaire, Teacher Author, Public Speaker and co-founder of a business that transforms lives through creating Healthy Happy Homes . Co- Creator of Blissland Holistic Events Centre
Any questions? Please don't hesitate to ask
Hope to see you there
Debbie and Dawn xxxxxx