Description
In this Live Training you will discover how to EARN MORE, MOVE UP in your career and invest for DOUBLE and TRIPPLE DIGIT returns. BUILD powerful teams to SUPPORT you and help you GET THERE FASTER. Only few seats left, HURRY and sign up!
FREE lunch and

refreshments will be provided. Stay behind to network and get some extra tips and techniques!

From humble and tough beginnings to multimillion business success – Lilia Severina will reveal the strategies she uses every day and made her double and triple her income and show you how to become a consistently profitable powerful woman.

You may be thinking you need a drastic change in your life and that financial freedom could be the solution. From my personal experience, it is not just about making more money, although it is often inseparable from success. Mastering Winners' Psychology, Business, Leadership and Wealth Creation strategies are the 3 streams that didn't just help me build my fortune, but made me be the very best that I can be in business and in life. It is about being heard, being reckoned with, having the power to influence and make a difference in your business, your life, your family's life and the lives of future generations.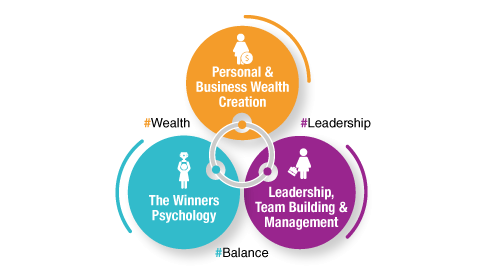 To become a powerful woman in business and in life you must master all these 3 areas and tie all them together. By doing so, you will create more balance in your life, and the Pyramid of Legendary Leadership is your map for closing the gap and creating the life you deserve.
You can have it all once you've learned the steps involved.
Who Should Attend?
Aspiring Female Leaders Middle Managers Senior Managers Female CEOs, Entrepreneurs, Business Owners and Board Members, or every woman that is:
Aspiring to success and build wealth in business?

Learn the strategies and the 3 wealth streams to gain confidence in the business arena, learn how to negotiate and get what you want, drive your team to achieve your results faster and create magnetic energy around your products and services.

Looking to excel your finance?

Discover how investing for passive income can give you the financial freedom to pursue your passion and create a unique contribution to the world. Capital growth can give you the security to make a giant leap forward in your career, business and personal life. When combined with passive income strategies this could be incredibly lucrative way to build wealth.

Want to move a step forward in your career? Learn how to get a powerful voice and gain the confidence to move up the career ladder and create more gender diversity in the upper levels of management. Don't stay in low level position for many years.
Can't find the balance?

Women wear many hats – mother, daughter, wife, career woman, leader and role model. Maximise your success when you play the right role at the right time with certainty and precision. Feel grounded and know what resources to tap into and how to do it.
What You'll Learn:
Personal & Business Wealth Creation:

Did you know that there are only 3 ways you can build wealth? Discover each one, see how they interlink and how you can start your journey to capture success and wealth while giving value to others.

Legendary Leadership, Team Building and Management:

Learn how to unite your team to drive to a single objective with power and commitment. Build and energize your vision and mission. Achieve your results faster and create magnetic energy around your products and services.

The Winner's Psychology: You will discover a proven model of how to create a balanced life leading to more business wins and success in your career and life. Become the most resilient, strong, positive and supportive person you've always wanted to be.
This is your chance to learn how to make a leap foward to business success and change your lifestyle for the better.
Places limited. Book your ticket now.