Get your week started with a motivational panel of 3 experienced entrepreneurs in an interactive webinar with people like you.
About this event
Our legendary Monday Motivation sessions began during the first lockdown in March 2020 as a way for our community to stay connected. To date, hundreds of food and drink founders have gathered from across the UK and the globe to hear from their esteemed peers.
Always free to attend and full of industry know how straight from the brand owners and industry experts who have been there and done it, our Monday Motivation sessions focus on a different issue faced by emerging food & drink founders every fortnight.
Find Out From Our Panel
How they acquired their first brand evangelists/ambassadors and where did they find them
What were the benefits of having a 'community'
How they keep their community excited and engaged
How important is it for retailers to see that you have an engaged community
If the founder or founders should set the tone for all marketing and social comms
How to make money from your community
Our Panelists
Philip Udeh, Founder, Füd
Philip founded Füd Vitamin Energy after struggling for many years with chronic fatigue due to Sickle Cell Anaemia (the UK's most common hereditary disorder). Disillusioned by high sugar and artificially sweetened energy drinks, he decided to create something better. Füd has literally gone from sofa to supermarket shelves, with a mission to provide the world with some "Feel güd energy".
Joe Hill, Co-founder, One Planet Pizza
Joe is the original plant-based pizza-pusher, and forms half of the father and son team behind One Planet Pizza, alongside his dad, Mike. Joe's been vegetarian since he was 10, vegan for around 6 years, and was recently listed on the Natural Foods 30 Under 30. Joe helps drive One Planet's marketing, branding and product innovation (fancy term for creating epic pizzas), helping to make the world a better (and more delicious) place through the power of pioneering plant-based pizzas.
Jacqueline Barleycorn, Founder, The Great British Porridge Co.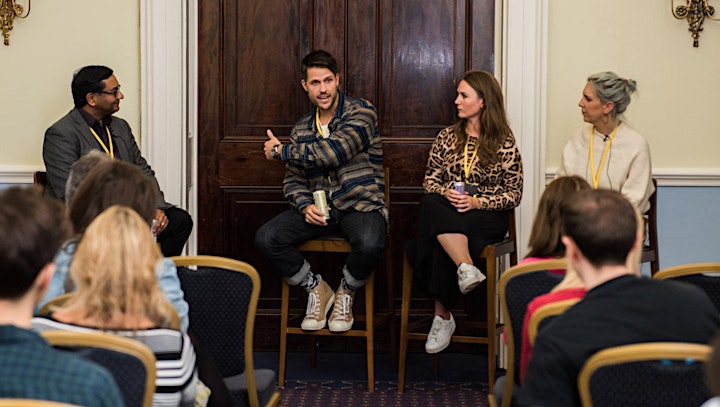 Bread & Jam
Bread & Jam are the organisers of the UK's biggest food and drink founders' festival. This year's virtual 3-day conference for emerging and scaling food and drink brands, will bring together entrepreneurs, innovators, investors, buyers, media and industry leaders.
There will also be opportunities to pitch your product to buyers from delis, foodhalls (Selfridges, Harrods, Fortnum & Masons), speciality retailers (Whole Foods, Planet Organic, Holland & Barrett), supermarkets (Ocado, Sainsbury's, Tesco, Co-op and Morrisons).
Bread & Jam also run a comprehensive programme of virtual workshops, bootcamps (Amazon, Shopify & Startups), 1-day summits (Plant-Based and D2C coming soon) and their popular free Fortnightly Monday Motivation Panels.