NLP Foundation Training - An Introduction to NLP Breakthrough Coaching. LIVE & ONLINE Forms the first 2 days of NLP Practitioner Training
About this event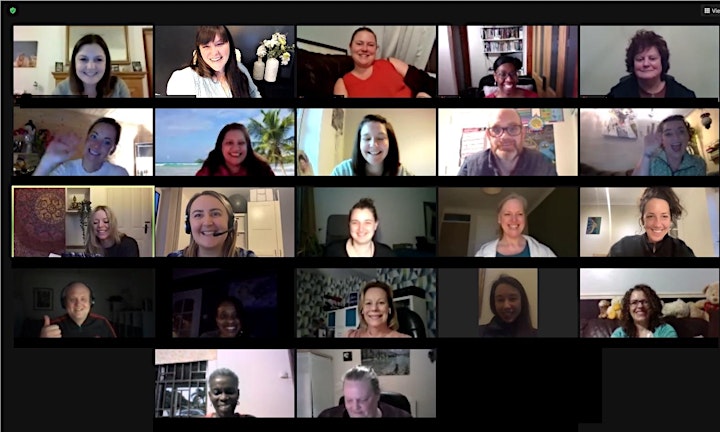 FREE NLP Foundation Training Online
(4 Evening Sessions, Live via Zoom)
Dates & Times:
The programme is 4 x consecutive weekly sessions.
Choose your start date from the "select a date" box.
Each session is Wednesday 6:30pm to 9pm
Live & Online via Zoom
With ABNLP NLP Trainer Nick Reed-Robbins & INLPTA NLP Master Trainer Jessica Reed-Robbins
Fore more information, see www.reedrobbins.co.uk
Click here if you'd prefer to attend our 2-day weekend version of this training.
What does this training give me?
The foundation training is the pre-requisite for all our practitioner trainings. It's the first two days of our official 7-day practitioner training. It's not a taster, it's the foundation for your internationally recognised qualification in NLP.
Click here for next available training dates:
Welcome To NLP!
Fasten Your Seat belt...
Life is About To Get VERY Exciting...
Neuro Linguistic Programming (NLP) is a fascinating performance psychology used by athletes, business owners, leaders, transformational coaches, parents and teachers to get the best out of themselves and others. That might be through coaching, the language they use, the approaches they take or the tools and techniques of NLP they use in their own lives.
During this four evening foundation training in NLP you will learn how to communicate and influence in a deeper and more effective way than ever before. You will also learn how to achieve your wildest dreams. You will set your outcome and then find and overcome the self limiting beliefs standing in the way.
Once you have completed the foundation training you will be eligible to complete the practitioner training, requiring a further 5 days of study. (Currently online)
Successful completion of the practitioner training gives you an internationally recognised qualification in NLP as an ABNLP Certified NLP Practitioner and you can begin coaching people with NLP as a professional NLP coach if you wish or just add the powerful tools of NLP to the toolkit you use in your existing career.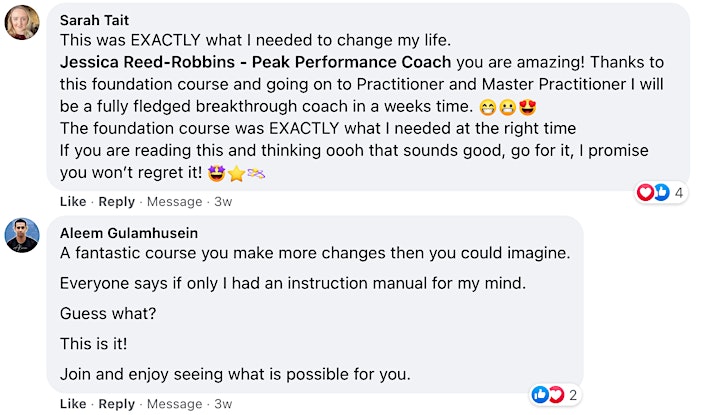 What Exactly Will You Learn On The Course?
Introduction to NLP:
What is NLP and where is it used?
Your goals and objectives
What can you achieve with NLP?
Where can you use it?
Coaching Skills:
What is a coaching culture?
The GROW model of coaching
NLP + coaching skills = mind blowing transformation
Key coaching skills in NLP
Influencing Skills:
Reading non-verbal communication
Understanding your level of influence
Relationships:
Building rapport rapidly with anyone
Mending poor relationships
The coaching relationships
Unconditional Positive Regard and The Care Bear Stare!
Vision And Leadership:
Setting outcomes using your brain's in-built goal achieving assistant
Goals vs Outcomes
Your RAS - the mechanism which determines what you focus on
Programming your outcomes into your natural SAT NAV goal achieving mechanism
The Secrets of Achieving The Impossible:
Global success principles for every day use
NLP Communication Model - how your brain works.
Understanding people's behaviours and their drivers
Overcoming The Obstacles To Success:
How to be resilient
The reality illusion - our perceptual filters
The law of confirmation bias and the self fulfilling prophecy
Finding, challening and overcoming limiting beliefs
Your Action Plan:
Reflection on what you've learned
What will you do next
Applying what you've learned to your life, career and future.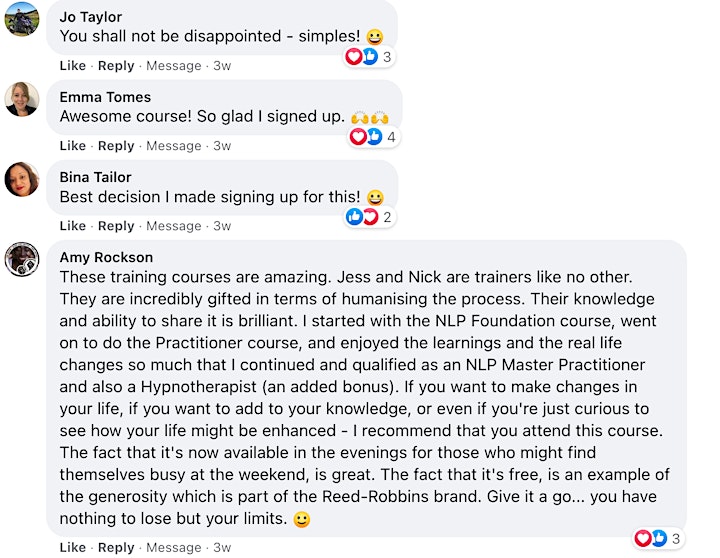 What Are The Benefits?
Learning the foundations of NLP will help you transform the way you think, feel and behave. You will realise how much control over your life you have now and learn how to influence other people in a positive and empowering way.
You'll be more confident, aiming higher and feeling more motivated and optimistic than before and looking forward to using your skills to create more positive experiences in the future.
You will find It easier to understand where people are coming from and communicate with them. You'll have a new perspective on your family, friends, boss, colleagues, team members etc. and a new approach to getting the most out of them.
You'll be excited to start improving your relationships, improving your own personal success and looking forward to practicing all your new skills at home with friends and family or at work with your colleagues or as a coach, with your clients.
Once you have completed the foundation you're ready to complete the NLP Practitioner training, which just requires an additional five days training. When complete, you will receive a qualification as a certified ABNLP NLP Practitioner.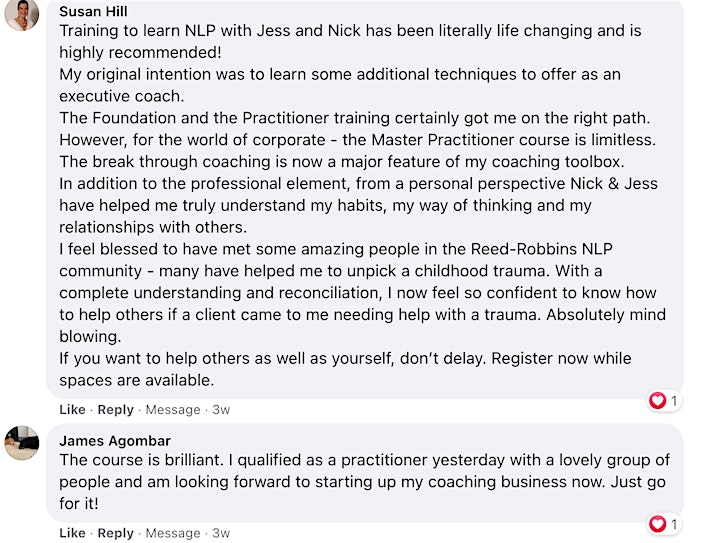 Who Is This Training For?
Anyone can benefit from the training, from coaches, leaders, managers, consultants, sales people, teachers, athletes or just someone who wants to evolve and be the best version of themselves.
If you're keen to achieve big dreams but get frustrated because of the number of hurdles that seem to get in the way, this training will help you find and eliminate those hurdles.
Ultimately, If you're keen to learn more about yourself and what really makes people think, feel and behave the way they do AND learn tools and techniques to change these aspects, then this training is for you.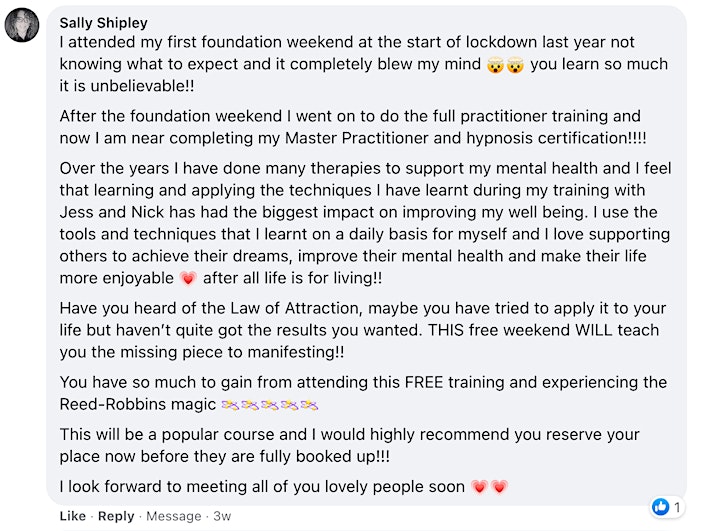 Errrrr...... What is Neuro-Linguistic Programming Exactly?
NLP is a performance psychology designed to facilitate change rapidly and effortlessly. There are several parts to NLP which make it an incredibly fascinating and complete methodology.
There is the neuroscience aspect; the science that helps us understand how our brains work and ultimately why we get the results we're getting in life. This literally feels like it's the instruction manual for your mind! A really useful users guide to help you get the best out of it.
Then there are the Linguistic elements; how we communicate with ourselves and others and how we can use this to help influence our thoughts, feelings and behaviours and those of others.
With the programming aspect, this gives us the tools and techniques to be able to change any aspect of our subconscious patterns and behaviours. Most of what we do during the day is based on our subconscious programming, so when you're conscious mind is busy, your subconscious is running the show… with the tools of NLP you can quickly and effortlessly transform the things you think, feel and do to get better results in life.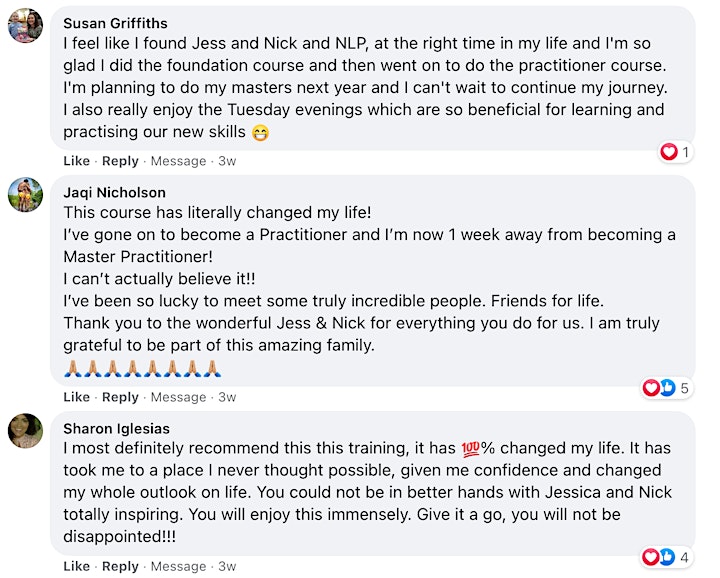 Next Steps...
The Practitioner Training
Once you've completed the basic training, you're ready to move onto the NLP Practitioner Training, if that's what you'd like to do.
There's no obligation to continue of course, but we'd love for you to keep learning if you want to.
This is a further five days of training online or face to face, which would give you an internationally recognised qualification in NLP. The training allows you to start a coaching practice if that's something you want to do, or you may want to just use NLP in your own life and that's fine too!
Upcoming Dates are:
PRACTITIONER TRAINING ONLINE:
After you have completed one of our foundation courses, you can register for one of our practitioner trainings which continues the journey from day 3 to 7, ending in a graduation to full NLP Practitioner status.
Practitioner dates (once you've completed your foundation training are as follows)
See our website for available courses: HERE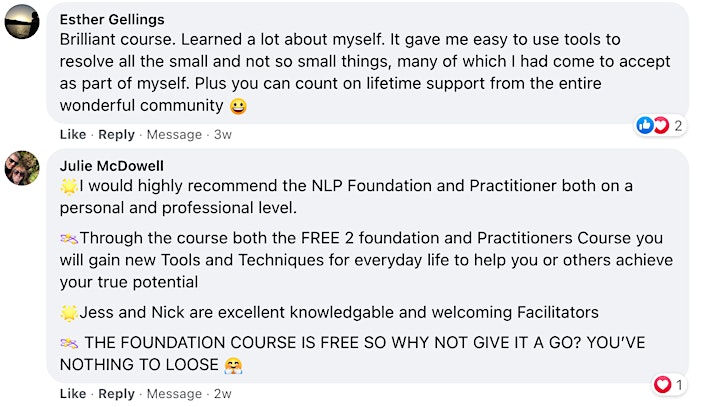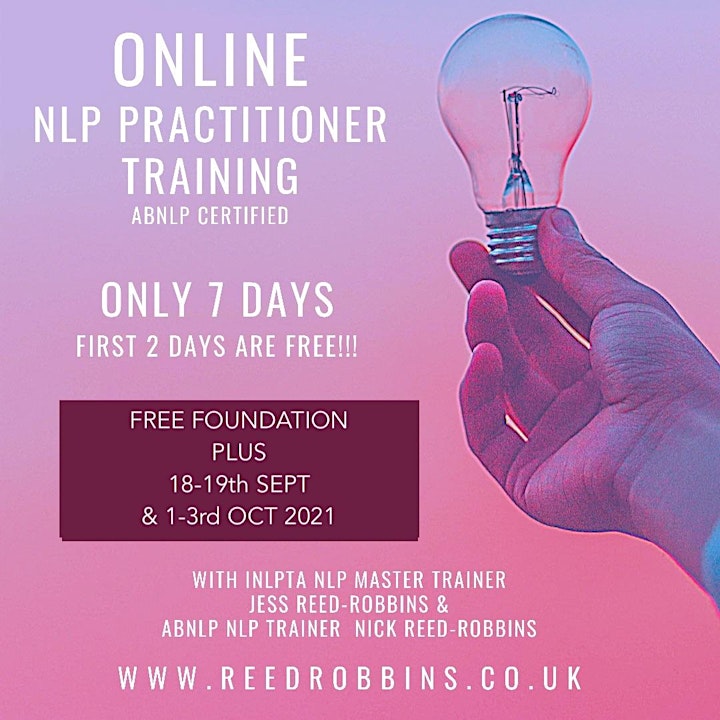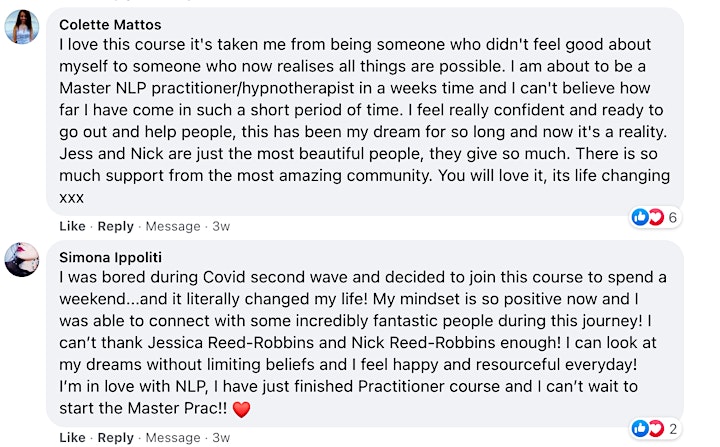 In The Meantime Why Not Try...
a FREE 45 Minute Coaching Session
If you would like to experience the power of NLP before or after the training, feel free to register for a free 45 minute coaching session with either Jess or Nick.
You can talk to us about anything you want to achieve or a problem you'd like to overcome. It doesn't have to be related to the current crisis.
A 45 minute coaching session will allow you to experience the power of NLP first hand. There is no obligation to have any further sessions or sign up to anything after the session. If you liked it, great! We hope you come back or tell your friends. But if it was just a one time thing, we cool!
We currently run free sessions every Thursday, so book your session at your convenience online HERE:
30 x Free NLP & Empowerment Webinars
"Time To Thrive"
Throughout 2020 and early 2021, we held free weekly webinars on every subject from resilience to relationships to help people find positivity, hope and inspiration throughout lockdown. We have made those recordings available to you so you now have access to 30 recorded webinars, each 90 minutes or so in length.
Feel free to have a look through and listen to anything that takes your fancy!

Organizer of FREE NLP Foundation Training online- "Intro to NLP Breakthrough Coaching"
In 2004, Jessica discovered Performance Psychology and NLP (Neuro Linguistic Programming) and used these powerful tools to transform herself and her life and begin a journey towards achieving every dream she had.
After achieving a Masters Degree in Mathematics with honours, at UCL and working at JPMorgan for 4 years, Jess left to follow her passion for coaching. Jessica now coaches and trains business professionals and individuals from around the world.
Jessica sets many playful and exciting goals for herself, and has already achieved many of them, such as becoming a publishing her first book, presenting her own TV show on BBC3, and working with Olympic athletes. She launched her own brand of personal development called Super Power SchoolTM and has built a successful corporate business with a great reputation for transforming organisations and their people. Jessica also created the ultimate Leadership & Development Training programme called "Evolving The Tribe" designed to give leaders the tools to create an emotionally evolved and financially successful organisation.
Jessica has trained under the expertise of Dr.Wyatt Woodsmall, one of the very first and most renowned NLP Trainers in the world. He awarded her INLPTA Master Trainer status in 2017. 
Jessica recruited and developed her own elite team of trainers and coaches who deliver Reed-Robbins Performance Solutions to individuals and organisations all over the world, including:
Virgin Media, Eau Palm Beach Resort & Spa, Citi, EverythingEverywhere, TalkTalk, Vodafone, TNT Logistics, Travis Perkins Group, Wickes, B&Q, British Gas, Urban Outfitters, Unibet, Specsavers and many more.
As a breakthrough coach, Jessica specialises in several areas: Achieving the impossible with less effort, managing and leading, conscious parenting, relationships, fertility and health & healing.
The training programmes she designs, are aimed at transforming people from the inside so that its not just new skills people are taking away, but new beliefs, values, behaviours and an improved sense of identity.
Jessica is available for speaking engagements, breakthrough coaching, team events such as fire-walking and board-breaking and leadership & management development training and of course NLP Practitioner & Master Practitioner Certification Trainings. 
To contact Jessica Reed-Robbins
Call: 0800 083 8013
Email: jess@reedrobbins.co.uk
www.reedrobbins.co.uk