Free Online Salsa & Bachata Courses
About this event
To claim your FREE 20% OFF - ONLINE COURSE COUPON simply signup here and we will email you a coupon code which can be redeemed within 2 weeks.
Online courses available for you ANYTIME. Access and learn at your own convenience.
Learning Salsa & Bachata Online has never been easier
Imagine You Could…
Follow a progressive curriculum that would quickly transform your dancing
Understand the building blocks of dance and how it all connects
Access the ultimate vault of quality dance knowledge whenever you need it
Say goodbye to anxiety and hello to dance floor confidence
Learn at your own pace and convenience at times that suit you
Know secrets, hacks, tricks & tips of the best dancers in the world
Well, now you can!
With our brand new online courses, you get one of the most complete and comprehensive training packages ever put online. We'll give you the guidance to truly understand dance, so you can relax and have more fun learning by yourself and/or with your partner. See instant improvement and build confidence super fast.
Whether you are starting from scratch or wish to join our Teacher Training Course - we have something for you here
Using Incognito's unique Core Technique Methodology you will save money, save time, and transform your dancing in the quickest way possible.
All the courses have FREE previews of the classes.
To claim your FREE 20% OFF - ONLINE COURSE COUPON simply signup here and we will email you a coupon code which can be redeemed within 2 weeks.
Current available courses
Ladies Salsa Vol 1 - 1hr 47m
Ladies Salsa Vol 2 - 1hr 52m
Ladies Salsa Vol 3 - 2hr 27m
Ladies Bachata Vol 1 - 2hr 10m
Ladies Bachata Vol 2 - 2hr 42m
Ladies Bachata Vol 3 - 2hr 40m
Salsa Partnerwork Vol 1 - 2hr 20m
Salsa Partnerwork Vol 2 - 3hr 39m
Salsa Partnerwork Vol 3 - 4hr 15m
Salsa Partnerwork Vol 4 - 2hr 41m
Bachata Partnerwork Vol 1 - 4hr 32m
Bachata Partnerwork Vol 2 - 6hr 1m
Bachata Partnerwork Vol 3 - 4hr 20m
Bachata Partnerwork Vol 4 - 2hr 51m
Body Isolation and Body Rolls - 50m
Stretching For Dancers -2hr 30min
and more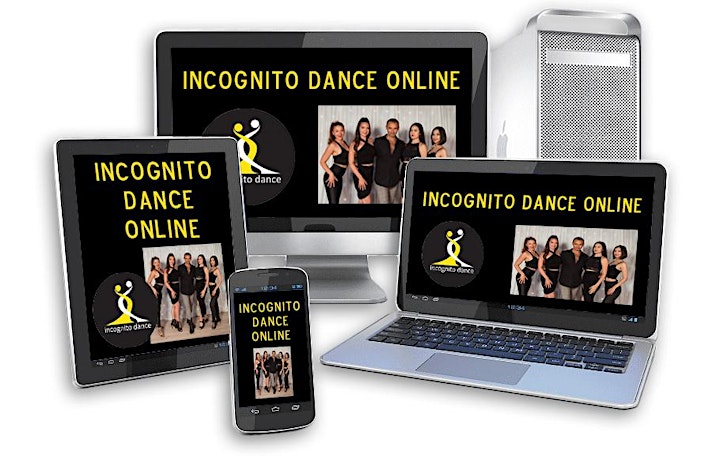 Organiser of Free Online Salsa & Bachata Courses & Classes
About
Incognito Dance Company (IDC) was established in 1999. It has some of the most experienced and qualified Latin Dance instructors and performers in Europe. All our Latin dance courses, workshops, holidays, events and clubs are run and taught by highly trained, friendly instructors who encourage dancers of all levels to enjoy the spirit of dance.
Incognito Dance has won many prestigious awards, including  UK's Premier Salsa Teachers 2008/9,  London Latin DJ Star 2010, Favourite London Club Promotors 2009/2012, Lukas Award Winners 2013, Best Salsa Dance Performers 2014.  Over the last 16 years, some of the IDC instructors have competed in and won,  World Championships, European Open Championships, South American World Ranking Tournaments, Asian-Pacific Dance Competition, and Canadian Latin Open Championships.
Classes, courses, and workshops are for all levels from the total beginner to the highly skilled advanced dancer and performer.  Absolute beginners are warmly welcomed, no partners are required, the atmosphere is fun and friendly during the classes and freestyle social dancing.
Try our award-winning Gold, Silver & Bronze Salsa Courses, learn to dance, have fun, keep fit and meet new friends. Check out the private lessons, weekly classes, regular workshops, bootcamps, monthly parties, holidays, and special events.
Experienced dancers are given fun, technically challenging classes, and plenty of hours to social dance to the latest Latin music by our fabulous DJ's.  We teach many Latin dance styles of salsa from LA Style, NY Style, Cuban and Puerto Rican, as well as Bachata, Kizomba, Cha Cha, Reggaeton, Latin Hip Hop, Merengue etc.
We teach all over the world, but are currently based in and around London. Our regular dance clubs are in Hammersmith, Putney,  Wimbledon, Fulham