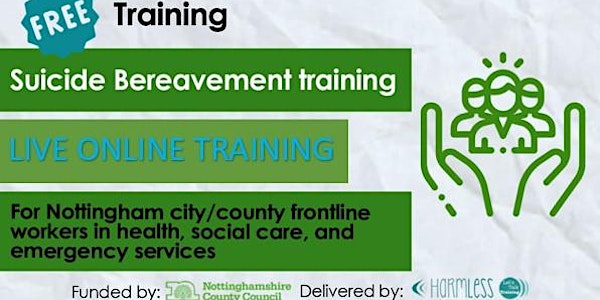 FREE ONLINE Suicide Bereavement HALF DAY (for Notts city/county workers)
LIVE ONLINE Suicide bereavement training designed to build knowledge, confidence and skill caring for those affected by suicide.
About this event
WEEKEND SESSION
- IDEAL FOR Education staff and Emergency staff and those who work unconventional hours.
FREE places funded by Nottinghamshire County Council, for any frontline staff member (including health, social care and emergency services) in Nottingham City and County
LIVE ONLINE TRAINING via MS Teams
This evidence-based, CPD-accredited course is suitable for anyone who would like to know more about suicide bereavement, especially Frontline Workers supporting those impacted by suicide
For more information or advice on the courses being delivered please speak to a member of the training team:
training@harmless.org.uk or 0115 880 0281
Suicide Bereavement
This course is designed to enable participants to effectively explore and understand the following:
The magnitude of suicide bereavement
Suicide loss as a unique form of complex bereavement
'Complicated grief', trauma, and other individual responses to suicide
The wider impact of bereavement on those exposed to or affected by suicide
The stigma and shame associated with suicide and bereavement
Bereavement by suicide as a unique risk factor for suicide
Discuss signposting individuals to appropriate, professional help - a local service perspective from The Tomorrow Project
Self-Care
The topics raised in the training delivery can be emotionally evocative. It is strongly advised that delegates should be aware of personal impact that training in suicide can have and should seek the appropriate reassurance, support and guidance from the Trainer delivering the session if they become distressed or affected by any of the topics raised. As an organisation, we encourage that all delegates practice self-care during their time on the course, ensuring they take adequate breaks and manage their own self-disclosure. All trainers have direct contact with a clinical team should needs arise to implement additional support.
Cancellations
If the delegate/organisation cancels a training place:
All cancellations must be confirmed via email to training@harmless.org.uk at the earliest opportunity
If a delegate is unable to attend the training, Harmless will allow a replacement to take their place if we are notified about any changes at least 48 hours before the training is due to take place. Replacement delegates will be required to complete a separate training registration form before we can accept them on the course
While this training is free, any late cancellations or non-attendance may incur a fee to be paid by the organisation
If Harmless is forced to cancel the training due to unforeseen and unavoidable circumstances:
Harmless will endeavour to cancel the training, if necessary, at the earliest opportunity
Harmless cannot accept responsibility for any losses incurred by late cancellation
Data Protection
At Harmless CIC, we're committed to protecting and respecting your privacy. Our privacy policy sets out the basis on which any personal information we collect from you, or that you provide to us, will be processed by Harmless CIC or its associated projects (The Tomorrow Project, The Hope Project & Let's Talk Training). It covers how we use this information, the conditions under which we may disclose it to others and how we keep it secure.
You can read the privacy policy by clicking here: Privacy Policy