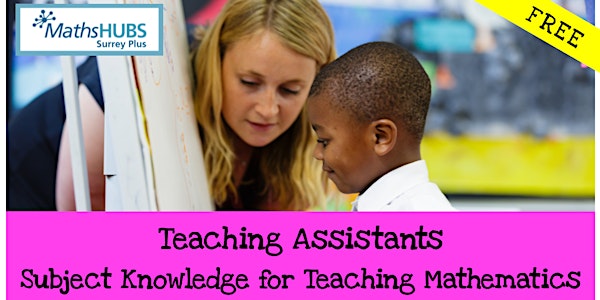 FREE Primary Subject Knowledge for Teaching Mathematics for Teaching Assist...
Description
A programme to ensure TAs have the necessary understanding & skills to work with classroom teachers in raising the Maths attainment of children they support. This programme compliments our Primary Subject Knowledge for Teaching Mathematics for Primary Teachers & includes adapted content specifically relevant for TAs.
The programme aims to:
Develop subject knowledge & build confidence

Support understanding of the mastery curriculum

Enable TAs to support students with progression through calculations

Suggest strategies for challenging fast graspers & struggling learners

Provide useful resources
Session 1: Number sense - Counting, subitising, magnitude, part-whole, unitising
Session 2: Additive Reasoning - reasoning vs addition, combining, change, comparison and equalizing
Session 3: Multiplicative reasoning


3 Sessions @ Alderwood Infant School,
Belle Vue Rd, Aldershot GU12 4RZ
4th February, 3rd March and 17th March 2020 : 9.00am - 12.00pm
OR
3 Sessions @ St John the Baptist, Elmbridge Lane, Woking, Surrey GU22 9AL:
21 April, 5 May and 19 May 2020 : 9.00am - 12.00pm
Please Note: We can accept a maximum of two TA's per school.
All 3 sessions must be attended and Gap Tasks completed.
All attendees are required to provide an NCETM User Name. If you haven't already, please obtain one by visiting NCETM Join
NB. As with all our Free or Funded Maths Hub Work Groups and programmes, we are funded by the Department for Education and therefore have to prioritise State Funded schools. If spaces are still available we are able to offer these to Independent schools, however we will need to charge fees and these will be advised separately.
Organiser of FREE Primary Subject Knowledge for Teaching Mathematics for Teaching Assistants
North-East Hants and Surrey (NEHS) Maths Hub is led by St John the Baptist School, Woking and runs a large programme of  Work Groups and events throughout the year with the aim of improving Maths teaching, leadership and professional learning practice to transform Maths education.
The Maths Hubs Network is the collaborative partnership of the 40 Maths Hubs across England, supported and facilitated by the National Centre for Excellence in the Teaching of Mathematics (NCETM). It is part of the wider development of school-led, system leadership of education in England.
For more information about North-East Hants and Surrey Maths Hub click here
To view our Privacy Policy click here