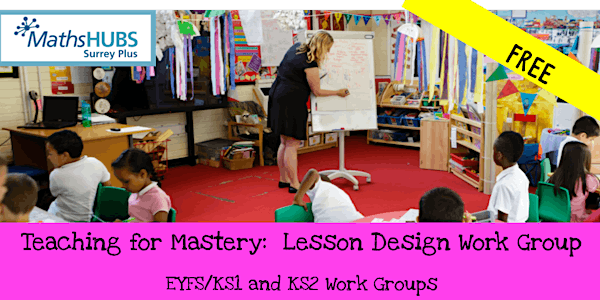 FREE Primary Teaching for Mastery: Lesson Design Programme
Description
FREE Primary Teaching for Mastery Lesson Design Work Group.
This FREE Work Group will focus on designing effective lesson plans, making use of key resources including Mastery PD Materials and Text Books.
Participants will consider the importance of effective use of resources when embedding Teaching for Mastery in Primary Maths lessons. This will include developing a deep understanding of the elements of effective lesson design, developing teachers' understanding of the 5 big ideas in mastery and how they are used in effective lesson design.
Teachers will be able to make reasoned decisions about what to include and what not to include in lessons, and identify what needs to be developed to supplement the information in the published materials.
Participant schools will create their own ' planning for mastery document'

.
The participation criteria for this Work Group is as follows:
Participants should ideally have participated in the Teaching for Mastery TRG (not mandatory)

Participants should not have participated in a Planning for Greater Depth or a Sustaining TRG Work Group last year
We are running a choice of two Phase specific Work Groups. Each comprises 4 half day sessions at St John the Baptist School, Woking plus 1 Full Day at the Shanghai Demonstration Lessons (details TBC) plus Gap Tasks between sessions.
EYFS / KS1
8 November, 10 January, 5 June all 9.15am - 12.00pm plus 24 April 9.15-4.00pm.
1/2 day Lesson Observation at St Joseph's Catholic Primary Epsom on Monday 9 March 9.15 - 12.00pm.
15 November, 17 January, 18 May and 12 June all 9.15am - 12.00pm. Plus 1 Full Day at the Shanghai Demonstration Lessons 11 March (9.30am - 4.00pm) at All Saints Junior Fleet
2 teachers from each participating school will be required to attend all sessions for this Work Group.

All attendees are required to provide an NCETM User Name. If you haven't already, please obtain one by visiting
NCETM Jo
inNB. As with all our Free or Funded Maths Hub Work Groups and programmes, we are funded by the Department for Education and therefore have to prioritise State Funded schools. If spaces are still available we are able to offer these to Independent schools, however we will need to charge fees and these will be advised separately.