Description
Speak your way to Success!
Worried about a presentation at work?

Giving a speech and dreading it?

Wish you could pitch more powerfully and persuasively?

Want to be seen as a leading authority and expert in your industry?

Want to build your brand story and attract more customers?
You can learn to be a compelling and confident speaker in all situations. Our Triple Core B-B-C System will take you from fearful to fabulous, helping you to find your own authentic, natural voice and style.
You can even learn to love Public Speaking, build Stage Presence and Present with Passion!
Reserve your seat for our FREE Masterclass to learn techniques on how to grow your speaking skills and create powerful content.
Free Public Speaking Masterclass, SATURDAY 22 JUNE 2019 at
Holiday Inn Kensington High St, London.
SESSIONS AT 1PM AND 4PM. Lasts around 2.5-3 hours.
Success lives in the way you speak to the world
Being a skilled communicator can transform your whole life, creating wealth and success in your work and even enhancing your personal and parenting life. Everyone sits somewhere along the Speaker Skills Spectrum, but no-one is born at the top. Great speaking is down to skills that can be learnt, practised and developed. By investing in your speaking skills you can learn how to attract customers, make more money and be perceived as a leader in your industry, not to mention learning to love Public Speaking, giving Powerful Presentations and getting your voice heard, above others, on all your platforms.
What happens at the FREE Masterclass?
Join us for an afternoon of insights, techniques, formulas and tips to transform you speaking skills. We will take you through the core concepts of Public Speaking, share our unique formulas and show you how you can significantly improve your Public Speaking and Presentation Skills.
So, how can we help?
My name is Maia and I am in a unique position to help you as I have had three careers, all of which combine into a perfect storm; the ultimate foundation in successful Public Speaking.
After Drama School I spent a decade as an actor on stage and TV, enjoying a wide variety of jobs from Shakespeare to Soaps.
Weary of the travelling lifestyle I re-trained as a Business Trainer which led to my NLP Master Practitioner and coaching/hypnotherapy qualifications. Here I learnt how to help people conquer their fears, master the art of persuasive communication and retrain their minds for peak performance.
My speaking skills then landed me a pretty cool job in tech, I spent a decade at Apple, then Google in Senior Executive roles, heading up Sales Training.
This gives me over 30 years of experience in sales, acting, training, coaching and business.
As a professionally trained actress I can share the secrets of performance that will supercharge your presentation.
As an NLP Master Practitioner, I can share techniques to eliminate your fears and mental barriers that hold back your best presentation in high pressure moments.
As a Senior Exec in two of the top global tech companies in the world, I can share the standards, expectations, skills and traps that I learned over a decade in these high pressure global orgs and help you to soar above expectations to success.
Over the years I've personally coached hundreds of actors and Apple/Google trainers in acting, sales, speaking and presentation skills.
That's my passion and I'd love to share my experience with you to help you:
become more successful at work or your business

make more sales and attract more customers

speak in public or give powerful presentations

market yourself and build a voice for your business

be recognised as a leading expert in your field through the power of passionate, compelling and artful speaking.
All great speakers are made, not born.
There are 3 core elements that need to combine to make a successful presenter. Our Triple Core B+B+C System will support each stage of your transformation into a stellar speaker. Speaker Studio will carefully coach you on all three critical components that combine to create a charismatic speaker.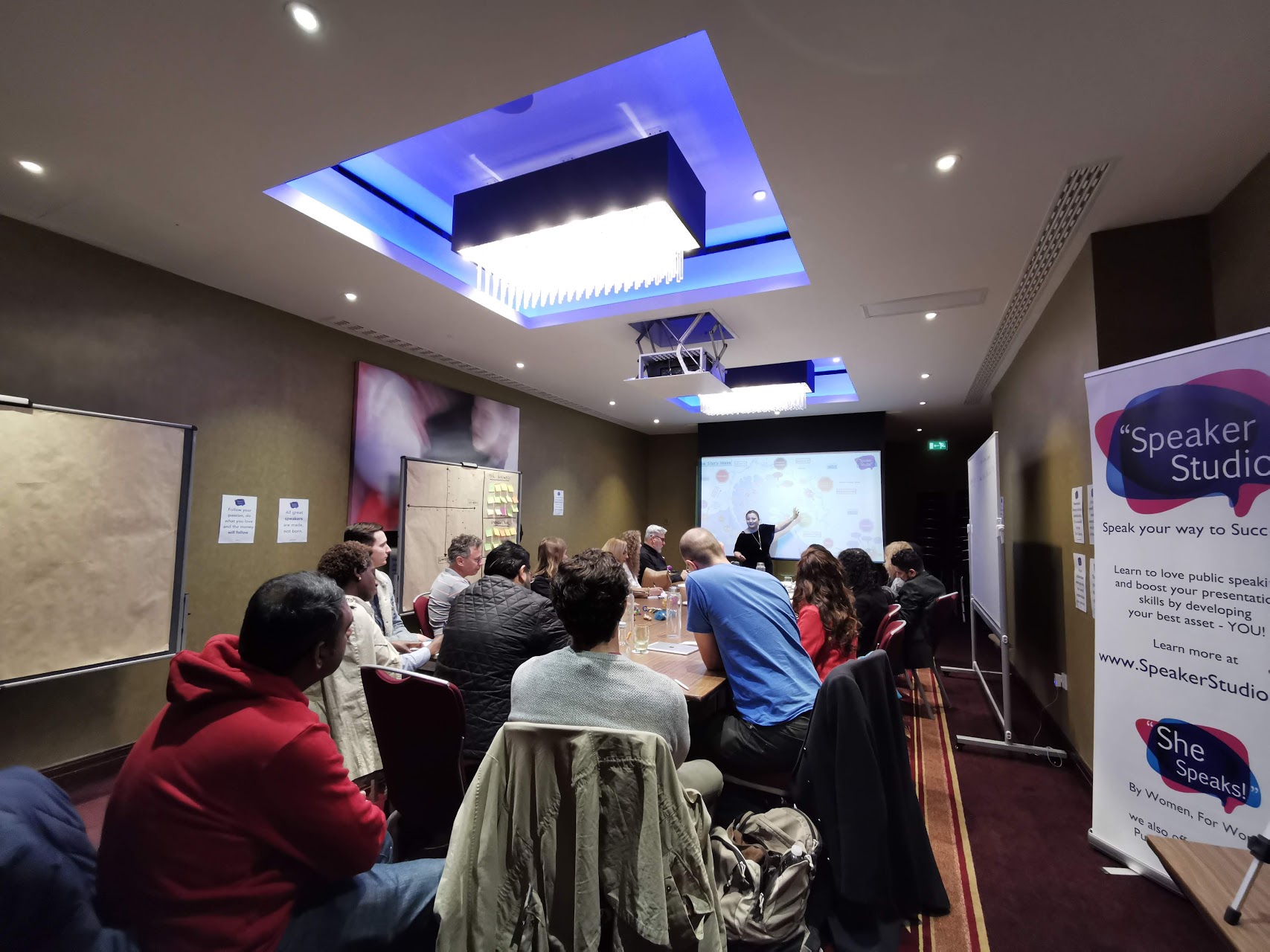 This is for you if...
You want to develop your speaking skills to build success in your work or business.
Entrepreneurs, Executives, Managers, Therapists, Authors, Salespeople, Speakers and Trainers will all benefit from this Ultimate Public Speaking Course.
Covering all aspects of Speaking, Presentation and Content you will learn how to develop your body and mind to speak confidently and persuasively to your audience.
Visit our website www.SpeakerStudio.com to learn more