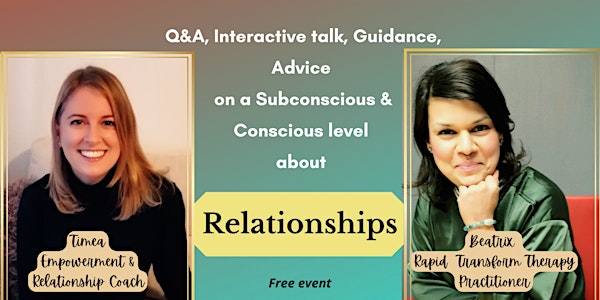 Free Q&A about RELATIONSHIPS; Get advice from a coach & therapist
Ask anything you want to know about relationships and we give you an answer on a subconscious and conscious level as both matter.
About this event
FREE Q&A ABOUT RELATIONSHIPS!
This event is about YOU and your relationships!
Be it, friends, family or partner; we'd love to help and empower you.
We're all social beings and the quality of our relationships do matter.
It matters what kind of people we surround ourselves with and how we connect to each other.
It matters what we learn about ourselves and others by connecting and understanding each other's perception.
It matters who we interact with and why.
It's your time to ask anything you want to know about relationships and you get advice and guidance on a conscious and subconscious level from us.
Timea, as a coach and Beatrix, as a therapist give you insight and deeper understanding about yourself ( feelings, thoughts, actions ) and your relationships.
This event is a great opportunity to connect to yourself and with each other, get clarity and grow.
We intend to create a safe space for everyone joining us so all of us can feel comfortable, open and non-judgemental.
We're looking forward to welcoming you at this event.
The Empower Yourself Team
Connect with us:Timea: timeacoaching.com; @timea_coachingBeatrix: transformtherapy.co.uk; @bigepiphany_hypnotherapy