Free Remix Fair with London Remixed Festival & Community Music

Saturday, 4 February 2017 from 10:00 to 17:00 (GMT)
Event Details

Free Remix Fair with London Remixed Festival & Community Music

The London Remixed Festival have teamed up with Community Music (CM) - youth and community music organisation based near Bricklane - to provide a day of remix workshops, music production brand demos, panel discussions around remixing and remix speed dating sessions, open to all budding producers and artists, on Saturday 4th February 2017.

Absolutely FREE!

** REMIX STUDIO SESSIONS **
The day will include 2x 90min beginners sessions on the basics of remixing run by CM's music production tutor and 2x 90min advanced sessions in the afternoon where heavyweight Grime producers, The Heavytrackerz as well as DJ Kobayashi and Gareth Small from the mighty Gypsy Hill/Batov Records will be demonstrating their remixing techniques in the studio.

The event is totally FREE but has very limited spaces available on a first come first served basis. Please read the instruction below before booking:

- Please select which session you would like to attend when registering.
- Please note one person can only attend one session on the day. If you book more than one session your second ticket will be cancelled automatically
- Please note the sessions will be run in Community Music's professional recording studio facility using Logic Pro

** BRAND DEMOS **
(open doors, CM foyer, 1pm-5pm)
 –Come and try out the latest music production gear and software from: Ableton, Nova distribution & Minrig Speakers

** PANEL DISCUSSIONS **
(open doors, CM theatre, 1pm-5pm)

We offer this event for FREE on an open door policy.

The day will include seminars from renowned producers and remixers, on the how to mix analogue and digital, experts on sample law, one on one sessions with funding and grant organisations, and most importantly a place to meet like-minded music producers and musicians.

1) Funding, royalties and copyright Panel:
With the demise of record label support what are the alternative funding opportunities available for artists? How can you maximise your income streams and what are the legal pitfalls when it comes to remixing?

Guest speakers:
Huey Walker – Arts Council of England
Huey represents the modern face of this long standing organisation. He will help to de-mystify how funding activities operate, how it can help artists and organisations with funding, and how it encourages projects which will engage and reach a new audience.
Gareth Varty - Publisher Account Manager - PRS For Music
PRS are a society of songwriters, composers and music publishers. They license organisations to play, perform or make available copyright music on behalf of their members and overseas societies, and distribute the resulting royalties to them fairly and efficiently. They promote and protect the value of copyright.
Alex Zicotron
Alex is an international lawyer from Malta who specialises in sample and copyright law.

Hosted by Christophe Boronad – Global Local / London remixed Festival
The panel discussions will be followed by a short Q&A session with the speakers
2) Remix Panel:
The world is a remix and every piece of culture comprises hundreds of different parts. Which makes London such a great town for taking world culture and repackaging. Exploring the ins and outs of remixing and what the future holds.
Guest Speakers:
Olly Wood – Beating Heart
Ollie is the former A&R director of trend-setting electronic label Black Butter Records (Rudimental, Kidnap Kid). He now runs the remix project Beating Heart: a new venture set-up to house innovative, creative projects with a charitable heart.
Pony Montana – Feel Good Productions /Green Queen Music
From their base-camp on a remote farm nestled in the hills of north-western Italy, intrepid sonic explorers Feel Good Productions (FGP) have been travelling the foothills of mainstream music for the past 15 years, discovering an eclectic collection of genre defining artists, and, like mapmakers of old, they have shed light on new musical territories for club-goers, underground ravers and aural explorers the world over.

Malcolm Roxburgh – The Remix Space
This on-line remixing platform allows anyone in the world to create and release new music, using the studio 'stems' of tracks by Global Local artists. Remix competitions are run quarterly with cash prize and digital releases on Green Queen Music lablel for the winning remixes.

Hosted by Chris Tofu – Continental Drifts / Vintage Remix

** REMIX SPEED DATING **
Make Beautiful Music together

Musicians:
Meet the producers of your dreams... Ever wondered how to take your music into the 23rd Century and create a totally original sound? Here's the chance to meet people who can remix your music into something new and different.

Remixers and Producers:
Come out from your studios and be introduced to LIVE musicians... Why bother with sample packs which every Tom, Dick and Harry has when you can sample live, rare and beautiful instruments? Create new sounds from your wildest imagination to make truly ground-breaking music. Collect stems and make great collaborations.

After our highly successful sessions in the previous years, London Remixed Festival is offering another Remixed Speed Dating session at The Brady Arts Centre (5 minutes from Brick Lane) in East London on Saturday 4th February 2017. It will form part of an astonishingly innovative day which sets out to encourage long and fruitful partnerships. We are inviting hundreds of amazing live bands who make music from around the globe + producers and DJs who are beavering away in studios and smashing live venues.

Please make sure to book early to avoid disappointment.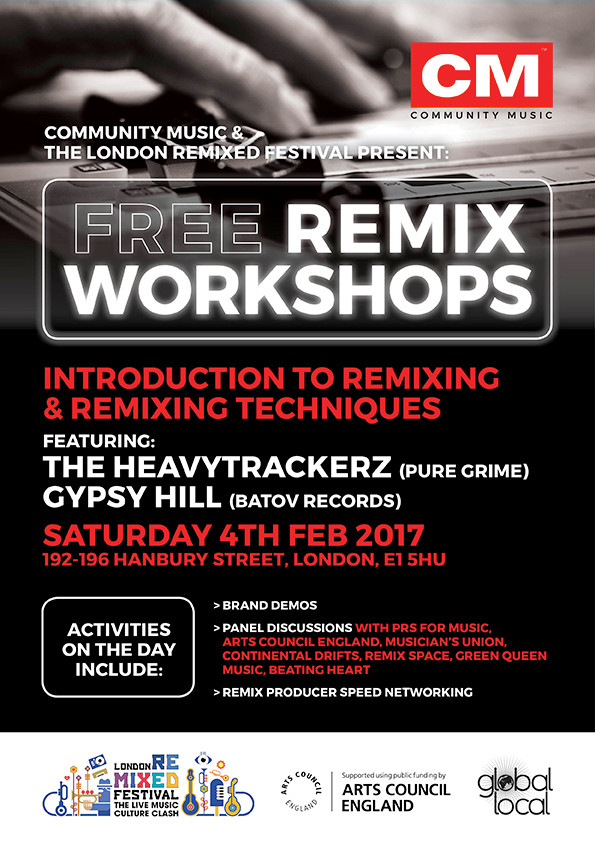 Do you have questions about Free Remix Fair with London Remixed Festival & Community Music ?
Contact PyroRadio.com
When & Where

The Brady Arts Centre
192 - 196 Hanbury Street
E1 5HU London
United Kingdom


Saturday, 4 February 2017 from 10:00 to 17:00 (GMT)
Add to my calendar