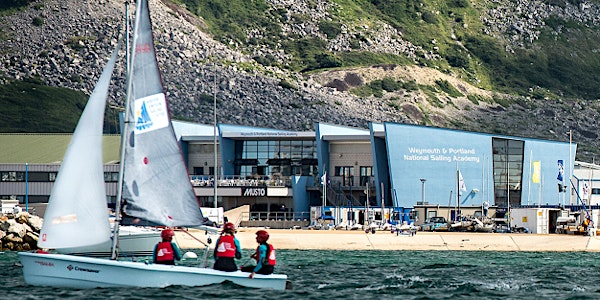 Free sailing & windsurfing sessions at the RYA Sail for Gold Roadshow
Location
Weymouth and Portland National Sailing Academy
Osprey Quay
Weymouth
DT5 1SA
United Kingdom
Description
Come along to the Weymouth and Portland National Sailing Academy to try sailing or windsurfing for FREE on the same day that two of our British Olympic sailors hope to compete for gold at the Rio 2016 Olympics.
FAQs
Do I need to book a free sailing and windsurfing taster session?
If you are interested in trying sailing at the Weymouth & Portland National Sailing Academy on the 14th August then register now! A member of our team will be in touch with more information to keep you to up to date on what to expect on the day.
You are more than welcome to just turn up on the day as there will be plenty of spaces available but it helps if you can register your interest. To do this please click on the green 'register' button above and select how many taster sessions you require and enter your contact details.
The organiser will then contact you to book you onto a windsurfing session only. Sailing sessions are first come first serve. We look forward to seeing you there!
The venue centre and water are also fully accessible to those who have physical disabilities, including wheelchair users. If you or a member of your family have a disability and would like to try sailing then please contact tony.wood@rya.org.uk as we have taster sessions available on the day.
Where do I go once I arrive at the WPNSA?
When you arrive, please register at the RYA registration point. This will be clearly marked when you arrive at the WPNSA.
What do I wear for the sailing and windsurfing free taster sessions?
Please wear clothes and footwear that you don't mind getting wet. There will be wetsuits available if you wish to borrow one.
Will I need a buoyancy aid for the taster session?
The training centre will provide you with a buoyancy aid but if you have one then please bring it with you.
Is the event open to all ages?
Children under 16 must be accompanied by an adult and there are minimum ages for sailing and windsurfing of 5 and 8 years respectively.

Is there parking at the venue?
There is plenty of free parking at the WPNSA. There are regular buses running to the WPNSA from Weymouth and Portland areas. https://www.firstgroup.com/
Will there be food available?
Yes, the WPNSA cafe will be open all day and there will be a BBQ available later afternoon before the Olympic racing begins at 5pm live from Rio.
Where can I watch the Olympic windsurfing racing?
The Weymouth and Portland Sailing Academy will be open for everyone to watch the Olympic sailing medal racing live from Rio. Come and support Nick Dempsey and Bryony Shaw, who both live in Weymouth, race in Rio and hopefully add to their Olympic medal collection . Come and support them at 5pm in at the WPNSA.
Please find more FAQs on the WPNSA website here: http://www.wpnsa.org.uk/faqs
Where can I contact the organiser with any questions?
Please contact celia.edgington@rya.org.uk
.