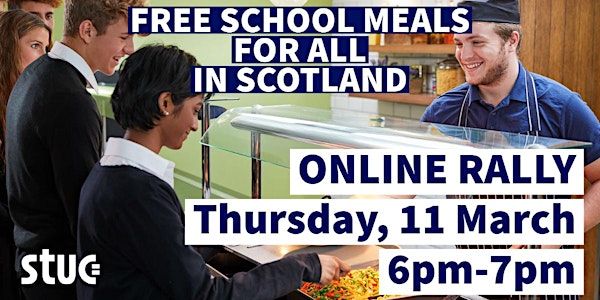 Free School Meals in Scotland Online Rally
Online Rally for Universal Free School Meals for all in Scotland
About this event
Thursday 11th March is international school meals day. Last week the STUC Women's Committee launched its campaign for Expanding Universal Free School Meals for all children and young people of primary school, secondary school and nursery age.
Expanding Universal Free School Meals will not only help combat hunger and poverty but will erase the stigma and shame associated with the provision of meals on a means tested basis.
Join us at 6pm on Thursday, 11 March 2021 to hear from campaigners, those with lived experienced and unions representing workers across the school community on why the campaign is so vital and what you can do to support it!
SIGN THE PETITION: https://www.megaphone.org.uk/petitions/universal-free-school-meals-for-all-in-scotland