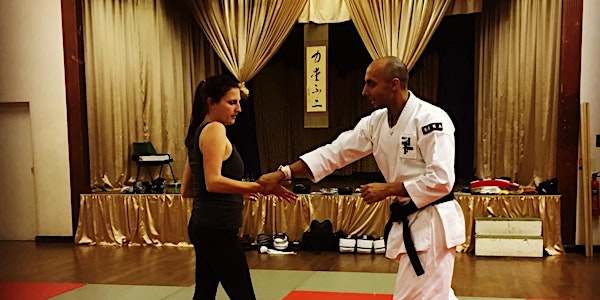 FREE SELF-DEFENCE CLASS. Wimbledon Martial Arts. SHORINJI KEMPO.
Location
South Wimbledon Shorinji Kempo Dojo.
St John's parish hall
South Wimbledon
Wimbledon, South West London
SW19 2JX
United Kingdom
Try a FREE class, have fun, get fit and learn effective self defence! At South Wimbledon Shorinji Kempo Dojo. Wimbledon Martial Arts.
About this event
South Wimbledon Shorinji Kempo Dojo is holding a free self defence class on Monday evenings from 7:30pm until 9:30pm All welcome! Our free class is aimed at teenagers and adults of all ages, genders and fitness levels. You will learn some simple strikes kicks, punches and grapple defences plus some useful mindfulness and philosophy exercises. This completely free class aims to teach self defence and introduce new students to the dynamic martial art of Shorinji Kempo. Those completing the class will be welcome to join regular classes if they so wish.
The class is broken up into distinct sections: a good warm-up and stretching, reinforcing basics, meditation, philosophy and learning completely new techniques. The class lasts two hours there are regular breaks for water. You don't need any special equipment to train simply come along in any sportswear or lose clothing mineral water is provided. It's sometimes helpful to bring a friend.
Shorinji Kempo is a Japanese martial art which originates in India and China. It's primary use is effective self defence but all promotes a healthy mind&body through regular exercise, meditation and philosophy. We train at Saint Johns parish hall, on high path, South Wimbledon, just around the corner from South Wimbledon Tube station. Mondays 7:30-9:30pm