FREE TASTER Session at Got 2 Sing Cheltenham Choir

Tuesday, 3 October 2017 from 19:15 to 21:30 (BST)
Event Details
Got 2 Sing Choir in Cheltenham meets on Tuesdays (term time - please check the website) 7.15 for a 7.30 start -9pm at Lakeside Primary School
 Got 2 Sing® Adult Choirs are fun, friendly contemporary choirs at locations across the Midlands. We Sing, We Laugh, We Socialize, We perform. Relaxed weekly sessions provide quality tuition in vocal technique, harmony and performance with uplifting songs from the world of pop, musical theatre & the classics. No need to audition, have any singing experience or be able to read music - just a love of singing. We have NO lead singers which means more singing for everyone! Simply turn up for a FREE taster session, call: 03330 146164, visit our website www.got2sing.co.uk or find us at Facebook.com/Got2SingUK. What makes us different? Small local family business:quality teaching; quality performances; 39 weeks tuition per year; NO lead singers; NO audition; NO need to read music; fabulous choir tours and social events; adults only; fun, uplifting sessions; FREE taster sessions. We are so much more than a choir! Come JOIN US!
Also Choirs in Worcester, Stourbridge, Wolverhampton, Bromsgrove,  Kidderminster, Bewdley, Telford, Shrewsbury,  and Hereford. Visit www.got2sing.co.ukor 'like' us www.facebook.com/Got2SingUK. Call 03330 146164
When & Where

Lakeside Primary School
Hatherley Road
GL51 6HR Cheltenham
United Kingdom


Tuesday, 3 October 2017 from 19:15 to 21:30 (BST)
Add to my calendar
Organiser
Got 2 Sing® Adult Choirs are fun and friendly contemporary choirs at locations across the Midlands 
Who are / what is Got 2 Sing?
Got 2 Sing is an inspirational, community-based group of contemporary choirs for adults, spanning the West Midlands, Worcestershire, Shropshire, Herefordshire and Gloucestershire.. We have choirs in Stourbridge, Worcester, Bewdley, Wolverhampton, Bromsgrove, Hereford, Cheltenham, Telford, Shrewsbury and now Birmingham South.
There are currently 11 Got 2 Sing choirs - made up of six choir leaders and over 700 members. Through weekly sessions we provide tuition in vocal technique, harmony & performance, teaching songs from the world of pop, the classics and musical theatre.
How it all began…
Got 2 Sing was founded by Beth Dunn in 2011. Having trained at University of Leeds (BA Hons Music Theatre) she went on to obtain a Performance Diploma from the London School of Musical Theatre and is also a Qualified Teacher (QTLS) in Further Education. In 2011 Beth was running a junior singing, dancing and acting group called 'SuperTroupers' when parents began asking if they could do something similar so she launched Got 2 Sing in Stourbridge in response. An incredible 90 people walked through the door on the first night and it has since gone from strength to strength, with 10 choirs, including a thriving Youth Choir for 9-16 year olds, and a membership exceeding 500 people – from 9 to 90 year olds.
What is Got 2 Sing and why is it different to any other choir?
Got 2 Sing is not like a typical choir. It is a family run business and all our members feel like part of the family. We sing popular songs in at least three-part harmony and add some movement to the songs to bring them to life. A weekly class comprises a relaxed one and half hour lesson which focuses on providing vocal and performance skills/techniques with songs from the world of pop, the classics and musical theatre - many artists, songs and genres are explored, ensuring that every taste in music is catered for. The lessons are delivered by experienced leaders who are professional performers and skilled at teaching singing and performance.
Members can attend any of our choirs and we have some who love it so much that they sing at 2-3 different choirs each week at no extra charge! We also provide on-line resources so that members can practice at home.
In addition a diverse range of masterclasses and workshops are offered to choir members ranging from musical theatre and barbershop through to advanced vocal technique and performance, as a means of supporting members to develop their singing skills even further if they desire.
Choir leaders also attend regular training days for continued professional development which also ensures consistency of quality across all choirs.
Who is it for?
Anyone can join - no experience is necessary, there's no audition and members don't have to be able to read music; they don't even need to have a great voice – they just need to enjoy singing. Rehearsals are relaxed and fun with no pressure. Learning is by ear and from demonstration. A first free taster session is offered so everyone can see if it is something they will find enjoyable before joining.
Reasons members join…
Most people that join Got 2 Sing do so because they love to sing and are looking for some "me time" – something in their lives that takes them away from the pressures of life or the loneliness of being at home. For some it can take great courage to walk through the door and so we take great care to make everyone feel welcome and valued.
We have watched new friendships being forged, people's confidence grow and even witnessed one lady throw away her anti-depressants since joining Got 2 Sing! Joining a choir certainly helps people meet other like-minded people and by bringing them together through singing it encourages a sense of community and creates a forum for fun and laughter.
"It is the highlight of my week and I'll do anything not to miss it. At last, I'm not just a wife or mother - I can just be me and do something for myself. I have made friends which have become my new family and I have a new-found confidence. I come home on such a high from all the laughter and singing that it takes me 2 hrs to wind down!"
Vikki, Got 2 Sing Choir Stourbridge
Does Got 2 Sing perform outside choir lessons?
Most of our members love to perform – although it's not compulsory. Our choirs have sung at a wide and diverse range of venues including Hagley Hall for an awards ceremony for the High Sheriff of Birmingham, carnivals, fayres, parties in the park, on stage for the Jubilee celebrations. We have also 'flash-mobbed' in Worcester, been to Paris where we sang on the stage at Disneyland and, more recently, Dublin Castle and St. Patrick's Cathedral.
In September 2015 we held our second concert at Birmingham's Symphony Hall -  'Best of British' where over 420 members performed the best of Queen, Adele, Take That and Elton John - to name just a few. We also performed there in 2013 where we raised over £55k for Ladies Fighting Breast Cancer in the process. Since opening its doors in 2011 Got 2 Sing has raised in excess of £90,000 for various charities.
In September 2017 we held our biggest Symphony Hall Concert yet with over 500 members on stage. Singing in "One Voice" we raised the roof and lifted our fundraising to over £100,000 by supporting the Worcestershire Breast Unit Haven.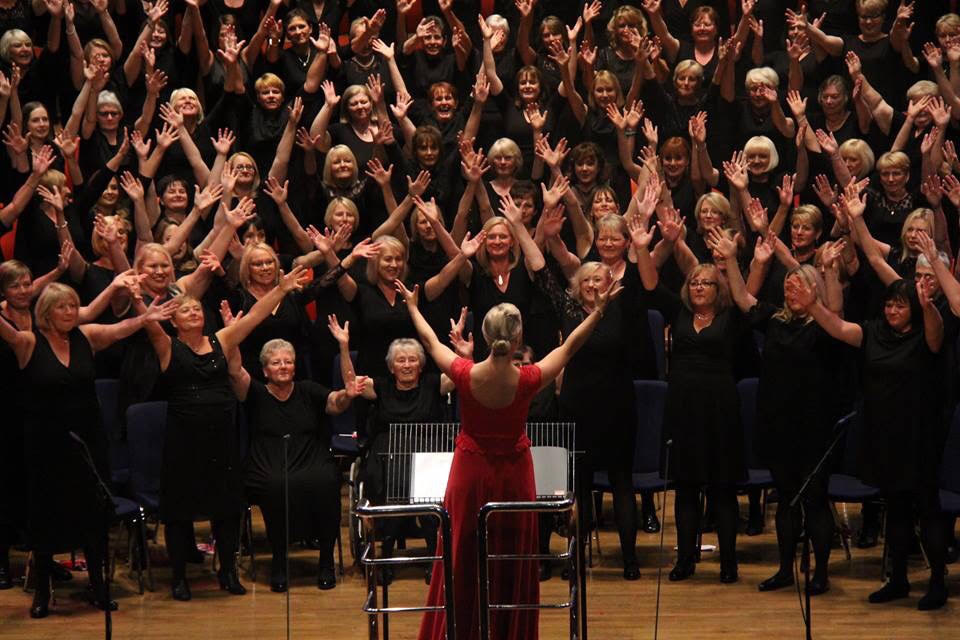 JOIN a Got 2 Sing Choir!