Join us at The LEADING Personal and Professional Development event on the planet.
About this Event
The Best You EXPO started 5 years ago now with the dream of helping people live a life without limits. A place where like minded individuals with the common purpose of becoming The Best Version of themselves.
The Best You EXPO is now the largest personal development gathering on the planet, over 40.000 people have attended this life changing event and more than 700 speakers have shared this platform to share wisdom, knowledge and expertise.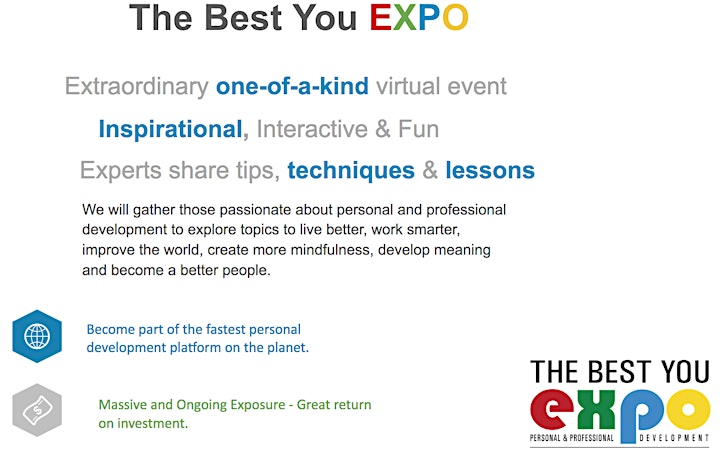 The Best You EXPO is the leading personal and professional development event. It is now a global event with over 13,800 attendees in London and over 4,000 at our last event in Long Beach, California.
In total our last five EXPOs we have had over 40,000 attendees, nearly 700 speakers and close to 700 exhibitors.
The Best You Introduces...
The FIRST-EVER GLOBAL VIRTUAL EXPO
The 3-day event is a gathering for those passionate about living better lives, creating a better world, gaining greater mindfulness, meaning in the modern age and becoming the best version of themselves.

Breakout rooms
Main Stage
Master Mentors And Influencers
Empowering Women
Passion To profit
Best For Business
Spanish Room
Some of The Previous Speakers Include:
Les Brown, Marisa Peer, Dr. Sonja Stribling, Didi Wong, Bernardo Moya, Mas Sajady, Dave Meltzer, Vicky Schettini, Berny Dohrmann, Colleen Biggs, and so many more....
Please note we upload speakers every day. We expect over 350 International speakers.
Why not join us in our other upcoming Global EVENTS?
Upcoming apart from Miami FL, London UK, Dubai MENA...
Interested in speaking, exhibiting, and attending?
Booths start as little as $500