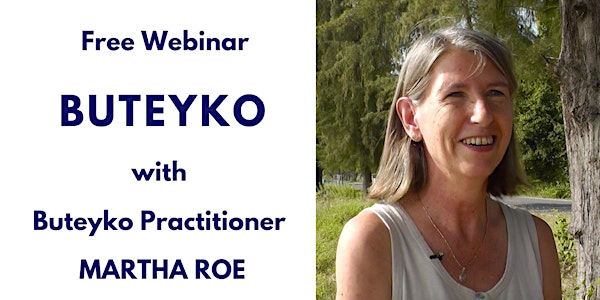 Free Webinar Buteyko Method - Mondays 8.30-9.30pm NY & 5.30-6.30pm LA time
An Introduction to the Classical Buteyko Method and discussion about any specific chronic symptoms or health problems of interest.
About this event
Learn Buteyko Online. In 2007 Martha Roe trained under the supervision of Senior Buteyko Practitioner Christopher Drake and reversed severe CFS from which she suffered for 18 years. In 2008, Christopher invited Martha to train as a Buteyko Practitioner. Since then she has taught the method, under Christopher's supervision and guidance, to thousands of students all over the world.
Martha will describe how the Classical Buteyko Method has changed her health and will introduce you to the work of the Russian professor of medicine Prof. K.P.Buteyko who discovered the cause of chronic diseases.He developed a drug-free approach to normalisation of breathing, to reverse chronic hyperventilation syndrome which he discovered to be the cause of over 200 symptoms in the category of chronic disease. Some of these chronic symptoms are: asthma, allergies, anxiety disorder, diabetes, hypertension, depression, chronic fatigue, migraines, stress, cardiovascular, digestive, hormonal, respiratory diseases, nervous system disorders, sleep disturbances and obesity.
The Classic Method Buteyko Comes to the West:Christopher Drake was the first western practitioner to receive a certified diploma from Professor Buteyko, under the guidance of Alexander Stalmatsky who was Professor Buteyko's protege. In 1991 Christopher became a co-owner of the first certified Buteyko Clinic in the West based in Edgecliff in Sydney, Australia.
Christopher participated in the first clinical trial for asthma published in January 1995 and introduced the Classical Buteyko Method to the UK in 1996 and his results were widely publicised. He taught over 20,000 people in Australia, the United Kingdom, America, Europe and Asia.
In January 2013, Christopher launched Learn Buteyko Online to promote and offer the Classical Buteyko Method to students from all over the world. Christopher teaches Advanced training online and takes a special interest in serious cases. He divides his time between Europe and Asia.Tickets are free of charge.The login to the meeting will be on your ticket and emailed to you before the meeting starts. Please feel free to contact us on learnbuteykowebsites@gmail.comWarm regards
Martha Roe
Buteyko Practitioner Learn Buteyko Team www.learnbuteykoonline.net
Follow us on Facebook: www.facebook.com/learnbuteykoonline
and Instagram: www.instagram.com/learn.buteyko.online