Free Webinar - Meaningful Conversations - How to conduct an effective 360 Degree Feedback Debrief

Friday, 26 September 2014 from 13:00 to 14:00 (BST)
Event Details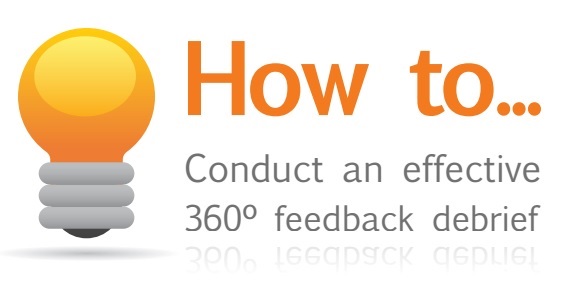 Meaningful Conversations - How to conduct an effective 360 Degree Feedback Debrief
Join us for the fourth in our series of webinars which will cover all of the key performance management conversations which Line Managers have to conduct with their team.
Following the first three webinars which looked how to set objectives, how to give feedback, and conduct coaching conversations, this next session looks at how to conduct an effective 360 Degree Feedback Debrief.
"As 360 Degree Feedback becomes ever more part of the performance management and employee development cycle, Line Managers need to become adept at holding such debrief conversations with their team members."
Our series of 'Meaningful Conversations' webinars and classroom-based training modules build the capability and confidence of Line Managers, so that they can not only follow a process that works, but critically they can approach these performance management conversations in a way which builds and preserves the trust in the relationships they have with their direct reports.
This webinar will explore the key elements of a successful face-to-face 360 feedback debrief:
Understanding the role of a debriefer and what skills it requires

Preparation; what to look for in a 360 degree feedback report

Structure; the basic 360 degree feedback debrief process

Concluding the debrief; moving towards action
All attendees will also receive the free guide 'How to conduct an effective 360 degree feedback debrief'.
Previous Bowland webinar participant's feedback:
I like the way in which these webinars are facilitated, they are structured, easy, clear and personable. The interactive and engaging way it involves the audience even though they are remote. 
Excellent content delivered clearly and professionally. A great opportunity to interact with the subject and other participants
I liked the way you made the effort to keep it as interactive as possible, by using polls and the chat function.
I find Webinars hosted by Bowland, very informative, engaging, and educational. They provide quality tools to have participants involved and are always clear. 
Presenter
John Rice, Director, Bowland Solutions
As a Director with Bowland Solutions, John brings over 10 years of experience in facilitation, training and coaching across a range of high profile & diverse clients including Legal & General, Microsoft, Revlon, CBRE, Renault, Kellogg's and a number of top 100 law firms.
His style is pragmatic and business focussed, which readily engages senior leadership teams, coaching them to greater levels of individual, team and organisational success.
I hope you can join me on Friday 26th September.
John
Do you have questions about Free Webinar - Meaningful Conversations - How to conduct an effective 360 Degree Feedback Debrief?
Contact Bowland Solutions
Organiser
Bowland Solutions
We help organisations extract the maximum value from 360 degree feedback and performance appraisals. How? By making these processes efficient through on-line software and effective by focusing on the conversation at the heart of these processes.