Description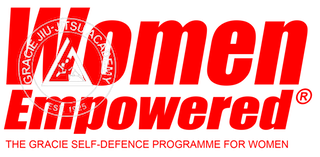 Women Empowered is the official Gracie self-defense program for women. In this 10-lesson program, we will teach you how to neutralize the 15 most common attacks ranging from having your hair grabbed to being pinned to the ground by a weapon-bearing assailant.
This 2 hour seminar is to show you the benefits of the self defence system before starting the program and you can participate in the seminar without any previous experience.
Unlike most self-defense systems that rely heavily on strength, speed, and coordination, the techniques in the Women Empowered program employ leverage, technique, and timing, so anyone, regardless of age or athletic ability, can make them work against larger opponents. Once you complete the Women Empowered program, you may test for promotion to Pink Belt!
If you have no previous martial arts experience and you want to learn how to defend yourself in a fun, safe, and cooperative learning environment, Women Empowered is for you.
*****Please note that the seminar is FREE but you must book in advance, if for any reason you cant attend the seminar after booking please cancel so you place can go to someone else*******
Loose clothing (t-shirt, leggings, tracksuit bottoms etc....)
Eclipse Gracie Jiu Jitsu, Tempest Street, Wolverhampton, WV2 1AA
Hope to see you