This workshop will give you a simple methodology to turn any business idea into a Minimum Viable Product (MVP)!
About this event
An image is worth a thousand words, so why not learn to turn your business idea into a Minimum Viable Product (MVP) through the simple methodology we'll teach you step-by-step in this free online workshop? 🤩
Join us online on October 28th at 5:30pm (Lisbon time) for:
⏱ this 2-hour workshop for beginners (no prerequisites)
🗝 all the key steps in the conception of a tech product
💻 a live demo of wireframing and prototyping techniques
What you'll learn about during this workshop:
💥 Product pitch: your value proposition
🧑🏽‍🌾 Persona: who your users are
🛣 User Journey: the experience within your product
⭐️ Mockup: a basic prototype of your app using Figma
You should attend this event by Le Wagon because at the end of the class, we give you lifetime access to our Learning Platform that includes:
🎥 Lecture replay
🧘‍♂️ Guided exercises to deepen your skills
📚 Additional resources to keep growing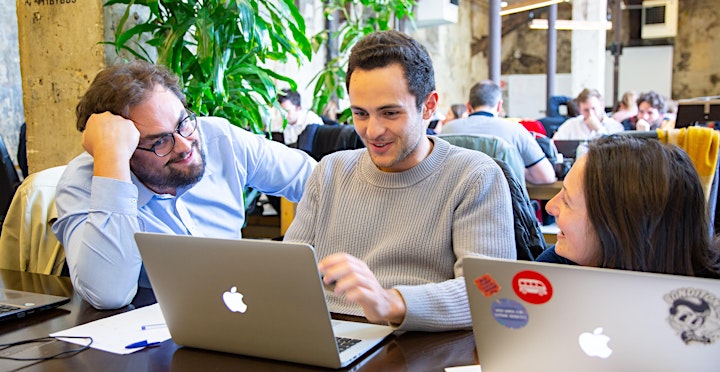 About Le Wagon 🚀
Le Wagon is Europe's leading coding school for entrepreneurs and creative people. We are now present in 40+ cities worldwide, with over 120 startups in operation, and have been rated the no#1 coding Bootcamp worldwide on Course Report & Switchup! Our 9-week and 24-week, web development course equips aspiring entrepreneurs, product managers, designers, and junior developers with the technical skills they need to build great products and startups!
Next bootcamps 🗓️
Web Development
Data Science
Find us on 📲
Organizer of [FREE Workshop] Product Design Sprint
Le Wagon is the #1 rated coding bootcamp in the world (https://www.switchup.org/bootcamps/le-wagon)
We teach you the tech skills to future-proof your career and take up your next challenge through immersive Web Development and Data Science coding bootcamps across 39+ cities and 22 countries.
Since 2013, our cutting-edge curriculum and world-class teachers have given 7,300+ professionals from all backgrounds the skills and tools needed to kick-start their tech career, land a job as a software developer, product manager, join a data science team, or launch their own startup.
Check out our programmes -> lewagon.com/lisbon