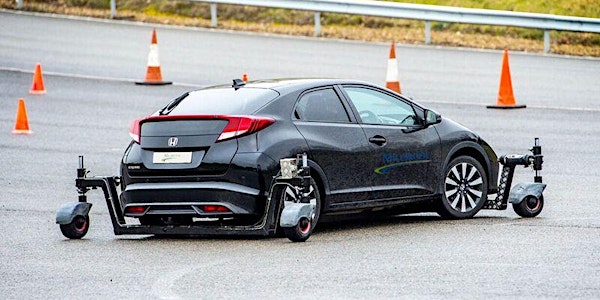 Free Young Driver (MORE Course) 16 to 30 Year Olds CENTRAL BEDS BOOKINGS
Location
Millbrook Proving Ground
Station Road
Millbrook
Bedford
MK45 2JQ
United Kingdom
Sales Have Ended
Registrations are closed
We look forward to welcoming you on our course. If for any reason you are unable to attend, please let us know as soon as possible so we can offer your place to another person.
BOOKING IS ONLY FOR CENTRAL BEDFORDSHIRE RESIDENTS AGED BETWEEN 16 & 30 Interested in a Driving Experience at a Vehicle Proving Ground?
About this event
If you answered yes, why not book on to one of our driving courses. The courses are free to residents of Central Bedfordshire (for Luton and Bedford Borough Residents there is a separate booking process). See the link here:
https://roadsafetybedfordshire.co.uk/young-drivermore
PLEASE NOTE- UNDER 18s need a parent/guardian to attend. That parent/guardian DOES NOT NEED A SEPARATE BOOKING - THEY ARE INCLUDED IN THE YOUNG DRIVER's BOOKING
Our courses give drivers and non-drivers the opportunity to learn new skills to that will take you beyond your driving test to enhance your driving career.
Non-drivers:
For those of you that may not have had a driving lesson or are currently learning, you will have the opportunity to go out with a driving instructor and attend theory workshops.
Note for parents: We encourage a parent to attend as they will receive a specific parents' workshop, advice and information about the driver learning process from a current driving instructor.
Drivers:
For those who have a full driving licence, why not come and learn how to correct an over or understeer. You also have the opportunity to practice your emergency braking at 30, 50 & 70mph.
The course covers:
• skid pan experience (drivers only)
• emergency stops at speed (drivers only)
• reading the road (drivers only)
• eco driving (drivers only)
• a drive with an Advanced Driving Instructor (non-drivers)
• an opportunity to drive on a test track
• vehicle maintenance
• advice on the law
• distractions
• collision investigation and causation factors
Please note: We encourage parents / guardians of pre-drivers to attend at the same time where they will be offered a parent's workshop. Due to limited spaces, only ONE parent / guardian can attend this course per participant. If a parent / guardian does wish to attend, please do not book onto the driver's course as your details will be recorded on the pre-driver's registration form.