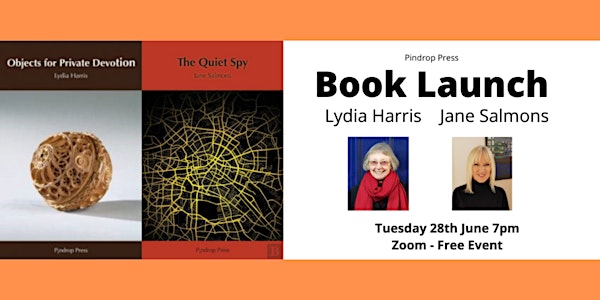 Free Zoom Poetry Book Launch - Lydia Harris and Jane Salmons
Free online Poetry Book Launch of 'Objects for Private Devotion' by Lydia Harris and 'The Quiet Spy' by Jane Salmons
About this event
Join Lydia Harris and Jane Salmons for a joint launch of their first full collections of poetry, published by Pindrop Press.
Lydia Harris has made her home in the Orkney island of Westray. Her first pamphlet 'Glad Not to be the Corpse' was published by Smith Knoll in 2012. In 2017 she held a Scottish Book Trust New Writers' Award. 'Objects for Private Devotion' celebrates the resonances of things we are handed by our predecessors. It is situated in the Orkney landscape, itself part of the inheritance.
Jane Salmons' poetry has been published in webzines, journals and anthologies. Her pamphlet 'Enter GHOST' was published by dancing girl press in 2022. The poems in 'The Quiet Spy' are inspired by the extraordinary life and times of Frank Foley, a former British Secret Intelligence Officer, who helped 10,000 Jews escape Nazi persecution.