Description
Freedom Festival presents Word On The Street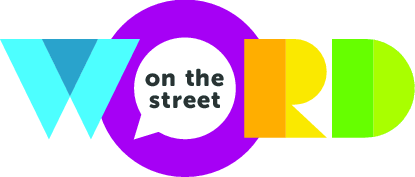 Luke Wright and Helen Mort
with support from Dean Wilson and Ian Winter,
plus live music from Gudrun's Sisters.
Hosted by Matt Abbott and Vicky Foster.
In association with Wrecking Ball Press and A Car Load Of Poets.


Word On The Street brings three monthly spoken word events to Hull, in the lead up to Freedom Festival in September. The project is being delivered in partnership with A Firm Of Poets and is part-funded by Arts Council England and James Reckitt Library Trust.

The opening night stars two of the country's best known poets, plus two superb Hull-based acts and fantastic live music, alongside workshop participants from earlier in the day. For information on the FREE Creative Writing and Performance workshop, which also offers the opportunity to perform at Freedom Festival, click here.
Tickets can be reserved free of charge, with a Pay What You Feel policy on the night.
---
Luke Wright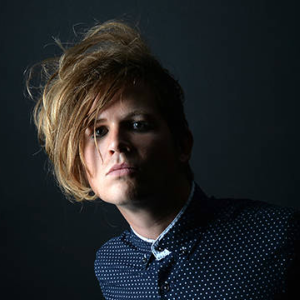 Luke Wright writes bawdy bar room ballads about small town tragedies and Westminster rogues. His fast paced, witty poems are crammed full of yummy mummies, debauched Tory grandees, maudlin commuters and leering tabloid paps. His live shows are enjoyed by thousands of people across the world every year, where he mixes the wistful with the downright comic to take audiences on an incredible emotional journey.
"His lexical acrobatics are astounding, often motor-mouthed and breathtakingly honest…Go for the wordsmithery, stay for the painful poignancy." The List
Since 2006 he has written and performed eight one man shows, touring them to top literary and arts festivals from Australia to Scotland via Hong Kong and Bruges. In 2015 his debut play 'What I Learned From Johnny Bevan' won a prestigious Fringe First Award at The Edinburgh Fringe, also bagged Luke The Stage Award for Acting Excellence.
Alongside his own shows, Luke is John Cooper Clarke's support act. Luke's work has proved a hit with Clarke's fans, playing in front of up to 2,000 people a night at venues such as The London Palladium and The Palace Theatre in Manchester.
"He must be on some kind of dope." John Cooper Clarke
---
Helen Mort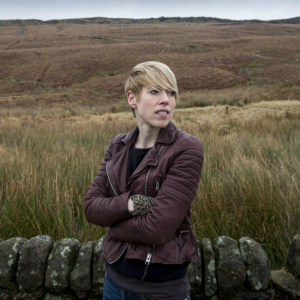 Helen Mort was born in Sheffield. Her first collection 'Division Street' was shortlisted for the Costa Prize and the T.S. Eliot Prize and, in 2014, won the Fenton Aldeburgh Prize. Her next collection 'No Map Could Show Them' is forthcoming from Chatto & Windus and is a Poetry Book Society Recommendation.
Helen has occasionally performed in A Firm Of Poets' line-up since 2014, and starred on last year's tour 'Ossett Observer Presents: The People's Republic of Poetry', including the show at Hull Truck.
---
Dean Wilson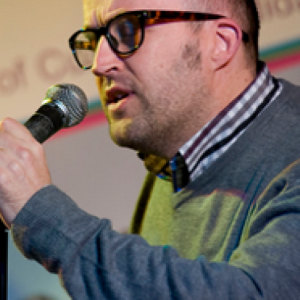 Dean Wilson proudly declares himself as having spent twenty years as a postman, and eleven years as Hull's fourth best poet. His poems have been published by the likes of the Morning Star.

Ian Winter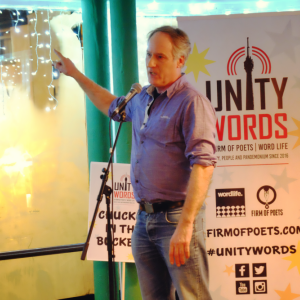 Ian Winter is a playwright, poet, actor and filmmaker. He is a slam winner and an acclaimed Edinburgh Fringe performer, and one of the driving forces behind Hull's flourishing spoken word scene.

Gudrun's Sisters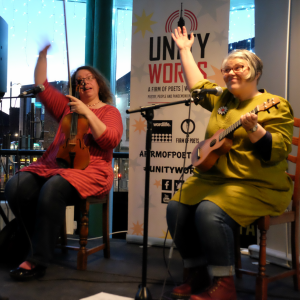 Gudrun's Sisters are Jacqui Wicks and Seonaid Matheson. They'll lull you into a false sense of security with their dulcet tones, but listen closely; these sirens are singing you songs of Murder, Adultery and Harlotry.
Sartorially inspired by their muse Gudrun Sjoden, they play the blues like Bessie Smith and Ethel Waters. If you like your music colourful but morose, Gudrun's Sisters will entertain you with cut-throat honesty, glorious tunes and wicked laughs.
"THAT was the second best blues performance I have ever seen, the first was Lucky Lopez Evans" William Thirsk Gaskill, poet
---
The evening is hosted by A Firm Of Poets co-founder Matt Abbott and Vicky Foster of A Car Load Of Poets.