Refund policy
Contact the organiser to request a refund.
Eventbrite's fee is nonrefundable.
Private screening of "Freedom Fields" + Q&A with director Naziha Arebi, moderated by MCJN cofounder Lindsey Hilsum
About this event
The Circle and The Marie Colvin Journalists' Network (MCJN) invite you to a special online event focused on Libya, activism and filmmaking through the female gaze. All funds raised through this event will go towards MCJN's work supporting local female journalists across the Middle East and North Africa.
Following an exclusive private screening of "Freedom Fields", an inspiring and award-winning documentary by Libyan-British filmmaker Naziha Arebi, you are invited to participate in a live Q&A with the director, where she will be joined by one of the film's executive producers, Huda Abuzeid, and Libyan footballer-turned-filmmaker, Asia Al-Hamady. The discussion will be moderated by Channel 4 News' International Editor and MCJN cofounder, Lindsey Hilsum.
What you need to know
Ticket-holders will be emailed links giving them exclusive access to the film and online discussion taking place on Monday 22 March:
6pm GMT: Screening of "Freedom Fields" (97mins) via private link on Vimeo (please note that the viewing link and password will be sent to you the day before and will be active from midday GMT on Sunday 21 March through to midnight on 22 March)
7.50pm (GMT): Zoom waiting room opens.
8pm-8.45pm (GMT): Live Q&A with the film director and MCJN mentor, Naziha Arebi, who will be joined by one of the film's executive producers, Huda Abuzeid, and Libyan footballer-turned-filmmaker, Asia Al-Hamady (who also features in the film). The discussion will be moderated by MCJN cofounder, Lindsey Hilsum.
All money raised through this event will support the continued work of The Marie Colvin Journalists' Network to assist and empower local female journalists across the Middle East and North Africa.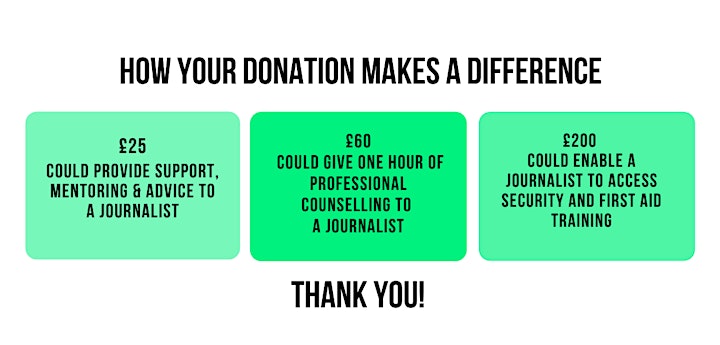 Description of the film:
Filmed over five years, "Freedom Fields" follows three women and their football team in post-revolution Libya, as the country descends into civil war and the utopian hopes of the Arab Spring begin to fade. Through the eyes of these accidental activists, we see the reality of a country in transition, where the personal stories of love and aspirations collide with history.
"Freedom Fields" is an intimate film about hope, struggle and sacrifice in a land where dreams can seem a luxury. In the words of the director, it is a "love letter to Libya, resilience, sisterhood and the power of team".
For more information about the film, please visit https://www.freedomfieldsfilm.com
The Guardian described 'Freedom Fields' as "visually arresting, superbly made, stirring".
Cine Vue called it "a force of art, filled with passion, courage and rightful indignation"
Author Hisham Matar described it as "An extraordinarily impressive and poetic film... a moving portrait of the human spirit, its determination in the face of horrendous obstacles and its yearning for freedom and the light"
Sisterhood Magazine called it "an explicitly feminist film, flying its colours from the mast with an introductory quote from Audre Lorde. Freedom Fields rejoices in its undivided focus upon women: their hardships, their struggles, their triumphs; their strength and their courage – as well as the power of sport to bring them together"
The National described it as "one of the most extraordinary documentaries, covering football, feminism and revolution in the African country".
Our Speakers
Naziha Arebi, Film Director/Producer, MCJN Mentor & Co-Founder of Rawiyat
Naziha is an award-winning Libyan-British filmmaker and artist, who works at the cross-section of cinema and activism with a strong focus on gender, identity and reconciliation. In 2012, she co-founded HuNa Productions in Libya with Huda Abuzeid. In 2019, Naziha co-founded Rawiyat, a collective for women filmmakers from across the MENA region and beyond. Naziha is also a MCJN mentor.
Huda Abuzeid, Executive Producer of 'Freedom Fields', TV journalist & Co-Founder of Rashad Foundation
Huda is a TV producer and filmmaker whose work has screened internationally on BBC/Channel4/AlJazeera/CNN amongst others. Since 2011 Huda has also been involved in transitional justice projects and is currently working with a UN justice and accountability mechanism that gathers evidence to support international war crime investigations.
Asia Al-Hamady, Filmmaker, Co-Founder of Hera NGO & MCJN Member
Asia is a former footballer for the Libyan National Team, and co-founder of sport development NGO Hera, which uses sport as a tool for gender empowerment, reconciliation, and reclaiming space, on and off the pitch. Asia is also an emerging filmmaking and photographer, directing work for Libyan TV alongside her own short films.
Moderator: Lindsey Hilsum, International Editor of Channel 4 News & MCJN Co-Founder
Lindsey is International Editor of Channel 4 News and author of 'In Extremis: The Life of War Correspondent, Marie Colvin' as well as 'Sandstorm: Libya in the Time of Revolution'. Lindsey has covered many major international conflicts and crises for 25 years, including Syria, Libya and beyond. She has won several awards including the Royal Television Society Journalist of the Year and the Charles Wheeler Award.
ABOUT THE CIRCLE:
The Circle is a unique and dynamic women-led organisation of global feminists empowering the most vulnerable and marginalised women and girls globally. Founded by singer, songwriter and activist Annie Lennox, The Circle is focussed on fighting for equality and safety for some of the most disempowered women and girls around the world.
It is driven by the knowledge that when women come together and organise, they are a powerful force for change. We have long seen how the collective power of women throughout history has made significant change, and this is our unique strength. We are proud to have brought together a diverse network of women from all walks of life and backgrounds who have something in common: the belief that by working together we can create a world where women and girls have equal rights and equal opportunities.
ABOUT THE MARIE COLVIN JOURNALISTS' NETWORK:
The Marie Colvin Journalists' Network (MCJN) is a unique peer support network for local female journalists in the Arab world. It was set up in 2016 in memory of Marie Colvin, the Sunday Times journalist who was killed in Syria in 2012, by three of her friends – Lindsey Hilsum, Lyse Doucet and Jane Wellesley. Operating as a project through The Circle, MCJN offers a holistic range of practical, professional and emotional support services including mentoring, counselling, training opportunities and emergency assistance. These services are provided free to members, mostly digitally/remotely, and all in Arabic. The Network now numbers more than 220 female journalists from over 15 different countries throughout the MENA region, working across all forms of media and roles. MCJN is supporting these journalists to not just continue reporting but to thrive and advance in their profession as journalists, and therefore contribute to a more gender-balanced media in the region.