Are you looking for more personal freedom and a more valuable business? If so, then this seminar is for you!
About this event
Maximizing the value of your business today puts you in control of your future. You could sell for a premium or continue growing knowing you are building a valuable asset for the future. In this seminar, we will reveal the eight factors that drive the bulk of your company's value. You'll learn how to:
• Increase your performance on each of the eight drivers of company value.
• Maximize your company's overall value.
• Find strategic buyers for your business.
• Structure your business to maximize its value.
• Structure your business in the most tax efficient way.
• Boost your company's cash flow.
• Differentiate your business so you no longer compete on price.
• Minimize your company's reliance on your personal involvement.
In addition to the seminar, you will also receive:
• Access to the Value Builder System to better understand the financial value of your business today.
• Bespoke feedback on how to increase the value of your business by improving the eight drivers.
• Access to 1-2-1 consultation with our panel of experts
Meet the panel: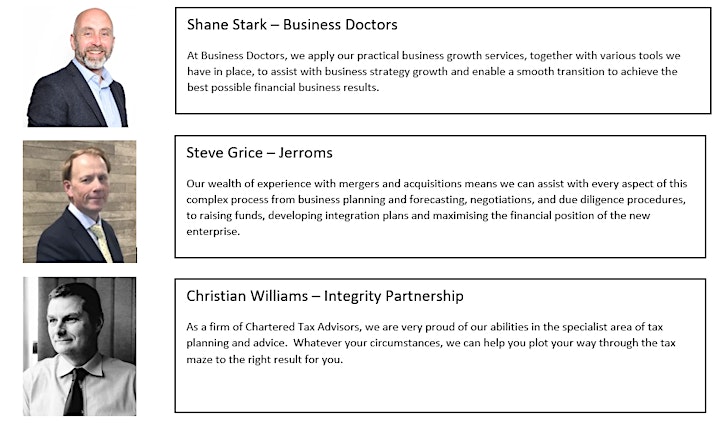 Organiser of Freedom Seminar
Business Doctor for Shropshire Shane Stark joined the team with 25 years' experience of managing businesses in a wide variety of sectors. Shane has helped organisations develop and deliver key strategies.
Graduating from Indiana University with a degree in Finance and Economics, Shane started his career in the U.S. working for a family owned business. Before moving on to help the European expansion of one of the largest companies in the world.  The ability to develop strategy, people, and products has underpinned Shane's success at every level of his career.
Shane enjoys using his business knowledge to provide practical advice, support and coaching to small and medium sized businesses throughout Shropshire.  Working together to develop or improve business models that maximise returns from the assets and talent available.
"I want to help business owners develop business partners inside and outside their business that will deliver the right level of returns for the owner's level of commitment and create a model that is sustainable with or without the owner's involvement."
With a young family, Shane spends most of his free time driving his children to music lessons, football matches and school events, but always able to find time to explore the hills and see the sights and towns of Shropshire.