Location
Alcheme Wellbeing
23-25 Brighton Road
Surbiton
KT6 5LR
United Kingdom
Refund policy
Contact the organiser to request a refund.
Eventbrite's fee is nonrefundable.
Find freedom from physical discomfort, negative thought patterns and emotional baggage using the power of your breath!
About this event
Freedom Through Breath
We all deserve freedom in our life...
Freedom to move, dance and play WITHOUT physical pain, fatigue or discomfort.
Freedom to think clearly and make empowered choices WITHOUT being imprisoned by limiting beliefs, anxiety or negative thought patterns.
Freedom to feel and express the entire spectrum of human emotions WITHOUT guilt, shame or self-judgement.
HOWEVER...as we move through the journey of life, and are met with certain challenges and painful experiences, our ability to experience true freedom in our body, mind and emotions becomes blocked.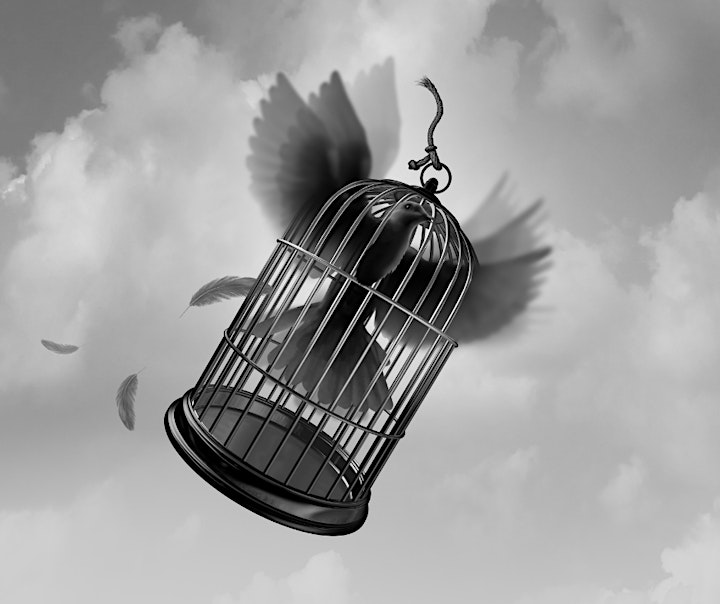 Maybe you're trapped in a PHYSICAL CAGE...
...Where a health challenge, past injury or even just excessive muscular tension, is stopping you from experiencing high levels of energy, vitality and freedom of movement each day.
Maybe you're trapped in a MENTAL CAGE...
...Where limiting beliefs and mental programmes (most likely "downloaded" from parents, childhood, school, society or culture) are causing you stress, overwhelm and anxiety and stopping you from creating the career, relationships, and life of your dreams.
Or maybe you're trapped in an EMOTIONAL CAGE...
...Where unexpressed emotional memories and/or traumas from the past are stopping you from deeply experiencing the full range of human emotions and tapping into the wisdom and guidance our emotions can bring to our lives.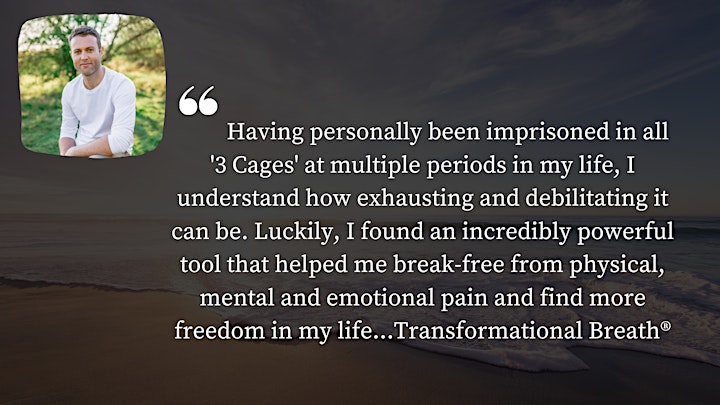 Transformational Breath® is an easy to learn, self-healing tool that can help you...
Ease and release holding patterns, tensions and physical restrictions in the body that create pain and discomfort
Open your breathing pattern to its full capacity leading to greater levels of oxygen in your body and more energy
Permanently clear limiting beliefs and subconscious programmes that are holding you back in life
Balance and regulate your autonomic nervous system, leading to greater feelings of calm, clarity and connection
Release and process unresolved emotional baggage and traumas that are burdening your body, mind and soul.
If you're feeling trapped in your body, mind or emotions and are ready for a breakthrough to more freedom, fun and fulfilment in your life, then I invite you to join me in this 2.5 hours Transformational Breath® workshop experience.
BUY YOUR TICKETS NOW (limited to 12 spaces)
=================
*Notes*
Wear comfortable and loose clothes for the session and bring your own water bottle
Mats, pillows and blankets are provided however feel free to bring your own if desired for added comfort
It is recommended to avoid alcohol, caffeine and heavy meals 2 hours prior to the session
**Medical Contraindications**
Please consult your medical practitioner to ensure deep breathing techniques are suitable for you. If you have asthma, please bring your inhaler with you to the session. If you suffer from epilepsy, heart problems, high blood pressure (not controlled by medication), glaucoma, a detached retina or psychological conditions such as high anxiety, bipolar, schizophrenia, personality disorder or have been hospitalized for a psychiatric condition or emotional crisis in the past 10 years this workshop may not be suitable and we ask for you to contact Leigh first. If you are seeing a psychiatrist, I request their consent for you to attend the class to email leigh@breathewithleigh.com
I ask all participants to read and sign a medical disclaimer before participating.