Sales Have Ended
Ticket sales have ended
We are so pleased to be welcoming you to the Freedom to Learn Forum 2019! If you have any further questions or requirements, please contact the organisers: freedomtolearnforum@gmail.com. We need the help of our friends to make this event a success! If you are interested in volunteering to help with planning and coordination, please contact: sally@phoenixeducation.co.uk
Event Information
Location
Braziers Park
Ipsden
Wallingford
Oxfordshire
OX106AN
United Kingdom
Refund policy
Refunds up to 7 days before event
Sales Have Ended
Ticket sales have ended
We are so pleased to be welcoming you to the Freedom to Learn Forum 2019! If you have any further questions or requirements, please contact the organisers: freedomtolearnforum@gmail.com. We need the help of our friends to make this event a success! If you are interested in volunteering to help with planning and coordination, please contact: sally@phoenixeducation.co.uk
Description
Celebrating freedom, autonomy and social justice in education!


The Freedom to Learn Forum is an annual event for children, parents, educators and other pioneers to gather together, get inspired and to envision what a fairer, freer more democratic education and society would look like.





Video from last year
Check out the video from last year at Summerhill School: click here or click on the picture below.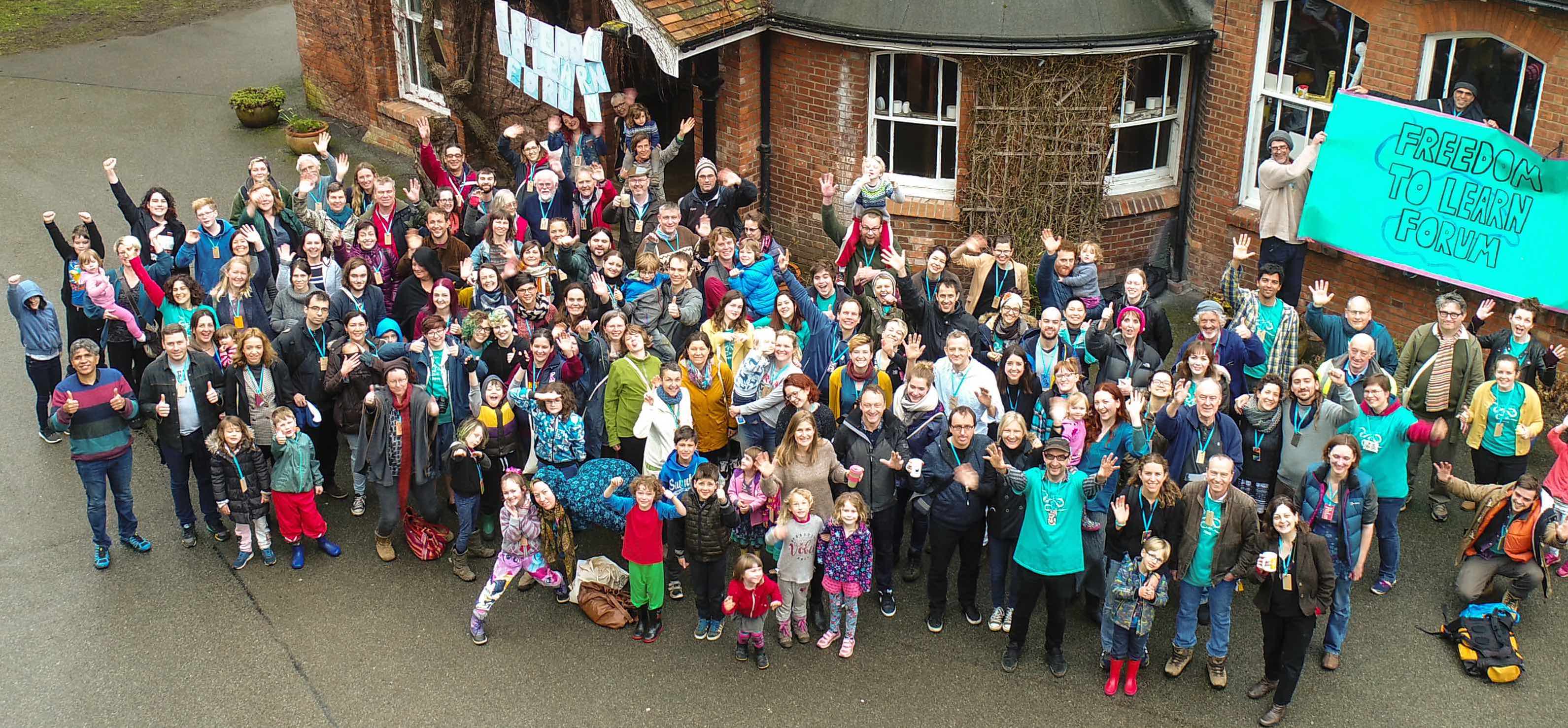 Open-space
The Freedom to Learn Forum uses Open Space Technology: a powerful tool for engaging large and small groups of people in discussions and empowering participants to get what they need from the event. Adults and children co-create the schedule. This means that as a participant, you can host an activity, workshop or game, or request a discussion circle on any theme that you are passionate about.
The Open Space or UnConference format creates space for peer-to-peer learning, collaboration and creativity. We book in some workshops and activities in advance in order to give a flavour of what the event will be like, but many will emerge as people arrive at the start of the weekend and identify what they most want to learn and talk about!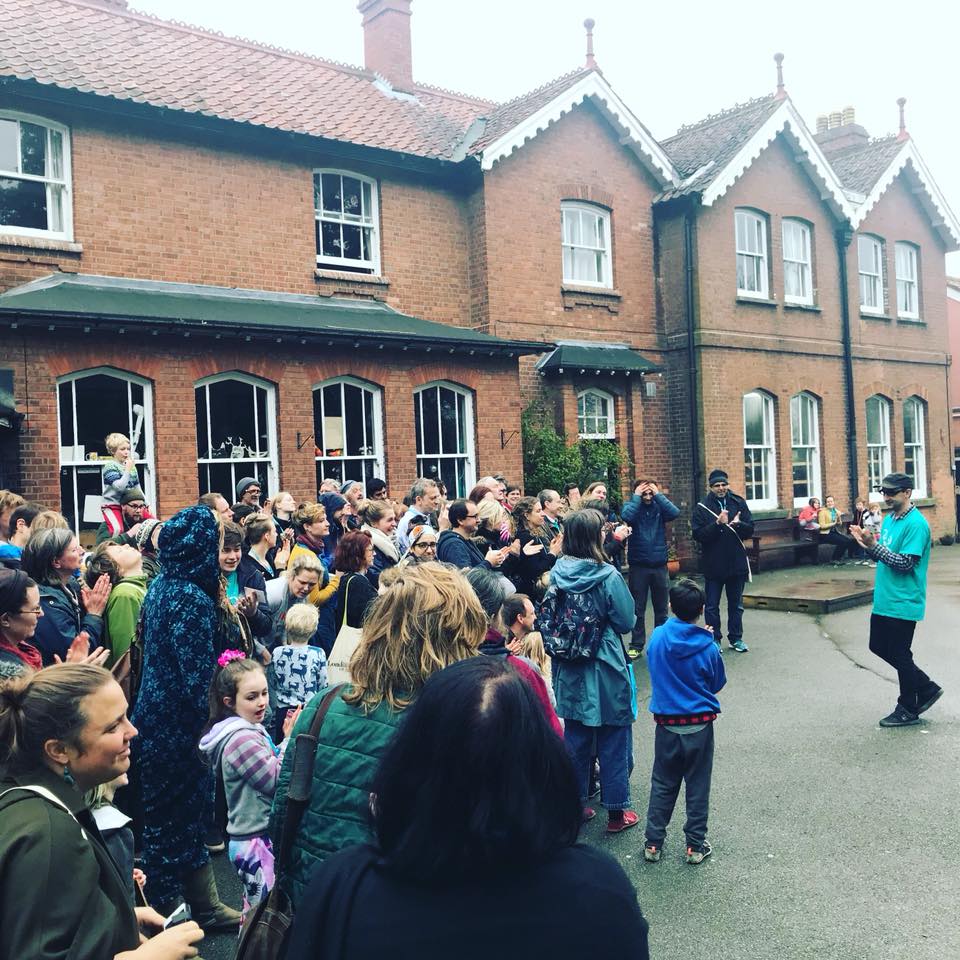 Braziers Park
Hosted this year at Braziers Park, an intentional community which for 70 years has been experimenting with living and learning together, the Phoenix Education organising team welcomes you to a beautiful bank holiday weekend of open-space workshops, gatherings, playing, eating, camping and being yourself in the stunning surroundings of the house. Braziers Park isn't just a community; it is an on-going intellectual social experiment set up by Norman Glaister in 1950. The aim of this experiment is: "To make concious in ourselves the shape of the process of which we are a part, so that we may facilitate its development more efficiently and harmoniously." The Braziers community is excited to be part of the forum this year, and to share with us their history, how they run their community, and to show us their grounds and permaculture projects.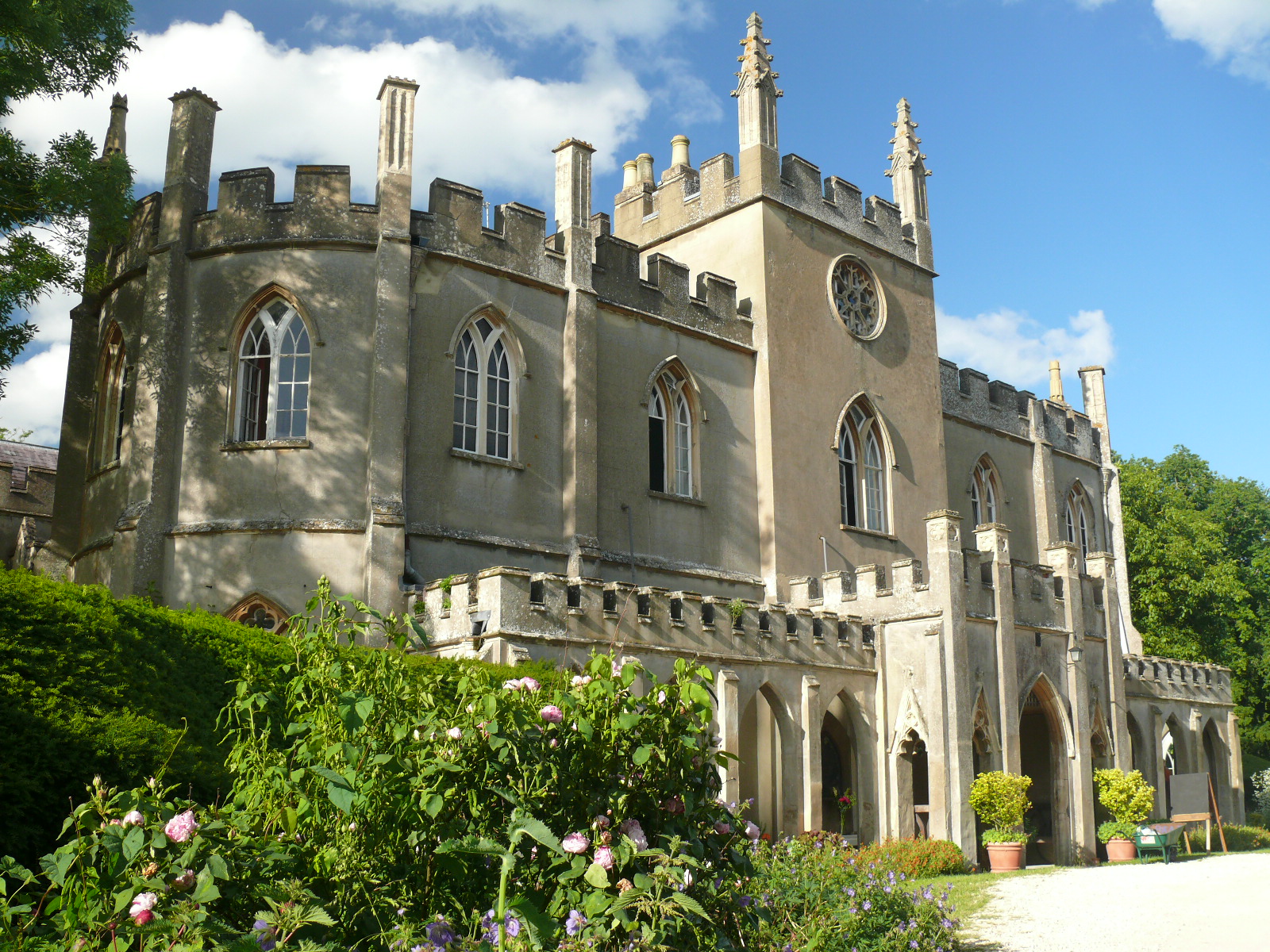 Feedback from last year
"It was inspirational, informative and supportive - thank you."
"I [...] loved it! The flexibility of the timetable was great and allowed for workshops on the Sunday to be introduced in response to discussions from earlier in the weekend."
"Great to see so much child friendly practice that was just natural and wholesome - children were respected as [having] different needs but equal in a conference setting. It was probably the safest most fun conference for kids to come along to in the world."
"It was affordable but this did not mean it wasnt intellectually stimulating or not organised very well... the food was first class and there was plenty of it. All in all - a great weekend and no doubt will strengthen the movement."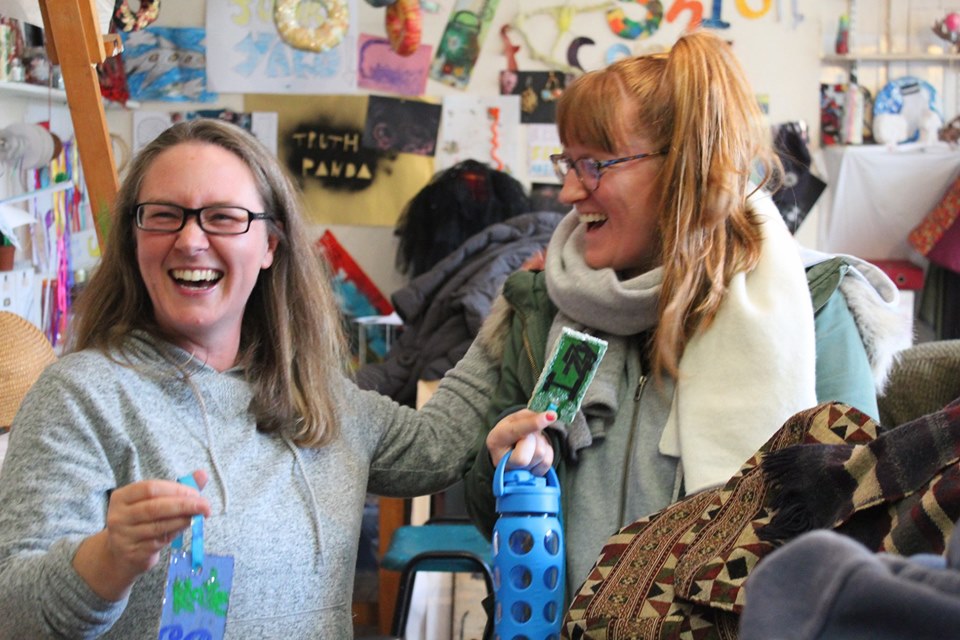 What will actually happen at the forum?!
Whatever you want to happen can happen. It's a democratic event co-created by all the attendees. Participants including school founders, educators, academics and families are already submitting their plans for workshops, talks and activities including:
Reclaiming Freedom in Education: Theories and Practices of Radical Free School Education

Critical Pedagogy as Drama

Justice in the Sudbury Model

Alternative Approaches to Foreign Language Teaching and Learning

The Braziers Park Sensory Method: collaborating to solve the big problems of the world today

Successful Alternative Education Ventures: purpose, leadership, strategy and tactics for making an organisation a success

Fire lighting and cooking (Kids Space)

Meet Our Trees (Kids Space)

'Self-Taught' Film Screening

Discover, explore, map (Kids Space)

Tamalpa: an expressive arts approach combining movement, visual art, and creative writing

A selection of child-friendly short films from around the world

An introduction to Self-Directed Education

Permaculture at Braziers Park: A tour of the walled garden

A Guided Woodland Walk

Star-gazing: Discovering the night sky!

The Freedom to Learn Network: supporting self-directed learning communities and schools in the UK
You can check out the growing list of workshops and activities, and live updates by following our facebook feed. You can also scroll down this page for information about childcare at the forum.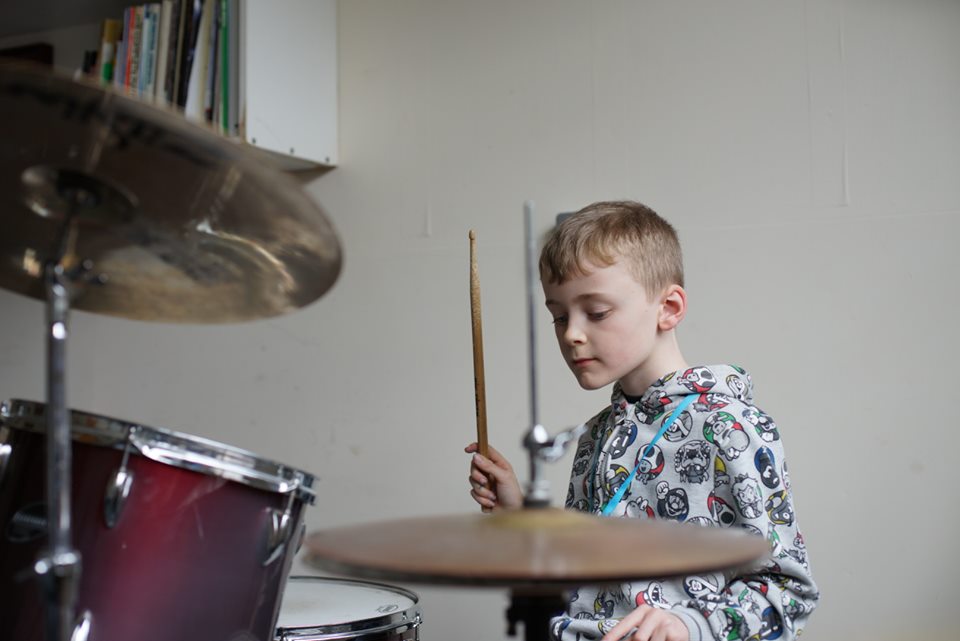 So is this a forum, a conference or a festival?
Well... we use all three words to describe the event, because it's all of these things! It's a forum to gather together and inspire each other; it's a conference because we are sharing ideas through workshops, and it's a festival because it's a lot of fun, and there will be much merriment, music, dancing and games. But it's also probably unlike any forum, conference or festival you've ever been to before!
Who will be at the Forum?
We welcome everybody who gets the sense that this forum is for them. It is a co-created and inclusive community of people who share some similar values and visions for a more fair, free and equal education and society.
You might be:
A child or a young person

A member of a parent-led childcare co-op project

A teacher in a secondary school

A retired university lecturer

An up and coming academic researcher

A home-educating or unschooling family

A youth worker

A forest school practitioner

An occupational therapist keen to move into education

An educator trained in the Montessori or Reggio Emilia approach

A child psychologist

An armchair philosopher

A Woodcraft Folk group coordinator

A person with passion and energy but no sense of purpose at the moment

A person who likes to be part of a community

A yoga practitioner who would like to see more yoga in schools

A person who likes camping, and knows some other people that are going

A founder of a self-directed learning community

An administrator at a democratic school

An international speaker

An Ofsted inspector

A primary school headteacher

Someone else not on this list! Welcome!
If you do have any concerns about accessibility please get in touch with us. We aim to do everything we can to help anyone who feels the event is for them to feel welcome and included.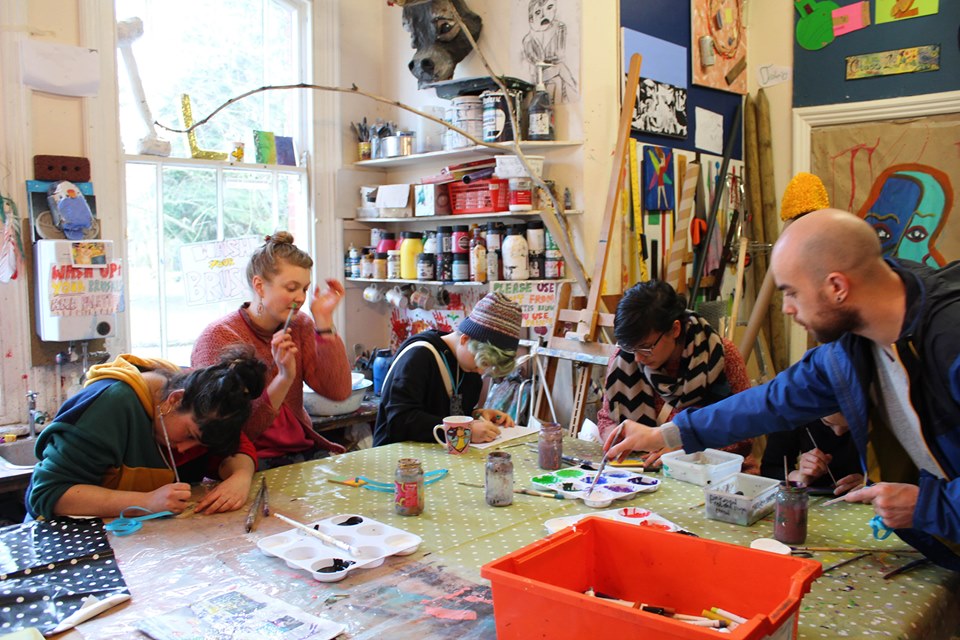 Playing in the Summerhill art room last year
Organisers Aims
· That we experience a sense of belonging, build friendships with like-minded people and have a lot of fun together!
· That we all feel supported and inspired by the range of exciting approaches around the UK that promote and embody 'freedom to learn'.
· That we all feel free to be whoever we want to be, offer what we want to offer, join in what we want to join in, and that there are no barriers to getting involved with anything.
· That no-one feels prejudiced against at the forum, and that we feel like a cohesive, caring and collaborative community.
· That education in the UK improves thanks to our collective efforts and that we can be confident of co-creating a future in which every child has much more voice and choice in their education.
· That peer support groups continue to help each other, and that the movement is stronger as a result of this gathering.



General Information & FAQs
Camping
This is a camping conference! Everyone is encouraged to form circles on a large meadow, in their tents, yurts or under the stars if you prefer! All campers will have access to wood-fired, warm showers and ecological compost toilets.
If you have particular access requirements please let us know in your ticket registration form (we will make sure everyone is able to be comfortable at the Forum). There are a few beds indoors, on the first floor of the house, which we can provide to attendees who really, really don't like camping, for a negotiable suggested donation. Get in touch if you want to talk about that.
Although we encourage attendees to stay on site and be part of the community we're building together, there are a range of hotels and B&Bs in the nearby towns of Goring and Wallingford, if camping really isn't your thing. Contact us for a list.
Meals
The following meals will be included in the ticket price and prepared fresh on site by local caterers Handle Bar. Meals will be vegetarian, and you can let us know if you have any special dietary requirements.
Friday: Dinner
Saturday: Breakfast, Lunch, Dinner
Sunday: Breakfast, Lunch, Dinner
Monday: Breakfast and Lunch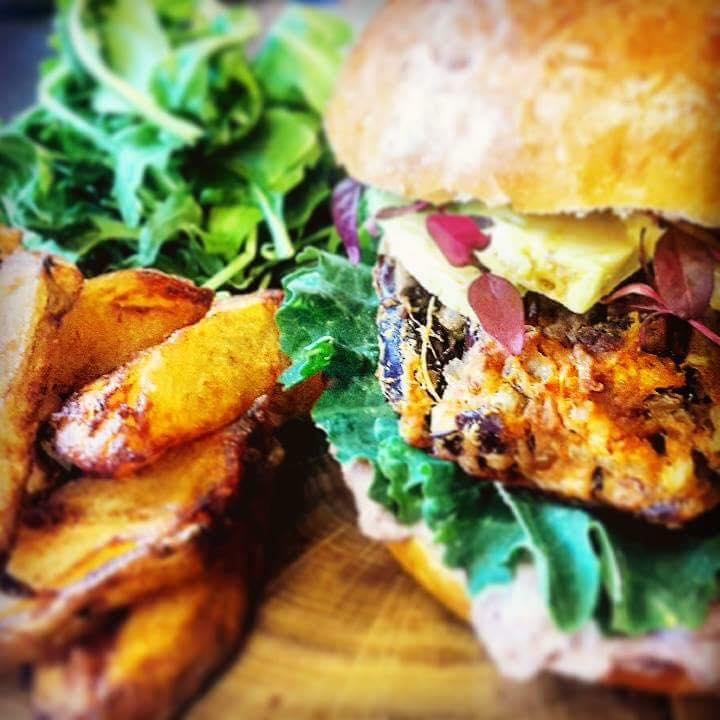 Handle Bar catering, Oxfordshire
Getting here
We encourage people to come by public transport; it's very easy to get to Braziers by bus from Oxford and Reading.
Alternatively, please consider car-pooling. August is harvest time at the local farms and having too many people arriving by car will mean complications on the road, competing against combine harvesters and tractors down narrow lanes. Besides, it's also better for the planet if we use public transport! There will be limited parking available on site. Please indicate on your ticket registration form if you are planning to come by car, so our team can manage that effectively.
The nearest train station is Goring & Streatley, a 10 minute taxi ride from Braziers Park.
There is an hourly bus service back and forward between Oxford and Reading that stops at Braziers Park Turn, a 5-10 minute walk from the estate.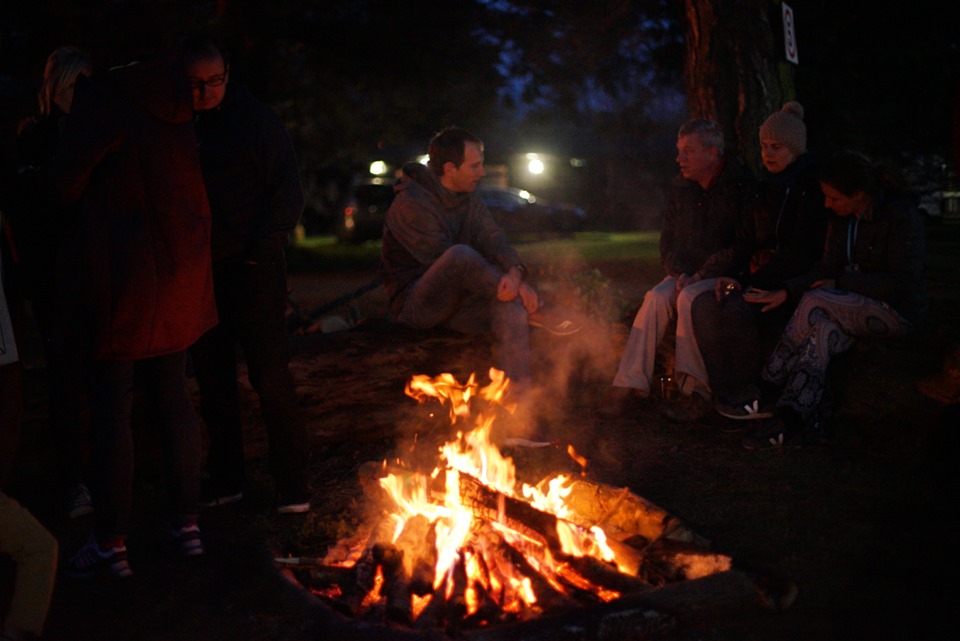 Conversations around the campfire
Tickets
We have tried to organise the tickets to be as flexible and as cheap as possible. The 'Full Festival' tickets are inclusive of meals, a camping pitch, and access to all workshops. You don't need to bring your paper ticket with you, as your name will be on our attendance list if you have registered and paid here on eventbrite.
There are 50 additional day tickets per day on Saturday and Sunday. To strengthen the sense of community, the majority of tickets are for people attending for the whole event.
Group tickets and bursary tickets are discussed below.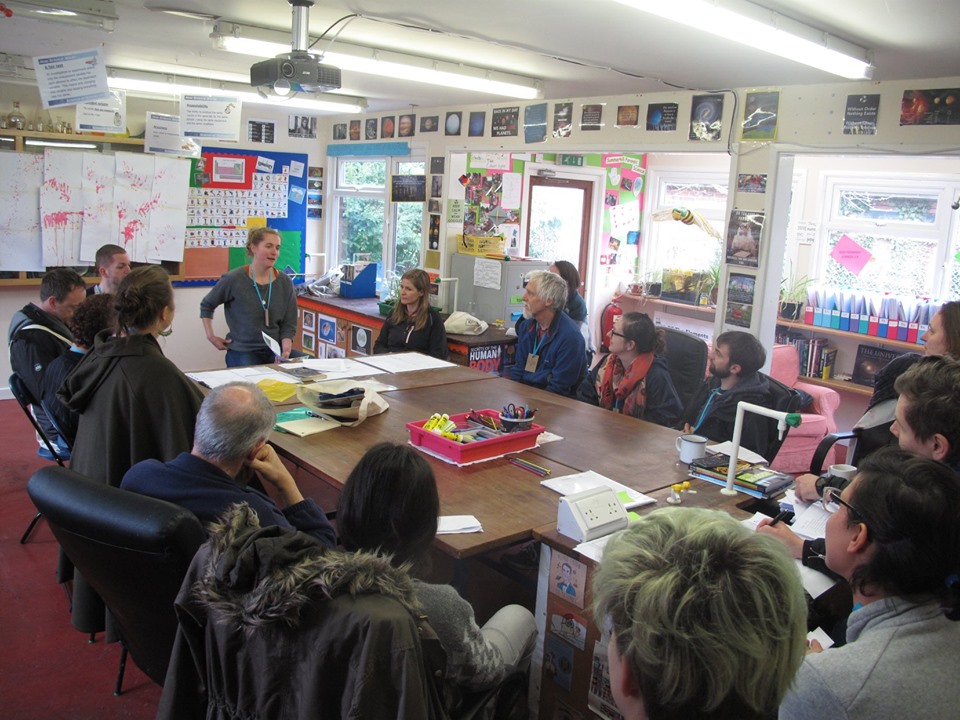 Consent, Self-Direction and Ed Positivity workshop last year offered by Sophie Cristophy, The Cabin, Hertfordshire


What does Freedom to Learn mean?
Check out our manifesto!
Workshops
This is an open-space forum, and anyone can host a workshop or offer a presentation on any topic. A workshop or presentation is allocated a one-hour slot, and will take 45 minutes, so that there is time for attendees to have breaks in-between sessions. If you require two slots for your chosen topic, you may select this. If you would like your workshop or presentation details to be included in promotional materials in advance of the event, please provide information when you complete the order form. The organisers may be selective about the events they pre-book, to ensure there is a diversity of perspectives included. If your information doesn't appear in promotional materials, please know that you will be able to promote your event at the festival itself.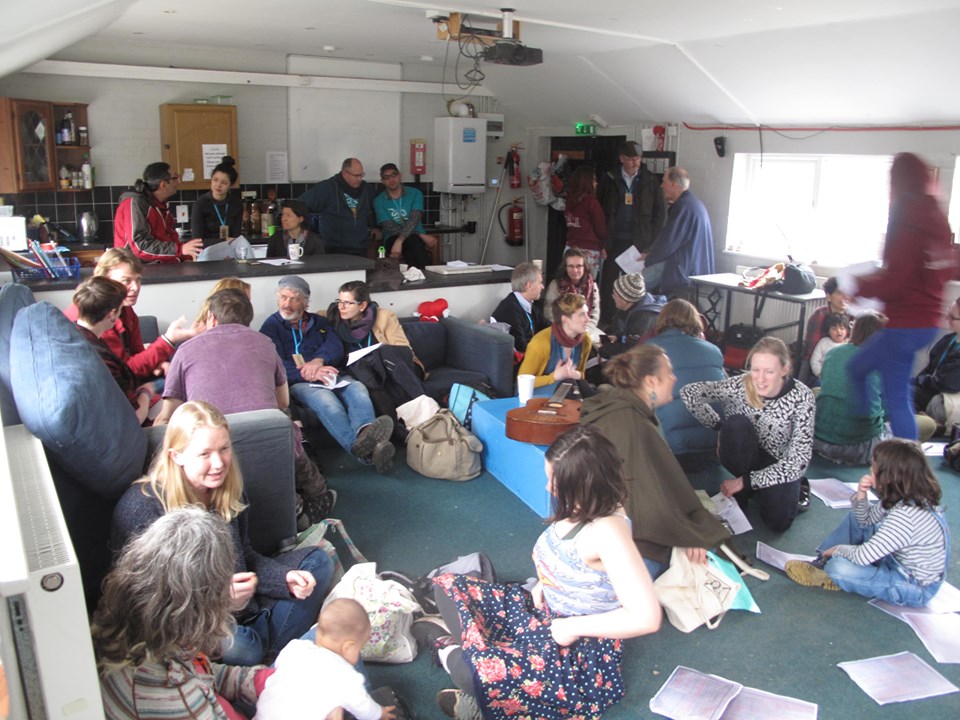 Building the Freedom to Learn Network last year!
What childcare will there be at the forum?
Rather than having a formalised childcare space, we invite families with children to negotiate their own way of doing things at the forum. Some children might want to play in the outdoor adventure playground area, or roll down the hill, or try out a treasure hunt to explore the site. Some children might want to hang out with parents while their parents are chatting with friends or going to a workshop.
We also have 6 lovely childcare volunteers receiving a free ticket in return for offering at least 6 hours of workshops during the weekend that are specifically aimed at children. There will be a schedule of activities for children taking place throughout the weekend and parents can stay and play or sign their child in and leave them for the session. Volunteers will indicate the most relevant age groups that they are expecting to come to workshops and whether it's best for parents to join in or not. Some will be free play, or exploring the adventure playground, some will be more structured offers of games, theatre, dance, crafts etc.

Children remain the responsibility of accompanying adults throughout the weekend. In addition, Phoenix will provide some training, supervision, DBS checks, safeguarding and risk assessments to support the welfare of all participants at the festival.
You can check out the growing list of workshops and activities, and live updates by following our facebook feed.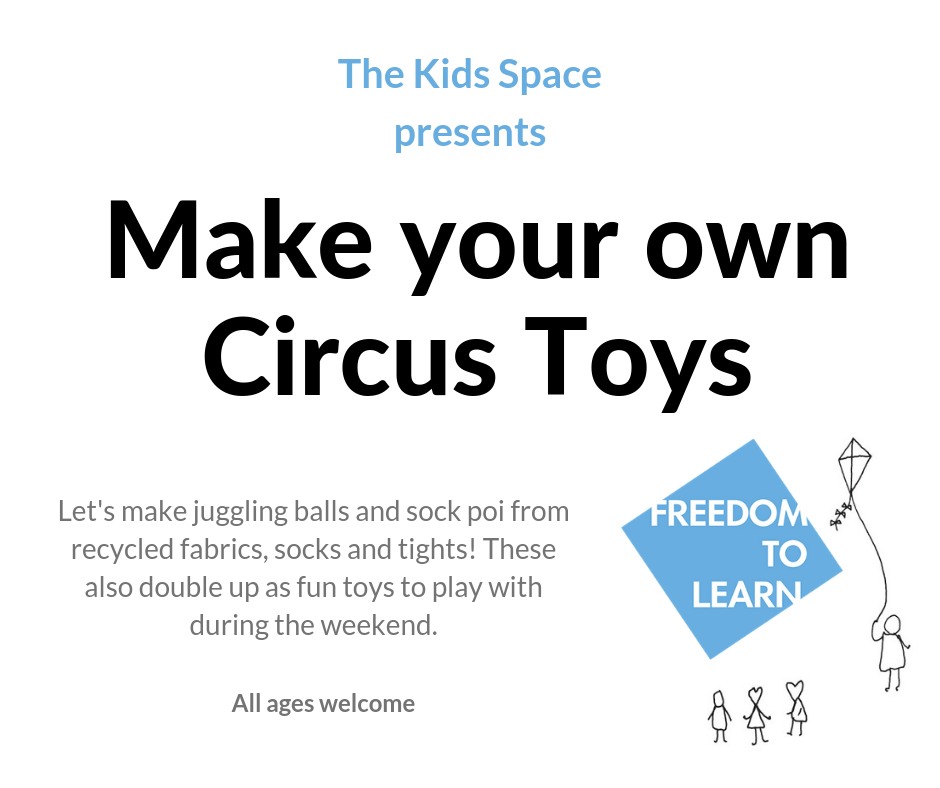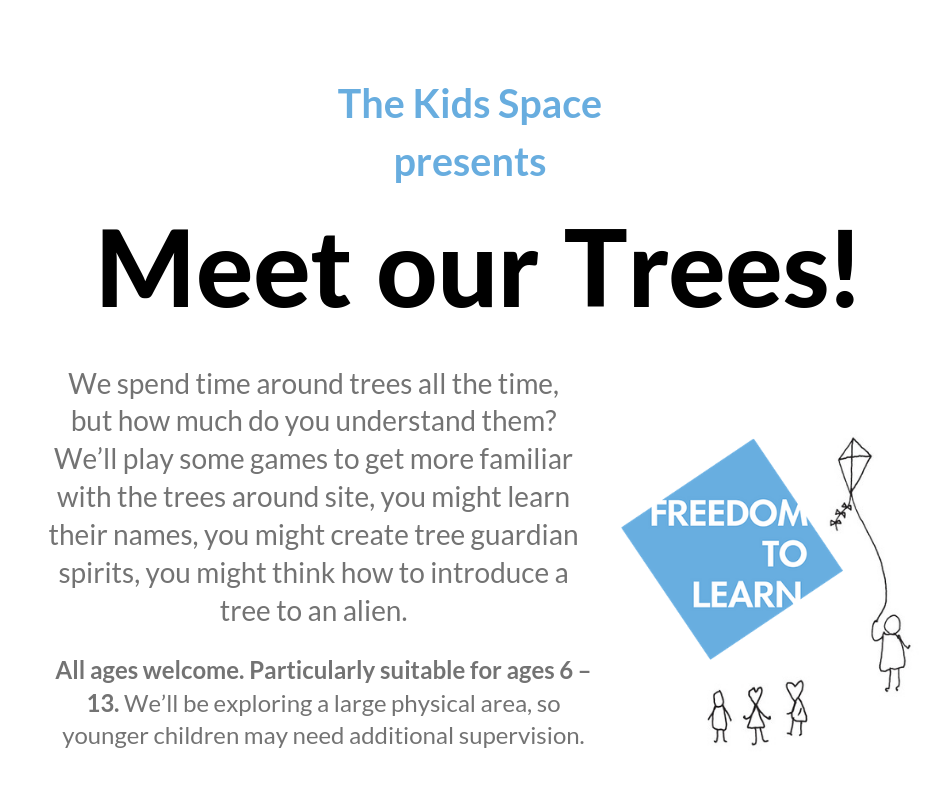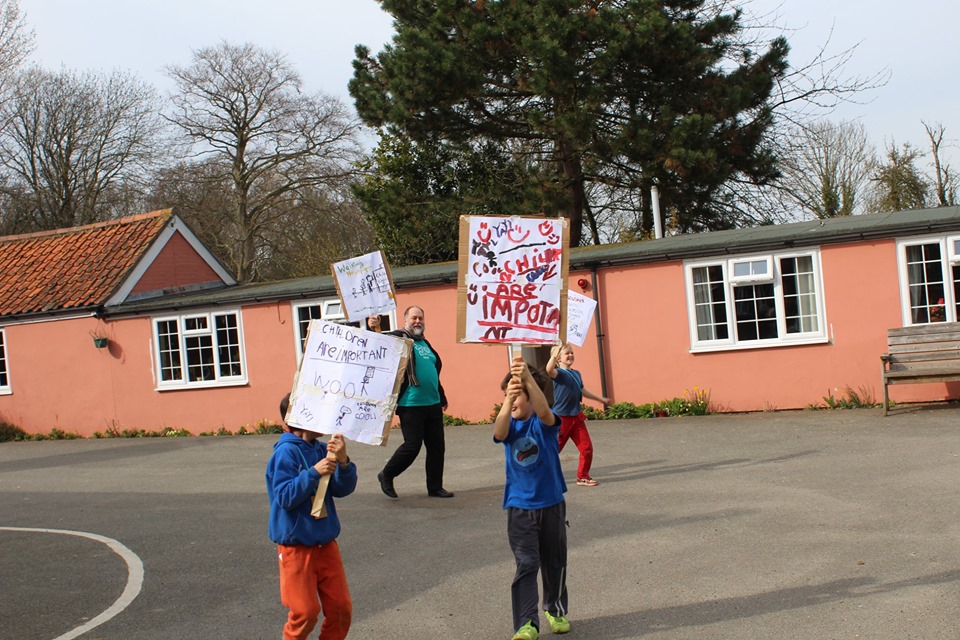 The spontaneous protest at last year's forum calling for children's rights!
Volunteering
This event isn't possible without our amazing team of volunteers. We now have a full team of volunteers excited to bring you an amazing weekend of fun and inspiration!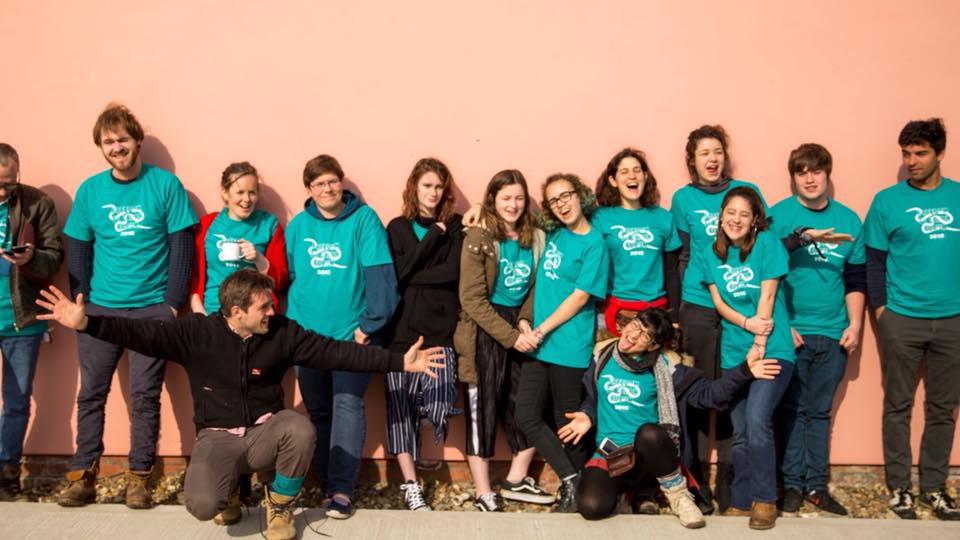 Bursaries
We are able to offer a limited number of bursaries to reduce the costs for attendees who may be experiencing financial hardship. These bursaries are made possible thanks to the generosity of the Meadowbrook Trust, and the Raymond Williams Foundation. If you are interested in applying for a bursary, please email danny@phoenixeducation.co.uk to request an application form.
We will especially welcome bursary applications from traditionally underrepresented folk, such as people identifying as: women, BAME, LGBTQ and/or non-binary, differently-abled and neurodiverse, young, working class.
Group Bookings
If you want to make a group booking, we can provide a 25% discount on the full ticket fee for adults and children, and can also consider bursary options if members of your group are experiencing financial hardship. Please contact danny@phoenixeducation.co.uk to discuss your group's requirements.
What to bring?
Your good selves, your ideas and enthusiasm

All the things you'd normally bring camping (e.g. a tent, bedding, towel etc.)
More details about specific items to bring and things to be aware of will be sent to attendees in the weeks leading up to the event.
How does open-space work?
Here is an example of what you might do when you arrive at the Forum on Friday 23rd August:
At registration, you will receive maps and some practical information

Then you will probably pitch your tent, in a circle with some other campers

Then you might find the compost loos, the wood-burning showers and the food place

Perhaps someone will throw a frisbee to you, and you might decide to join in a game

At some point, you could wander over to the info tent, and look at the Workshop Board: you will see a list of workshop spaces along the side and a list of times on the top. In-between are some cards with information on them, and some blank cards for you to write on….

One of the cards might say: What are 'Democratic Schools'? An introduction from a democratic school teacher.

Another might say: 'Carl Rogers: a discussion about the man who wrote the book Freedom to Learn. All welcome'

Another one might say: 'Building a Spaghetti Parliament: mainly for children'

You can choose to go to one of these workshops or none of them. You could go to the beginning of one workshop and then leave after 10 minutes if you don't feel like you're contributing or gaining anything.

You might wander back to the campsite, and on the way get chatting to someone you've never met before about different ideas about the afterlife and how it is to live in a residential community

By the time you get back, it's almost dinner time. You arrive to find locally sourced, tasty curry and several salad options and sit down at a table with some friends and some strangers. You wash up your own plate afterwards

Back at the campsite, some children and adults have started a fire together, and someone is strumming a guitar. You think about singing along but then decide to just be quiet for a bit and listen

Later, someone invites you to a film screening: a documentary about Braziers Park. You grab a blanket and settle down on a sofa to watch the film

You get involved with a really long conversation afterwards and go to bed when you feel like it!

As you're falling asleep you think about a workshop you might offer the next day: 'how to create an atmosphere like this Forum where everyone feels okay to be themselves?'
Contact the organiser
Any questions regarding the event, please contact: freedomtolearnforum@gmail.com.
Date and time
Location
Braziers Park
Ipsden
Wallingford
Oxfordshire
OX106AN
United Kingdom
Refund policy
Refunds up to 7 days before event