A weekly improvisation session open to all dance enthusiasts and professionals. Zoom in & tune in with your body to the sound of live music.
About this event
Join dance artist Yanaëlle Thiran and musician Mikaela Livadiotis on Zoom for an hour-long, self-led improvisation session.
The aim of this practice is to give you space and time to tune in with your body and find your flow of movement in response to Mikaela's music. At the end of each session, when she stops playing and brings the improvisation to an end, there will be about 10 minutes left to chat and stretch.
Dates and times: Fridays 30 April - 9 July, 8:30 -9:30 am
There is no session on Friday 4 June(half term).
Payment: Drop in by donation (suggested amount: £3)
Terms and conditions:
You will receive a Zoom link via email before each session.
Please be mindful of any injuries, health issues or space restrictions that may affect your participation (e.g. dancing on a hard floor or carpet). Take care of your body and surroundings, and feel free to take breaks and drink water as and when needed. The improvisation goes on for about 45 minutes non-stop, which may challenge your stamina and creative energy! Please pace yourself. Company Concentric is not liable for any injury or damage to your belongings that may happen while you join our improvisation practice.
We may take screenshots or video recordings to promote future events, and you are welcome to film yourself. Please let us know if you would prefer not to appear on our screenshots or video recordings.
Photo: Yanaëlle Thiran improvising on stage at Shenzhen Fringe Festival (2018) with Kuan-Yu Chen / Intoon Dance.
This event is part of Company Concentric's Summer Term Classes, which also include Yoga for Musicians (Fridays, 6 - 7 pm on Zoom).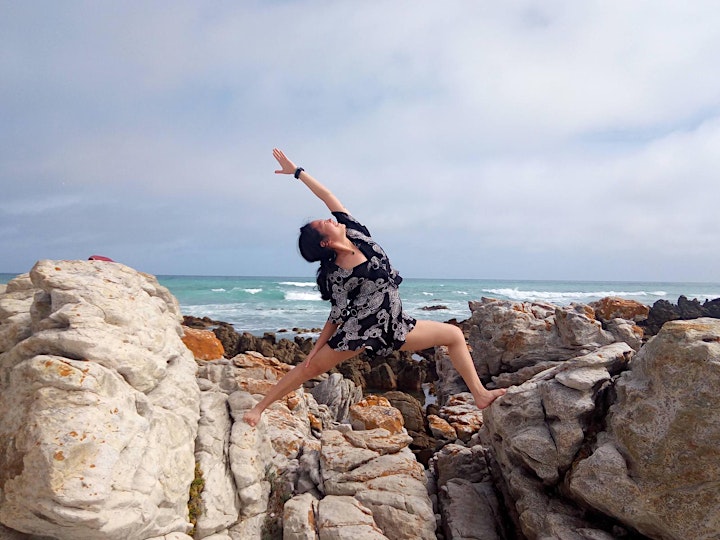 Organizer of Freeform Fridays: Dance improvisation sessions with live music