About this Event
ICMOR3, the brand new festival celebrating Black British Culture is coming to London this August. Presented by Freeform, an inclusive wellbeing and arts community uniting Black British people + allies. Come tun up with Freeform this summer for a good cause ✊🏾.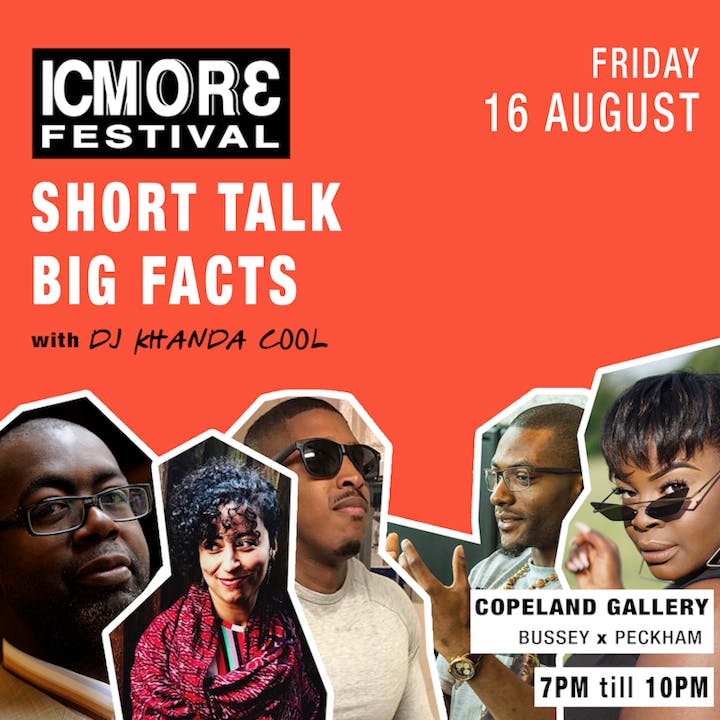 FRIDAY 16 AUGUST // DAY 1: SHORT TALK BIG FACTS
Get ready for a lively night of honest conversation on Adulting + the behind the scenes of the glow up. Sound off drink in hand with people looking to have a good night. Anonymously submit Adulting scenarios that have got you stuck and get unfiltered advice on everything from becoming your own boss to toxic relationships, social anxiety and more.
Tune in to the conversation being led by pioneers of the culture
Sephton Henry Gangsworker + Founder of Gangsline
Marwa Belghazi Political Activist
Queenie Mojo Dance Movement Healer + Body Positivity Advocate
Eche Egbuonu Mental Health Advocate For Black Men + Social Entrepreneur
Patrick Vernon OBE Windrush + Mental Health Campaigner
Paying homage to musical talent coming from the African continent and diaspora, DJ KHANDA COOL will be spinning the very best of Afrobeats, South African Music, Reggaeton and Bashment.
SATURDAY 17 AUGUST // DAY 2: A FAMILY TING
Closing out the festival, it's time to tun up Loud & Proud—with some of the UK's most legendary DJs who've graced the stages of Wireless, Julie Adeuga's Don't@Me and so many more great nights.
Expect the best in Grime • Hip Hop • Trap • Afrobeats • Bashment • UK Urban Music • Don't miss out on what promises to be one of the best end of summer parties around!!
TUN UP FOR A CAUSE
All ticket proceeds are going to Art Against Knives and Room to Heal, two charities which use the arts and therapy to empower people of colour, specifically refugees and young people in London.
We've priced this festival to be affordable for all. Attendees who can are invited to leave additional donations to go towards both charities. If ticket prices are not manageable for you please contact the organisers; we do not want to exclude anyone based on cost.
WHO IS FREEFORM?
Giving Credit Where Credit Is Overdue.
Freeform is an inclusive well-being and arts community celebrating Black British Excellence. Freeform exists to support the wellbeing and success of creatives and changemakers positively shaping London's present and future. We are creating a platform for people of colour and allies to celebrate our creative and diverse achievements, curating support for less heard voices.
COMMUNITY POLICY
Respect yourself (and others).
Be conscious of your privilege; this is an inclusive community but one which aims to give voice to members of diaspora communities - please engage consciously with those around you. Discrimination of any kind based on identity and/or difference will not be tolerated. Respect others' personal space- we want this to be an open, inviting environment for all, please play part in facilitating this.
This is a space created to celebrate and elevate our achievements and varied experiences; start your interactions from a place of respect and positivity.
Engage, talk, ask, play, enjoy - no one ever really grows up after all :)
NO BAD ENERGY - cheers!
Good Music | Positive Vibes | Good Energy | Cocktails | Black Excellence