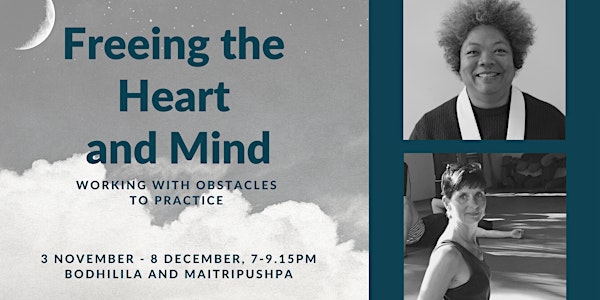 Freeing the Heart and Mind: Working with Obstacles to Practice (Online)
Learn how to identify obstacles to meditation and ways to soften their power in our practice and in our everyday lives.
About this event
'Saying there are obstacles will get you nowhere: do what you can at the time,'
- from Padmasambhava's Advice and Admonition to the Revealers of Treasures
This is an online course that runs over six Wednesdays, 3 November to 8 December, 7-9.15pm.
Have you noticed how the same things keep getting in the way in meditation — and in life in general? Certain thoughts, replaying that conversation, wobbling on the fence, fantasizing…
Join Bodhilila and Maitripushpa as we explore the 'hindrances': wanting, pushing away, sleepiness/boredom, doubt/indecision, fidgetiness, restlessness and anxiety. Through meditation and discussion, we'll unpack how these obstacles might appear in our own practice (and in our everyday lives) and how we might meet them and soften their power. Let's learn how to get out of the way so our meditation and life can flourish.
Booking
After registering, you will receive a confirmation email containing information about joining the event and again at least 48 hours before the start date. Please note that the registration fee is non-refundable and after the course you will be invited to make a further contribution towards the event. The suggested donation is a guide to help you but please offer what you can above or below that figure.
Bursaries
We still want to make our events available to everyone who wants to attend so please contact the centre and ask for a bursary if you want to attend but can't manage the course fees. Our email is: info@westlondonbuddhistcentre.com
Date and time
Location
Refund policy
Organiser of Freeing the Heart and Mind: Working with Obstacles to Practice (Online)