Fun and Educational French & Spanish Camps for children aged 5 to 11 years old
About this event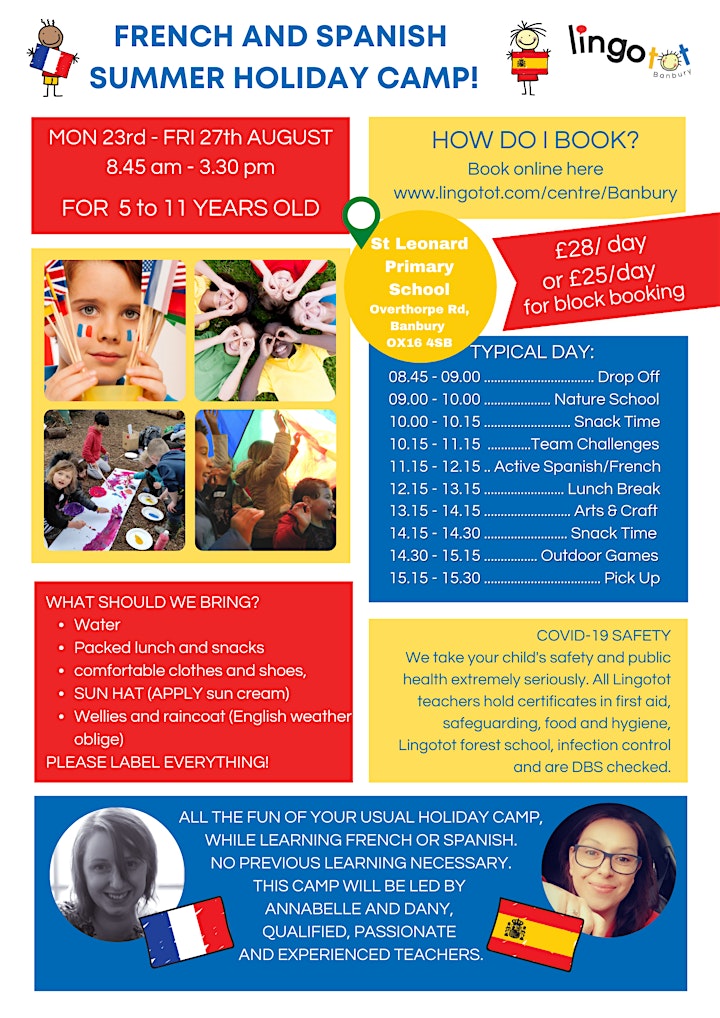 Join us for this fun French & Spanish Holiday camps during the week of August at St Leonard Primary School.
Our camps are filled with outdoor adventures, nature school, team challenges, arts & craft, active learning and outdoor play! All of these while picking up a new language ready for their return to school!
We have the use of a lovely playground , with a beautiful green outdoor area and lovely large indoor area in extreme weather condition.
Our camp will run in a Covid 19 secure location with all staff undergoing a full Covid 19 risk assessment.
We are keeping the numbers down to ensure we have enough space and time to reduce the chances of cross-infection.
Drop-off is 08:45-09:00 and pick-up at 15:15-15:30.
Each day of camp will follow a different theme and be conducted as much as possible in French.
BOOK ONLINE
Book the whole week - Monday 23rd to Friday 27th of August
French Camp
https://www.lingotot.com/classes/6176
Spanish Camp
https://www.lingotot.com/classes/6177
You can also book single day of your choose. Find the suitable days here:
www.lingotot.com/centre/Banbury
£25/ day when you book for the whole week. £28 for single days.
We advise to book quickly as places are very limited.
Please note - if Covid-10 prevents this camp from going ahead, I will give full refunds.
Request your discount code when you book for two or three children or have a school referral discount code (10% off you want to book with a friend and recommend them.)
Email us at Banbury@lingotot.com for more details or for any question you may have!
Here are some of the parent's testimonials:
"Ellie had so much fun yesterday she asked if she could go everyday!! I would definitely love to know of any more camps that you do, it's such a great way to get the kids out and learning!
I always like to give feedback especially when it's good! Thank you again"
Natalie, mum of Ellie
"This is just a quick email to thank you for the French Holiday Camp that my kiddies attended today .
Gianluca and Isabella really enjoyed it very much and returned home singing the french songs they learned and teaching me some words too .
I hope we can see more of French camps in further school terms, I believe the children benefit so much from it ;-) "
Roberta, mum of Gianluca and Isabella
"Lingotot's holiday camps are just superb. My son came back every day super chatty and excited to tell me about all things he'd been up to and the new friends he'd made. The personal and caring touch really makes a difference. Highly recommend it!"
Sharday, mum to Elijah