Fresh Air Business Walk: Exploring Great Client Relationships in the Brecon...
Description
What is it? And is it for me?
The way that relationships play out can be the thing that makes or breaks a successful project or partnership.
What characterises good client, supplier and collaborator relationships? What beliefs and behaviours will help you build stronger connections? What strategies can you implement to strengthen the relationships that your business depends on?
The ability to collaborate is becoming increasingly important in business today, but what soft skills do you need to make that happen? How do you foster shared trust and understanding? How can you use curiosity and honesty to develop long lasting profitable partnerships?
COME ON THIS FRESH AIR BUSINESS WALK AND INVITE ONE OF YOUR VALUED CLIENTS OR COLLABORATORS TO JOIN YOU FOR THE DAY.
Strengthen Your Business By Getting Client/Supplier Relationships Right!
We'll be walking up Pen y Fan (886m), the highest peak in the Brecon Beacons, exploring how we can build strong, collaborative partnerships along the way.
This walking workshop is facilitated by Dave Stewart, mountain leader, business coach and founder of the Fresh Air Learning Company. He will be supported by Sonja and Sharon of Valuable Content.
We'll set you off with some questions to reflect on. Use this opportunity to carve out some space and time to build deeper understanding. We will finish the walk with lunch (at additional personal expense) at a fabulous country pub. It will be a great way to strengthen key relationships this year.
This walk will be great fun and also add huge business value.
Walking, talking and thinking in the company of a small group of like-minded business leaders helps sharpen your perspective and strengthen your resolve. Take a step outside your business and get to know each other better.
STEP OUTSIDE THE OFFICE TO FIND YOUR FOCUS!
Where is the start/finish point? Where can I park? What about toilets?
We will be starting/finishing at the public car park on the opposite side of the A470 from the Storey Arms Outdoor Education Centre, LD3 8NL. Car parking is free. There is a public toilet about 5 minutes into our walk.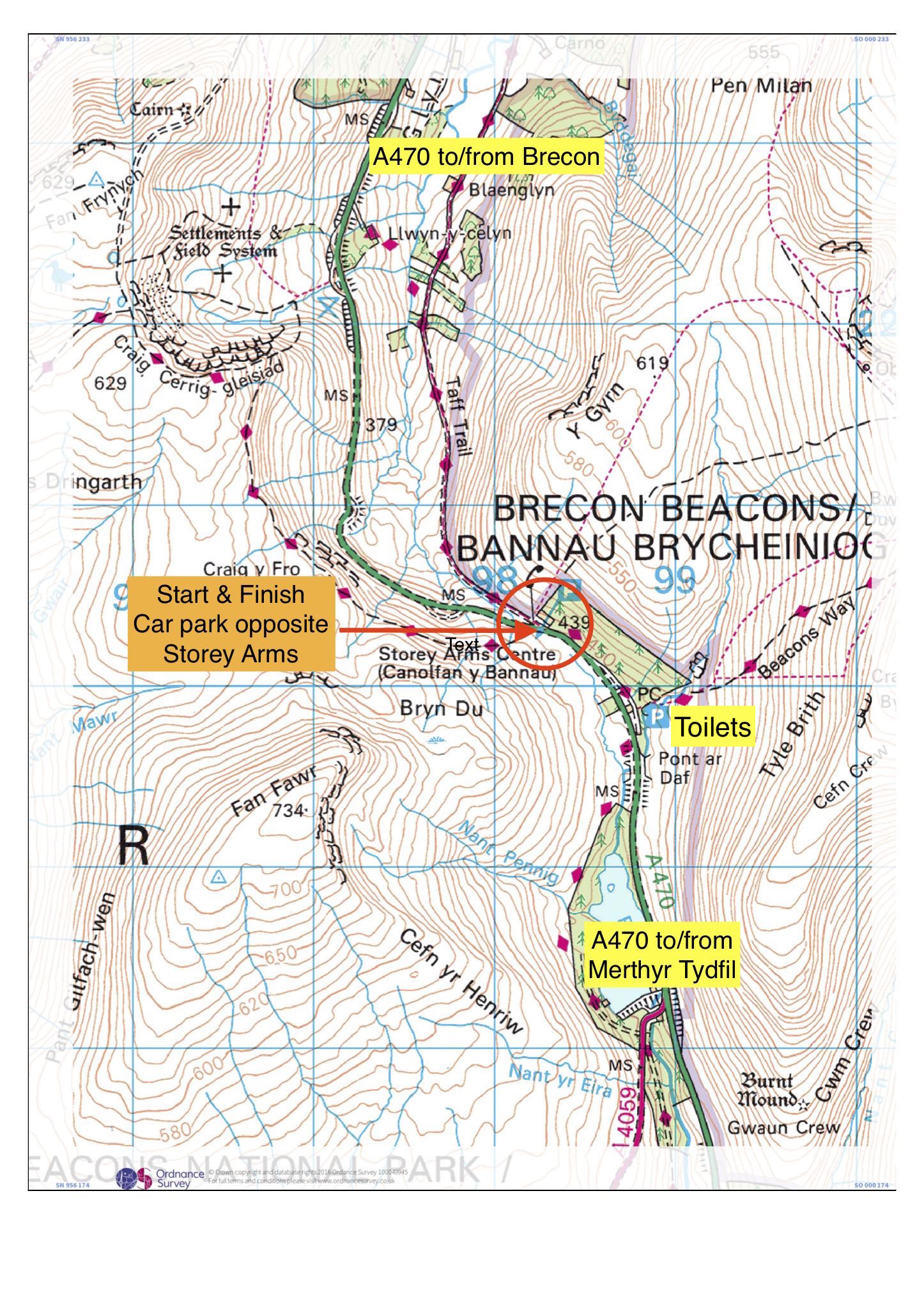 Who is leading this event?
Your leader for this event is Dave Stewart, MD of The Fresh Air Learning Company. Dave has led at senior levels across private, public and not-for-profit sectors; and is also an experienced facilitator and coach. He is also a qualified and experienced Mountain Leader with outdoor first aid qualifications. Read more here.
He will be supported by Sharon and Sonja of Valuable Content.
Where can I contact the organiser with any questions?
Email: dave@freshairlearning.com
How fit do I need to be? How far are we walking?
This is a moderately challenging walk involving a round trip of 8 kms (5 miles) and an ascent of 450m (almost 1500'). The weather at any time of year may also offer additional challenge.

We will be walking at a pace which allows people to talk comfortably. There will be lots of stops to take in the incredible scenery around us.

If you are in any doubt about your ability to undertake this walk, consult your GP and the organisers.
What clothing & equipment will I need?
Walking boots with good grip and ankle support. Wellies are not suitable.

Waterproof over-trousers and waterproof jacket. Let us know if you need help with these.

Spare warm layers for stops and "layering" as required.

Warm headgear and waterproof gloves (carry a spare pair also).

Your own snacks and water (1.5 litre minimum).

A flask with a hot drink is recommended.

Walking poles are recommended. Let us know if you need help sourcing a pair.

Personal medication as required.

Small rucksack with waterproof bags to keep contents dry.
What about bad weather?
The walk will go ahead in all but the most extreme weather. The route may be modified to make the best of conditions. Your leaders are highly qualified and experienced outdoor leaders. You will be in safe hands.