Description
CSA CONFERENCE MAJOR ANNOUNCEMENT
Press 01444 390270
Please share and attend this major international conference.
May 3rd 2017 Perth Scotland.
The Station Hotel Perth 915am to 6pm.
Wilfred Wong Robert Green Shirley P Cooper Sandy Smith.
The Fresh Start Foundation Conference will announce a major Event that will shock the political world and will help all survivors of historic sexual abuse in the past and will try to protect victims in the future to be apart of this please do get in touch.
Donations
http://www.crowdfunder.co.uk/fresh-start-foundation-child-sexual-abuse-victims?utm_source=www.crowdfunder.co.uk&utm_medium=widget&utm_content=pledge&utm_campaign=Fresh+Start+Foundation++Child+Sexual+Abuse+Victims
#NoMoreCsa Twitter
Video Presentations by
Brian Gerrish Uk Column
Kevin Annett Itccs.org
David Icke Writer/Speaker
Lori Oschefski British Home Children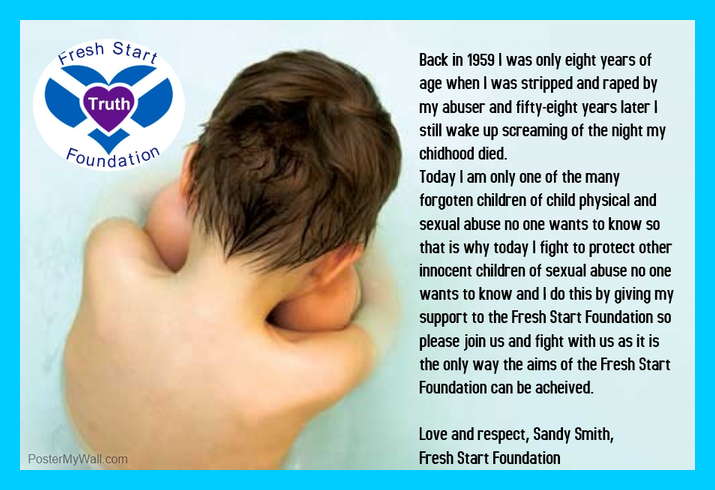 Fresh Start Foundation is a Scottish not for profit group, helping child sexual abuse victims & survivors to achieve Truth & Justice and to support their recovery.

Our aim is to provide a break with the past and promote the eradication of child sexual abuse. We champion the values of Truth, Justice and believe sunlight, coupled with self love is the best healer.
We are independent of Government.

To this end, we would like to invite you to our Conference at The Station Hotel in Perth, Scotland on 3rd May 2017 from 9:15 am to 6 pm.

We need your help and expertise in whatever way you can offer
Come and join with us, to make our conference unique for being the first step forward for a Fresh Start for the future for Scotland's Victims & Survivors.
Yours faithfully,
Fresh Start Foundation
info@freshstartfoundation.co.uk
Survivors 0300 999 2017
Admin 01444 390270