About this Event
Discover the quick wins and tactics that are cheap but will have big impact on sales.
If you're lost at where to start with SEO or paid digital marketing, this is the talk for you!
1. Introduction to Google Search and Keywords
2. Introduction to Google Ads
3. What you need to do on your eCommerce store to cheaply reach people Christmas Shopping
Come and have a pint and learn about how to make the most of the Christmas season with these easy tips.
Everyday I'm talking with small businesses and freelancers who are scared of SEO and feel stupid asking questions.
This is the event to quash the notion that it's too complex or difficult for you to understand. I'm here to make SEO friendly and less scary.
Together we'll run through the basics of Search and look at what you can to do appear for the most valuable terms ready for Christmas.
I'll run through some basic concepts, explain why you don't always have to be top and answer your questions in a relaxed and friendly environment.
17:30 - 18:00: Arrival
18:00 - 18:45 Talk
18:45 Onwards - Questions / Drinking / Networking
Where?
We're upstairs in the second room on the right at the lovely craft beer company.
Buy a pint on the way up!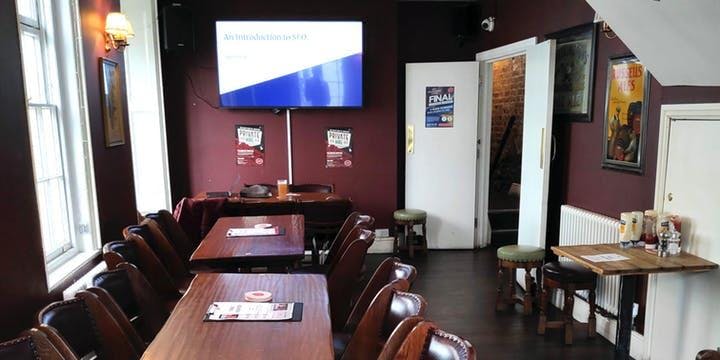 Who is this talk for?
This talk is an introduction to all things Google Search and SEO and is designed for anyone with an online store who wants to learn the basic concepts of what it is, and what it all means.
We'll start by looking at Search to get a basic understanding of keywords, SEO and then lead into how you can use this information and new understanding to prepare for Christmas and appear in front of people ready to buy.
If you're one of the below, here's the questions I aim to answer :
Freelancers - What SEO can you do yourself? When should you outsource? Should you even bother?
Business Owners - Work with agencies but feeling lost? Unsure what you can do yourself? Understand the basic terms so that you aren't lost in meetings and understand the opportunities to grow
Entrepreneurs - Find opportunities and get a basic grasp of where to go to learn more information.
What will you learn?
What is SEO?
What does being first really mean?
Why should you "do" SEO?
What are keywords?
How do Google Ads work?
How can you appear for "about to buy" keywords at low cost?