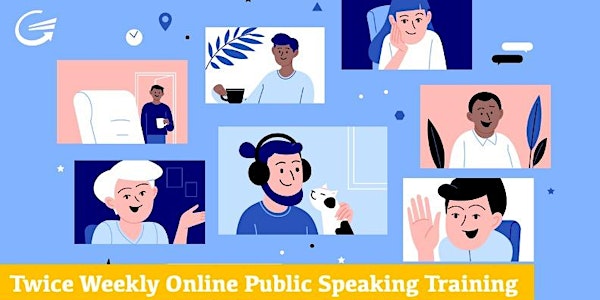 Multiple Dates
FRIENDLY Weekly Public Speaking Class: RAPID Results with Renowned EXPERTS
Quickly Get The Confidence to Speak up in Meetings & Deliver Fearless Presentations within a Friendly, Supportive, Public Speaking Class
About this event
Public Speaking Classes
In a friendly, supportive community, you can discover how to speak with total confidence in meetings and deliver fearless presentations by joining our weekly public speaking classes
All events are VIRTUAL and FREE to attend!
———————————
Is your career SUFFERING because of your fear of public speaking?
Do you remember the moment you had to deliver a presentation?
Your heart's pounding, palms getting sweaty, and your mind going blank.
Little wonder you always avoid speaking in public, missing out on every opportunity to give presentations.
Have you realised how much your fear of public speaking is costing you?
You don't have a voice in your company. You're doing all the hard work, but never seem to get the recognition or reward you deserve.
Promotion to leadership positions seems like mission impossible.
We get it!
We were there.
We understand the fear and frustration of speaking up and delivering presentations.
Having taken the journey to master public speaking, we now know the secret to get your public speaking confidence fast…
Imagine how much more success you will achieve in your career if can:
✔︎ Confidently speak up in meetings.
✔︎ Fearlessly deliver presentations that influence and impress your
audience online or in person.
✔︎ Answer questions with confidence, so you can nail Q&As and
Interviews
✔︎ Speak up and stand out at work
Please register to join a weekly public speaking class!
———————————
The SECRET TO PUBLIC SPEAKING MASTERY
The secret is to practise your speaking skills again and again and receive constructive feedback from experts.
The process will be even more effective when you're in a friendly and supportive public speaking class full of like-minded people.
With our proven system and friendly and encouraging members, you will quickly discover that public speaking doesn't have to be scary, it can be enjoyable and exciting.
The public speaking confidence you acquire will unlock many new career opportunities for you.
We guarantee that you will soon feel much more comfortable and confident speaking to an audience.
Unlike those many other public speaking groups who maybe meet twice a month, and where you then get to speak once for a minute or two if you're lucky…
... We have 2 public speaking classes every week, Monday and Wednesday at 6:30pm (UK time).
You will receive customised speaking practice at least 4 times every session.
———————————
FIRST-TIMER?
We know how daunting it can be to speak in public, especially in front of a large group of new people. That's why we've structured each public speaking class to involve you in our small group activities of 3 to 4 people.
Speaking in front of the entire group isn't required.
———————————
PUBLIC SPEAKING CLASSES
TRAINING STRUCTURE
6:30pm - Introduction
Our public speaking experts will introduce how the training will work and help you.
6:35pm - Group Activity
You will have an opportunity to meet new people in a small group in a break-out room as you start your journey to public speaking success with an easy and light-hearted activity.
6:40pm - Spotlite Speech 1
Members of our community will practise their skills of answering questions unprepared, so they will be ready to handle Q&As and interviews.
7:00pm - Structured Speeches & Speech Appraisal
Up to two members will each deliver a prepared 5-minute speech, then receive constructive feedback. This session builds their confidence and skills to structure and deliver longer presentations.
7:15pm - Spotlite Speech 2
The second round of questions for members
7:25pm - Group Activity
We're back to the small group break-out rooms for a 5th focussed speaking activity.
7:40pm - Spotlite Plus (Public speaking activity)
A fun, light-hearted and creative activity to help our members develop their public speaking confidence.
8:00pm - Conclusion
An opportunity to chat privately to members of our community in small groups for as long as you like!
Check out a sample session here to see if our intensive training is right for you.
Please register for to join a public speaking class.
If you have any questions on our public speaking classes, get in touch as we are happy to help you!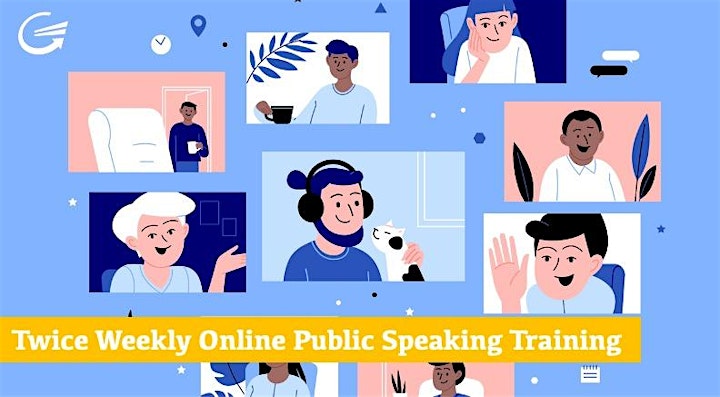 Organiser of FRIENDLY Weekly Public Speaking Class: RAPID Results with Renowned EXPERTS
Public Speaking Classes to Get Cast-Iron Confidence!

Lose All Fear of Public Speaking, Get Heard in Meetings & Achieve Career Success. Online & In-Person Events

Your Public Speaking Success Mentors

Andy O'Sullivan is an international bestselling author of 5 books on public speaking, pitching and presenting.

Andy is a speaker and educator on the subject of how to survive and thrive in the business world with effective public speaking, pitching and presentation skills.

Today, Andy works with professionals to provide the tools to create and deliver confident presentations. 

Brian Guo is a multi-award-winning speaker, national speech contest finalist, presentation mentor and international speaker.

Using his extensive experience of delivering presentations in a second language, Brian works with overseas professionals to develop their public speaking skills and confidence.  Ensuring they are able to clearly and confidently deliver presentations in English.

We know form our own experience how you have unique worries or concerns about public speaking.

That's why each of our training events are carefully crafted to support you on your journey to public speaking success.

Providing a safe, supportive and encouraging environment, you will soon be speaking in public with confidence!

Processing your personal data: Please note that when booking an event, your data will be processed in accordance with the Academy of Public Speakers Privacy Policy. This is in addition to the Eventbrite privacy policy.