Location
Evolution London
Chelsea Bridge
London
SW11 4NJ
United Kingdom
HYPER JAPAN Standard Table Exhibitor Package now on sale! Fringe Area Packages: Best for independent artists.
About this event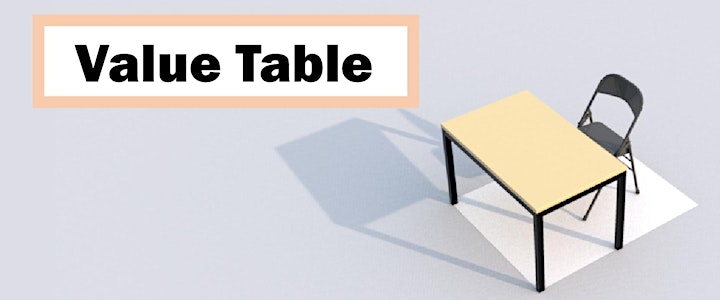 **ALL SOLD OUT! THANK YOU!
***Please subscribe our newsletter for future event!***
The Value Tables at the Fringe Area are only available for independent artists looking to sell their own original works such as hand-drawn or hand-made products (i.e. not third-party products) at HYPER JAPAN Festival 2022.
All potential exhibitors will have to provide photos of their goods intended for sale in order to be vetted for a Fringe Area table. Exhibitors in the Fringe Area are not allowed to sell food items or beverages (including alcohol).
Zone: Fringe Area at HYPER JAPAN Festival 2022, 22nd - 24th July 2022 at Evolution, Battersea Park, London
Table assignments in the Fringe Area will be decided by the Organisers.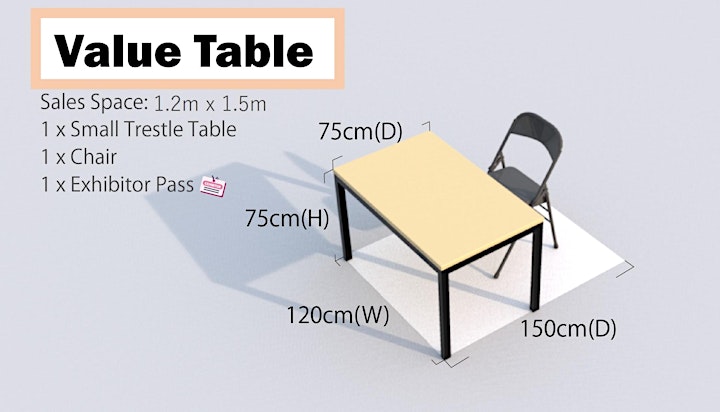 Price: £110+VAT (*Max 1 Table per Exhibitor)
A single sales table located in the Fringe Area. Value Tables are limited to 1 per exhibitor.
Contains:
Exhibition Space (W120cm x D150cm)
1 table (W120cm x H75cm x D75cm)
1 chair
1 exhibitor pass
(Backing walls not included)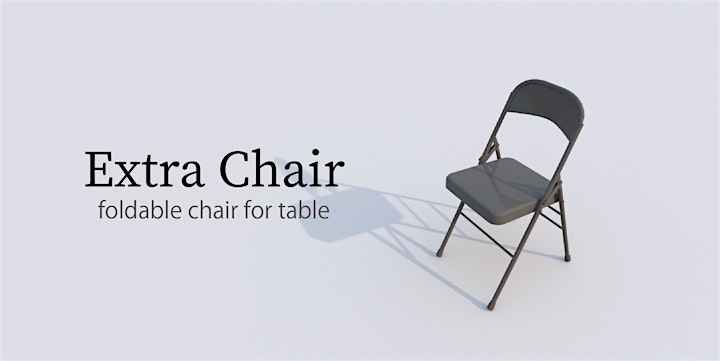 Extra Chair
Price: £11 +VAT
One foldable chair for Table exhibitors. This is available for both Market Area and Fringe Area exhibitors.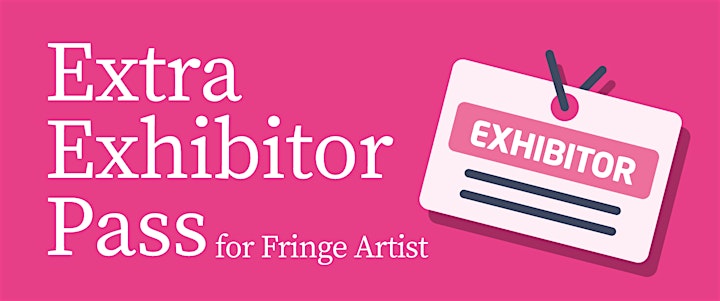 Extra Exhibitor Pass for Fringe Area Exhibitors
Price: £38.50 +VAT (*Max 1 per Table)
This pass allows one person to attend as exhibitor staff during preparation time and across all 3 event days. An extra chair is also available to purchase separately.
**ATTENTION FRINGE AREA APPLICANTS**
Cross Media Limited, the Organiser, will review your products via the website(s) or SNS you have provided to us. If you do not have a website or SNS, please send 3-5 images of your products along with your name and an order reference number to exhibitors@hyperjapan.co.uk immediately after your application. Any Fringe Area applicants that are rejected will be issued a full refund.
Artists are allowed to sell their own original works such as hand-drawn or hand-made products (i.e. not third-party products).
The sale of food items or beverages (including alcohol) is not allowed in the Fringe Area
All exhibitors are required to have Public Liability Insurance cover (min £5,000,000) in place to cover for all 3 days at HYPER JAPAN Festival 2022 including build up and break down.
Table Layout at HYPER JAPAN Festival 2022 will be sent out to all exhibitors along with the Exhibitor Manual. Please note it may change in due course subject to ongoing industry and government restrictions.
**Note**
Please read carefully the full Table Exhibitor Terms and Conditions including the Cancellation Policy and Privacy Notice before you purchase any Table Exhibitor package at the Market Area.
Please pay particular attention to the following items from the Terms and Conditions:
Items exhibited and goods shall not be illegal, offensive or obscene. Any infringing items including in particular but not limited to fake and/or unlicensed products are strictly prohibited at the Event. The Company reserves the right to solely and freely determine whether an item or good is inappropriate for exhibition at the Event and to demand the cessation of its exhibition or sales. This right also applies in all cases where a dispute has arisen between copyright owners, manufacturers, distributors or any other related parties with regard to an item or good being exhibited or sold at the Event.
Sales of cosplay weapons and swords at HYPER JAPAN Festival 2022 are solely permitted to specialist cosplay weapons vendors who have been vetted and approved by the Organiser. If any non-approved exhibitor is found to be selling or displaying replica swords and guns, the Organiser will take immediate action to halt the display/sales of such items.
Purchase of a Table Exhibitor Package does not entitle the Buyer to sell or provide food and drink items including dried foods, sweets and snacks, juice, or alcohol.
The following documents must be submitted to the Organiser by 20th June 2022. 1) Risk Assessment & 2) Public Liability Insurance Certificate (minimum £5 million).
All Buyers must follow the instructions laid out in the Exhibitor Manual and takes sole responsibility of reading the Manual and preparing for the Event.
By entering into the agreement for Market Area Packages, the Buyer consents to the collection, use and retention of submitted personal information by the Company, which the Buyer gives explicit consent by ticking the Consent From upon checking out.
Please contact exhibitors@hyperjapan if you need any assistance.