Description
In order to continue our work towards stimulating transformation and development worldwide, IF Manchester is inviting you to the conference: 'From Bench to Business: Accelerate your idea' on the 12th of October at 6 pm local time at the Manchester Metropolitan University Business School Room 3.14 (detailed address here).
There you will have a chance to meet successful business and science professionals who will share their experience and exclusive tips on how to start and accelerate YOUR OWN business.
Moreover, on that day you will witness live pitches from IMAGINE IF Accelerator programme and see, how experienced mentors will select Imagine IF Accelerator 2017 North-West winner.
Agenda:
5.30 – 5.50 pm - Registration
5.55 – 6.05 pm Introduction to the event and Innovation Forum (Dr Daniel Moreno-Martinez and Anastassia Bolotkova)

6.05 – 6.10 pm Dr Graham Foxton (Director at ReMAP Consulting)
6.10 – 6.25 pm Dr Paul Kemp (21st Century Healthcare: a revolution in medical and commercial innovation)
6.25 – 6.40 pm Dr Andy Clarke (Enterprise or entrepreneurship teaching; empowering scientists in the commercial world with participation of audience)
6.40 – 6.45 pm Short Break
6.45 – 7.00 pm Dr Nan Zhao (Dreams vs. realities, moving from lab to real business)
7.00 – 7.45 pm ImagineIF! local finals
7.45 – 8.30 pm Networking (drinks reception)
Speakers:
Dr Nan Zhao, Director at Sinan Compass

Dr Andy Clarke, Lecturer in Science Enterprise at University of Salford

Dr Paul Kemp, Director and CEO at HairClone

Dr Daniel Moreno-Martinez, Head of Marketing and Communication, Global Innovation Forum

Anastassia Bolotkova, President, Innovation Forum Manchester

We will also have the pleasure of having:
Dr Claire Brown, Fund Manager/Investor at Biocity Group Ltd and Alderley Park Ventures

Dr Martino Picardo, CEO of Stevenage Bioscience Catalyst
Dr Andy Yates, Founder of Kancerbis Ltd

Dr David Cook, Chief Scientific Officer at Blueberry Therapeutics
Dr Laura Etchells, Enterprise and Business Development Manager at UMIP
Ian Cox, Founding Director of IDACO Consulting Ltd & CEO of Zebra Therapeutics Ltd
Tony Travers, Director at TT Healthcare Ltd

join us as North West ImagineIF! mentors and judges.
More details about speakers and other guests can be found on official Innovation Forum Manchester event website here.
The dialogue between science and business is not always as smooth as we would like it to be, it's rather complicated and in some occasions even impossible. The difference in culture between the two fields often means that there is a lot of misunderstanding or a difference in expectations on either side. (Euroscientist, 2016) However, the increasing need for businesses to adapt and change in this fast-paced world does not leave them a way as to look for the possible connections with academia and their innovative solutions. The recent statistics on the market value and growth of the global life sciences industry show that one of the most important industries where industrial growth exist are biotechnology, medical technology and pharmacy, with the growth rates of 9.6%, 2.6% and 2.4% respectively (Deloitte, 2014). These numbers prove that possible innovation and growth can only exist by bringing academia and business together.
This is why Innovation Forum's (IF) main goal is to close the gap and become a bridge between the core and most powerful fields. Our constant communication and network can help many to fulfil their dreams. Moreover, being based in the North West of England – Manchester, city that has a fastest economic and demographic growth of all the cities outside London and is ranked as the best city to start a business in the UK outside of the capital we welcome the worldwide change and ground-breaking ideas!
Don't miss out such a great opportunity, register and become a part of the event that is going to change the way you think!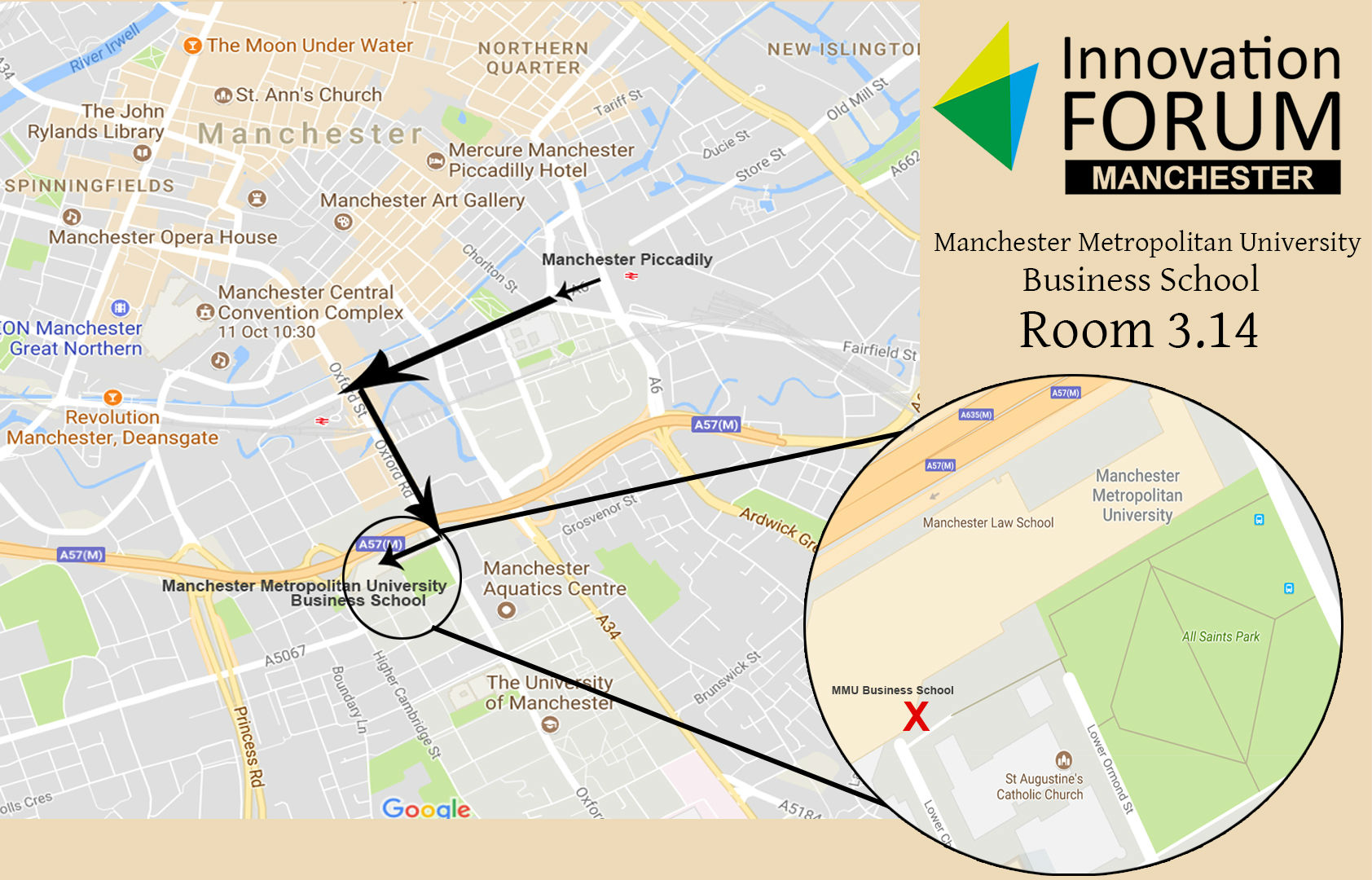 Sponsors: