Refund policy
Contact the organiser to request a refund.
Eventbrite's fee is nonrefundable.
HOW TO RETURN TO LOVE if you are making up after separation; still in separation or divorce OR if you dont know yet whether to stay or leave
About this event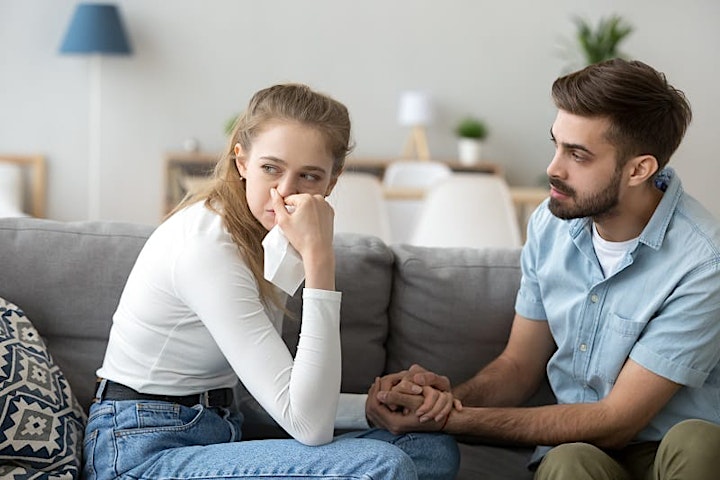 In this Zoom 60-90 min Workshop Dating Love and Relationships Expert and Mentor Lorrayn de Peyer will explain HOW TO RETURN TO LOVE if you are getting back with someone after a break-up , separation or divorce or if you are trying to decide whether to stay or leave a relationship.
It is through having experienced the pain of her own relationship breakups and healing her own dysfunctional relationship patterns in the past that Lorrayn realized there are five steps anyone can take to move through the emotional pain and confusion of a breakup, separation, divorce or the passing of someone we have loved to find love again.
Tickets are £8.50 early bird and £15.00 nearer the event.
Whether It's Been a Short Relationship, A Long-Term Relationship, a Marriage, a Partnership, an Off-On Relationship, or Even A Bereavement, Loosing Somebody You Have Loved is Painful.
In This Webinar We Will be Looking at Some of the Quickest, Easiest and Most Effective Tried and Tested Top Pyschology, Energy Healing, Mindset and Metaphysical Techniques You Can Use Immediately to Move on and Let Love Back into Your Life.
Do you wake up with that heavy weighted sad feeling every morning when you wake up or worse all day?
Is your chest hurting with the emotional pain of it?
Does your mind keep going back to him/her?
Do you keep asking if it is really over?
Do all your friends, relatives and associates seem to be in happy relationships while you are still left on the shelf alone?
Do you feel incredibly lonely?
Does it feel as if time is running out and you are still on your own?
Do people, place and things keep reminding you of him/her?
Do you think you should give it one more try?
Has all the enthusiasm for everything gone out of your life?
Are you feeling tired and irritable more than usual?
Are you suddenly unable to see a future?
Do you think this just shows how useless you are at relationships?
Do you chastise yourself for making the same old mistakes again and again?
In this workshop I will be introducing you to tools you can use to help you get over a relationship that hasn't worked out, move on with your life and how to find the new love you seek, the fulfilment, the harmony AND JOY you really want.
WATCH OUT! This Workshop Has the Potential to Fundamentally Change Your Life and Relationships for The Better Forever.
It includes:
information
discussion
experiential psychology techniques
meditation,
quantum visioning
and its fun!
Please come and join me as I teach the ground-breaking techniques, I have used to help myself and the now thousands of others to get over a break up or sepration, divorce or death and move on to find new love.
"Hundreds of people move through their insecurities and emotional blocks" Time Out
"Tingling from head to foot" The Evening Standard
"A place of authenticity and truth" Psychologies Magazine
"A healer… with practically nuclear energy" The Boston Herald, USA
"Lorrayn left me walking on cloud nine" Daily Express reporter
"It's as much because of my failures, pain and struggles as well as my successes that I have developed a way to help people create the healthy happy lasting relationships they desire. I have come to understand why some people struggle and I teach people how to short cut the process and turn around sometimes very deeply engrained old negative patterns."
Disclaimer: These groups are not intended as a replacement for medical or therapeutic professional help should it be necessary. In this workshop I am not operating as a counsellor, psychotherapist or professional healer. All references to individual cases are meant as examples only of what can be possible. Every client is different, and we can't guarantee results of any kind. In this workshop I offer my wisdom and the experience as somebody who has a gift for lifting people up emotionally and spiritually, empowering them to change, and healing if they are open to receiving my help.
Privacy: Please note that in alignment with the latest GDPR compliancy laws in the UK we wish to notify you that by registering for this workshop you are giving Lorrayn de Peyer and her team permission to contact you by email regarding details about this workshop, news and events we put on. You have the option to unsubscribe at any time and your email address will under no circumstances be shared with any third party. We thank you for your consideration and support of our wish to uphold and guard your privacy at all times.
FAQs
• Who is this event aimed at?
For everyone who wants to bring love into their life whether a new love or improve an existing relationship.
• What will I get out of this event?
This is a powerful workshop aimed to give you practical information and the experience of fulfilment through a short Meditation.
• Who is the organizer of the event?
Lorrayn de Peyer of COURAGE Enterprises
• Who to contact with any questions?
Please email welcome@lorrayndepeyer.com
• Is it OK if the name on the registration/ticket doesn't match the person attending Is that okay?
Yes, only please let us know with the email address of the new person
• Who to contact with any questions?
As above
• What can/can't I bring into the event?
The event has a behind closed doors policy, so please do not record the event or bring in strangers who have not enrolled.
• Can you give in-house training upon request for myself, my team or my business?
Yes, we have a wide range of team building and coaching sessions available. Please email welcome@lorrayndepeyer.com
• Do you give 1-2-1 Coaching Sessions?
Yes. Please contact our office via email welcome@lorrayndepeyer.com for details.
Lorrayn de Peyer is one of the UK's Premier Dating, Love and Relationships Experts