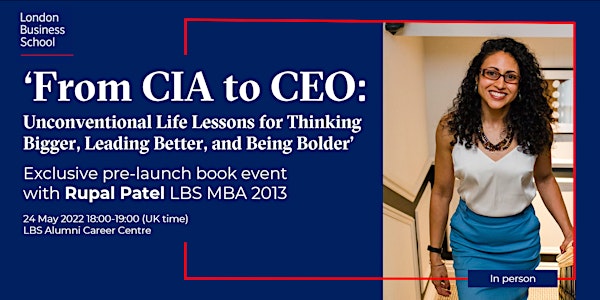 'From CIA to CEO: Unconventional Life Lessons' with Rupal Patel (In person)
Location
Lecture Theatre 6, London Business School
Regent's Park
London
NW1 4SA
United Kingdom
Refund policy
Contact the organiser to request a refund.
Eventbrite's fee is nonrefundable.
Join us on campus for an exclusive pre-launch event for MBA 2013 Rupal Patel's brand new book, From CIA to CEO.
About this event
Join us for an exclusive pre-launch event for MBA 2013 Rupal Patel's brand new book, From CIA to CEO: Unconventional Life Lessons for Thinking Bigger, Leading Better, and Being Bolder. In conversation with Mhorag Doig, Patel will be sharing the tradecraft tools she developed to survive and thrive in the hyper-Alpha world of the CIA and how she adapted those skills to launch two successful businesses. Her fresh take on issues related to leadership, resilience, and professional growth will show you how you can rewrite the rules of success for yourself and unleash your inner powerhouse, no matter who you are or where you are in your career.
The conversation will be followed by Q&A, book signing, and networking with the author. Rupal is a seasoned public speaker, who draws on the many streams of her professional experience as a CIA officer, serial entrepreneur, business advisor, leadership consultant, and mentor to create inspiring, impactful, and insight-filled events. Join us for an unforgettable and mind-expanding evening full of ah-ha moments.
The first 50 LBS Alumni or Students who register will receive a free copy of Rupal's new book!
Following the talk there will be a drinks networking reception.
Book Details:
From CIA to CEO is an ops manual and one-of-a-kind tradecraft toolkit for leaders and entrepreneurs that reveals how the rarefied techniques of the CIA can help anyone find their voice, discover their potential, and thrive in the world of business.
Agent-turned-entrepreneur Rupal Patel shares the unique skills she developed as a woman in the high-stakes, alpha-male world of the CIA, and combines those clandestine insights with her experiences as a business leader and advisor. Each chapter brings tools and tips from the top-secret world of the CIA into everyday living and leading, including methods like Profiling and Situational Awareness that uncover and amplify strengths, and game-changing new frameworks like Identity Driven Leadership and Personal Energy Mapping that unleash performance and develop steel-core confidence.
Full of motivating stories and truly unique exercises, From CIA to CEO shows readers how to leverage the CIA mindset to remake the rules and become unstoppable on their way to Mission Success.
Meet the Author:
The daughter of Indian immigrants, Rupal Patel is a native New Yorker now living near London. Her high-octane career has taken her from southern jungles and eastern war zones, to the gilded halls of NATO Headquarters and Capitol Hill. After a thrilling career at the CIA, she earned her MBA and started two successful businesses. As a CEO, leadership consultant and strategic advisor, she now helps founders, corporate leaders, and next generation change-makers unleash their potential, and lead in powerful, meaningful ways while building mental toughness and personal resilience.
This session is exclusively open to London Business School Alumni, current Students and selected guests. The in person LBS campus location details will be shared with you in advance of the event.
Any questions? Get in touch: alumnicareercentre@london.edu