Description

On Purpose and Movemeon are hosting a panel discussion on the career shift from consultancy to social impact careers.
More and more professionals feel that they want to do something worthwhile with their career, but are not sure about how to make the shift to the social or environmental impact sector. Our panel of three speakers, who have successfully made this shift, will share their experience and answer the questions of the audience.
More about the speakers: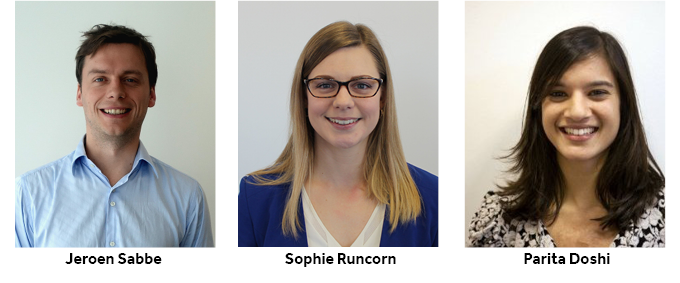 Jeroen Sabbe worked at Bain & Company in Brussels and in Perth (Australia). He advised clients in a wide range of industries on strategy and performance improvement, with a primary focus on Private Equity and Industrial Goods & Services. He joined the On Purpose Associate Programme in October 2015, with placements at National Citizen Service (NCS) and Big Society Capital and joined NCS as Director of Strategy & Implementation upon completion of the programme. Jeroen holds a Ph.D. in Economics and a Master in Business Economics, both from the University of Leuven, Belgium.
Sophie Runcorn spent eight years working at Deloitte in a variety of roles. Most recently she was a project manager, delivering a new management information dashboard for the company. Prior to that she spent several years consulting in the Public Sector, supporting organisations like the Home Office, NHS and Local Authorities to change their operations. A highlight of Sophie's career was working on the London Olympics, buying infrastructure for many of the venues. She joined the On Purpose Associate Programme in April 2017 and is currently working for Access - The Foundation for Social Investment. Sophie studied Business at the University of Bath.
Parita Doshi is the Client Services and Impact Director of Oomph! Wellness, a social enterprise whose mission is to improve the quality of life of older people. She has spent the last 3 years there working to scale up the operations, which now trains and supports over 1,500 care staff nationally. Prior to this she was part of the On Purpose Associate Programme and spent over 3 years working as a Financial Services strategy consultant at Oliver Wyman. She completed an undergraduate degree in Philosophy and Economics at LSE.
Please note, this is an event for Movemeon members only.

Organiser of From consultancy to social impact - panel discussion with Q&A
Movemeon is an online platform founded by McKinsey alumni - dedicated to consultants and ex-consultants looking for post-consulting and freelance opportunities. We provide job offers, insight, career tips and networking opportunities. More than 4,000+ leading employers and 39,000+ members use our services worldwide.