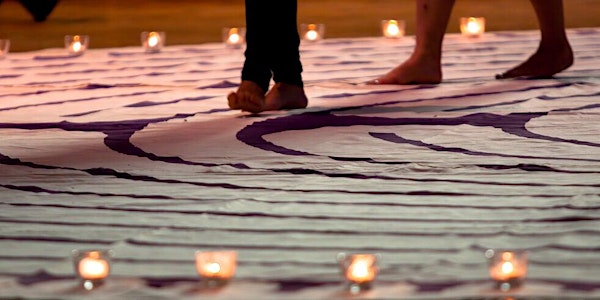 From Darkness to Light - Candlelit Labyrinth Walk and Sound Bath
Location
St Augustine's Event Centre
Junction of Standford Avenue and Florence Road
Brighton & Hove
BN16EA
United Kingdom
Refund policy
Refunds up to 1 day before event
Eventbrite's fee is nonrefundable.
Sales Have Ended
Ticket sales have ended
If you'd like to be notified of future Labyrinth Walks sign up for our newsletter at https://centreforspirituality.org/weekly-events/
FULLY BOOKED - JOIN WAITLIST BY CLICKING ON TICKETS Join us for a special evening of candlelit labyrinth walk, meditation and sound bath
About this event
Join us for a rich and special evening of candlelit labyrinth walk, meditation and sound bath, evoking in symbol, simple ritual, poetry, voice and music the movement from darkness to light.
Many spiritual traditions hold this period of the year as a time of waiting in the darkness and looking forward to the return of the light. In the Christian tradition, Advent means "the coming" and the anticipation of the Christ light emerging in the world. The evening is an invitation to connect to our inner light, the Divine Spirit, within each of us, which guides us on our life's journey, especially when the outer world can feel overwhelming and the darkness all too evident. Before we enter the busy time of December and preparation for Christmas take a couple of hours to pause, be quiet and reflect. It is in silence that we find the gateway to the soul, that deepest part of ourselves.
There will be opportunity during the evening to transition, as you wish, between labyrinth walking, sound bath and meditative reflection using art materials. Labyrinth are inclusive, archetypal symbols that have been found in different cultures for over 4000 years. We will have a choice of two labyrinths to walk – a small 5 circuit labyrinth or a 7 circuit Chartres-style labyrinth. Labyrinths are circuitous spiral paths which lead us to a centre area; you walk the same path back out returning to the beginning.
Cathy Rowland will accompany the labyrinth walk with voice and music. Either before or after your labyrinth walk you can focus just on the Sound Bath experience. This involves lying down fully clothed in a relaxed state while being bathed in meditative sounds from a range of instruments, including Tibetan/Crystal bowls and voice. The sounds are contemplative in nature, and are intended to have a gentle, healing effect. Please bring a mat and a blanket if you would like to experience the Sound Bath as part of the evening.
No prior experience of meditation, sounds baths or labyrinths is required. We recommend you dress warmly for this evening as whilst St Augustine's is heated it is a former church and therefore probably not as warm as your living room.
We encourage you to wear a mask whilst walking the labyrinth in consideration of others. And we recognise that there are some people who are not able to wear a ask for medical reasons.
The café at St Augustine's will open at 8.45pm and the price of a hot drink, alcoholic or non-alcoholic drink is included in your ticket price if you would like to stay and chat after the walk.
John Watters and Cathy Rowland will be hosting the evening.
Cathy Rowland is a professional Music Therapist and Sound Therapist with many years' experience working in varied healthcare and community settings. She has a special interest in the healing qualities of sound and has been providing meditative contemplative music for the popular Labyrinth Walks in Brighton & Hove for the last 11 years.
John Watters is the Co-Founder of the Brighton & Hove Centre for Spirituality and has hosted labyrinth walks in church, community and organisational settings for 20+ years. His professional work is as a leadership consultant working across all sectors in the UK and internationally. John works with clients to co-create conditions to release the power and full potential of the human spirit within individuals, teams and whole organisations. He specialises in facilitating breakthroughs on complex issues and finding common ground in stuck and conflicted situations. John also leads retreats in-person and online .