Actions and Detail Panel
From Discovery to Impact - Innovation in Academia
Tue 19 September 2017, 17:00 – 20:30 BST
Description
***PLEASE NOTE THIS EVENT HAS NOW BEEN POSTPONED UNTIL TUESDAY 19th SEPTEMBER 2017, 17:00, VENUE TBC***
The University of Oxford 2013-2018 strategic plan starts with the vision to lead in research and education and foster a culture in which innovation plays an important role, with the ultimate goal to benefit society on a national and global scale. In line with this ambition, the University of Oxford ranked first in the 2016 Times Higher Education World University Ranking, demonstrating all-round excellence including commendable engagement with industry and technology transfer output.
In fact, Oxford is a leading center for innovation, producing more founders of billion-dollar startups that any other institute in Europe. Last year, twenty-one new spinouts were created from Oxford research alone, attracting more than £50 million in early-stage funding grants, investment and partnerships with pharma.
To explore the position senior Oxford researchers (group leaders and postdocs) and clinicians occupy in this equation, Innovation Forum Oxford, in collaboration with the Medical Sciences Division, brings together Oxford academics with facilitators of innovation, industry collaboration, and commercialisation to:
- Highlight opportunities to engage with industry
- Deliver practical knowledge on how to commercialise ideas within the university
- Learn how to seek funding (grants and investment opportunities) and hands-on support and advice for translation of research-based ideas
- Be inspired by the experience of fellow group leaders who successfully commercialised their lab-based findings and established rewarding industry collaborations
- Create a platform for interaction between scientists, clinicians, and industry partners to foster translational collaboration
Target audience: Group Leaders, Postdoctoral Researchers, and clinicians
When: 3pm Thursday 4th May 2017
Where: Lecture Theatre, Richard Doll Building, Old Road Campus
********************************************************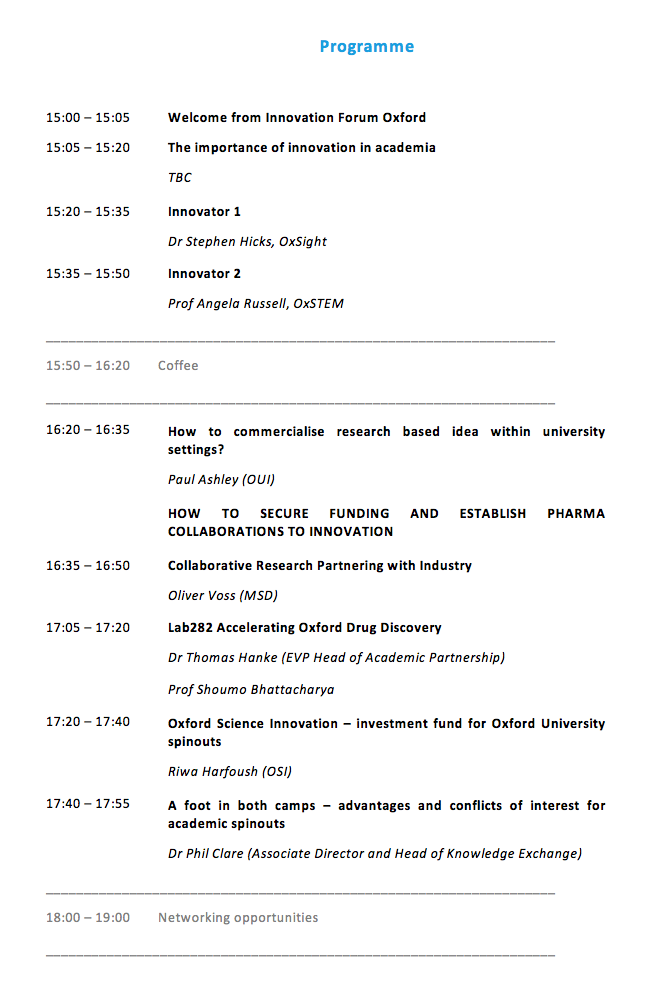 ---
SPEAKERS' BIOGRAPHIES
Professor Sir John Bell GBE, FRS

Professor Sir John Bell GBE, FRS is Regius Professor of Medicine at Oxford University, and Chairman of the Office for the Strategic Coordination of Health Research. He served as President of the Academy of Medical Sciences from 2006 to 2011. As a Rhodes Scholar (1975-78), Sir John undertook his medical training in the UK and then went on to Stanford University, returning to the UK in 1987. His research interests are in the area of autoimmune disease and immunology where he has contributed to the understanding of immune activation in a range of autoimmune diseases. In 1993, he founded the Wellcome Trust Centre for Human Genetics, one of the world's leading centres for complex trait common disease genetics. In 2001, he was appointed non-executive director of Roche Holding AG and in 2008 he joined the Gates Foundation Global Health Advisory Board which he has chaired since 2012. Sir John was responsible for the working party that produced the highly influential Academy of Medical Sciences "Strengthening Clinical Research" report that highlighted the need for the UK to focus some of its attention on developing expertise in translational research. In December 2011, Sir John was appointed one of two UK Life Sciences Champions by the Prime Minister. He sits on the board of Genome England Limited and chairs its Science Advisory Committee. He was appointed Knight Grand Cross of the Order of the British Empire (GBE) in the 2015 New Year Honours for services to medicine, medical research and the life science industry.
Professor Shoumo Bhattacharya, BHF Chair of Cardiovascular Medicine - University of Oxford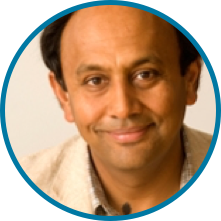 Shoumo Bhattacharya is BHF Chair of Cardiovascular Medicine. He studied medicine at the All India Institute of Medical Sciences in New Delhi, trained in cardiology at Northwick Park and Hammersmith Hospitals, where he was also a MRC Training Fellow with James Scott. He followed this with Fellowships at the Dana-Farber Cancer Institute with David Livingston, and was then a Wellcome Senior Fellow at Oxford. His primary focus in the last few years has been the development of novel therapeutics and targets.
Dr Thomas Hanke, Executive Vice President, Head of Academic Partnerships - LAB282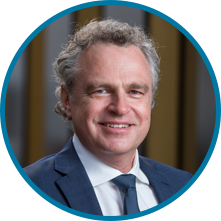 Since December 2016, Thomas is overseeing a growing portfolio of strategic academic partnerships at Evotec, spearheaded by LAB282 in Oxford. From November 2013 to November 2016, Thomas was responsible for scientific advancement and commercial licensing of Evotec's preclinical R&D projects in the areas of inflammation and immuno-oncology, with a particular focus on building high-value, performance based drug discovery alliances with academia and pharma.
From 2007 to 2013, Thomas was Sourcing Director at the Biopharmaceuticals Research Unit of Novo Nordisk, where he identified and evaluated partnering opportunities related to compounds, targets and technologies within haemophilia, autoimmune/inflammatory diseases, growth disorders and protein technologies. At Novo Nordisk, Thomas initiated agreements with academic institutions and biotech companies both in Europe and the US.
Prior to joining Novo Nordisk, Thomas was co-founder and Chief Scientific Officer at the German biotech company TeGenero, where he headed the R&D efforts to develop first-in-class immunomodulatory monoclonal antibodies (2002-2007).
Preceding his entrepreneurial activities, Thomas was group leader and Assistant Professor for Immunobiology at the University of Würzburg (1999-2002) following a PostDoc at the University of California in Berkeley where he researched basic cellular immunology (1996-1999). Thomas received his Ph.D. in Biology from the University of Würzburg in 1995. He is (co-) author of approx. 30 scientific papers in peer-reviewed journals.
Today, Thomas has 20+ years of experience in research and drug development in academia, biotech and pharma. Fostering innovation and continuous improvement, Thomas manages cross-functional teams as an assessor / developer, sets directions and builds trust in a company.
Riwa Harfoush, Head of Network Intelligence - OSI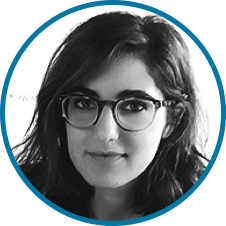 Riwa leads Network Intelligence at Oxford Sciences Innovation, an investment company focused on turning world-beating IP from the University into enduring companies.

Previously, Riwa co-founded a think tank and special projects agency focused on the intersection of Technology and Culture. She is co-writing a forthcoming book and recently taught an MBA course at Sciences Po in Paris on Innovation and Disruptive Business Models.

She was Head of Innovation Growth Strategy at global Innovation and Foresight firm Idea Couture, before taking on the role of Managing Director for the MENA business. In her 5+ years with the firm, she was dedicated to helping Fortune 500 organisations prepare for and shape the future, from defining the industries of tomorrow to designing strategies to capture disruptive growth.
Paul Ashley, Head of Technology, Life Science - OUI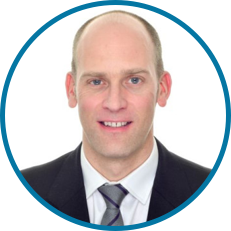 Paul is the Head of Technology Transfer, Life Science at Oxford University Innovation. With an undergraduate degree in Zoology, Paul worked as a curator for SeaLife Centres public aquariums before completing an MRC and industry sponsored PhD CASE studentship studying behavioural and physiological correlates of stress and depression. A postdoctoral research fellow position then followed, conducting research into behaviour and neurophysiology correlates of pain.
Paul then became the CEO of a spin-out company, commercialising remote monitoring and biotelemetry technology developed at the Defence Science Technology Laboratory. Following this, Paul took up a role at AstraZeneca as a member of the management team at the company's environmental risk assessment facility. Paul joined Oxford University Innovation as a Deputy Head of Technology Transfer in July 2011, leading a team focussing on Medtech and Diagnostic technologies. Paul has played a significant role in the creation of 13 spin out companies, led negotiations on >35 licence agreements and managed some of the largest OUI revenue streams. Paul has also been the OUI strategic relationship lead with MRC, CRUK, AMRC, Wellcome Trust and BBSRC. Paul is a board observer for 3 University spin out companies, an OAHSN Diagnostic Advisory Council member, a steering committee member for The Oxford Centre for Drug Delivery Devices (OxCD3) and a Praxis Unico conference committee member.
---
SUPPORTED BY: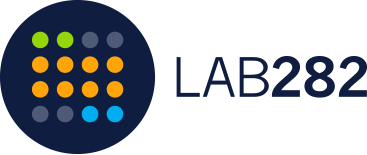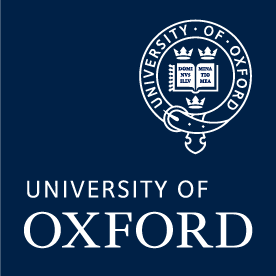 INNOVATION FORUM PARTNERS: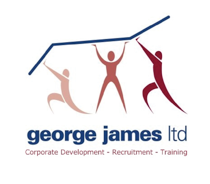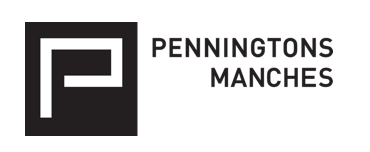 INNOVATION FORUM OXFORD LOCAL PARTNERS: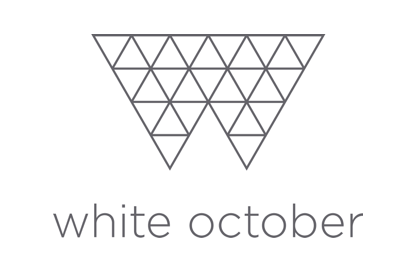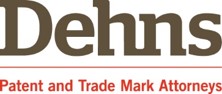 About the Innovation Forum
The Innovation Forum seeks to promote innovation by building bridges between academia, industry and government and linking innovative minds across disciplines. They are a global network of researchers and entrepreneurs active at the Universities of Cambridge, Oxford, London, Edinburgh, Copenhagen, Lausanne, Barcelona, Hong Kong and Tokyo. For more information, please visit: www.inno-forum.org