Description
A networking event by the Interfaith Food Justice Network, with support from Nourish Scotland.
This event will bring together people who are concerned about food poverty in our country, to explore concrete ways in which we can change our food system for generations to come.
This event has 2 sessions: 4 pm - 7 pm and 5.30 /6 pm - 8.30 pm.
The Good Food Nation workshop will run twice and you choose when you book which time you'd like to attend. Please check programme below before booking
A delicious vegetarian meal will be available in the Gurdwara Langar hall. If you are coming to the later session please arrive early at 5.30 pm if you can in order to have a bite before the event begins.
**unfortunately food will not be available after the event closes as previously advertised.**
See etiquette details below.
The building is wheelchair accessible.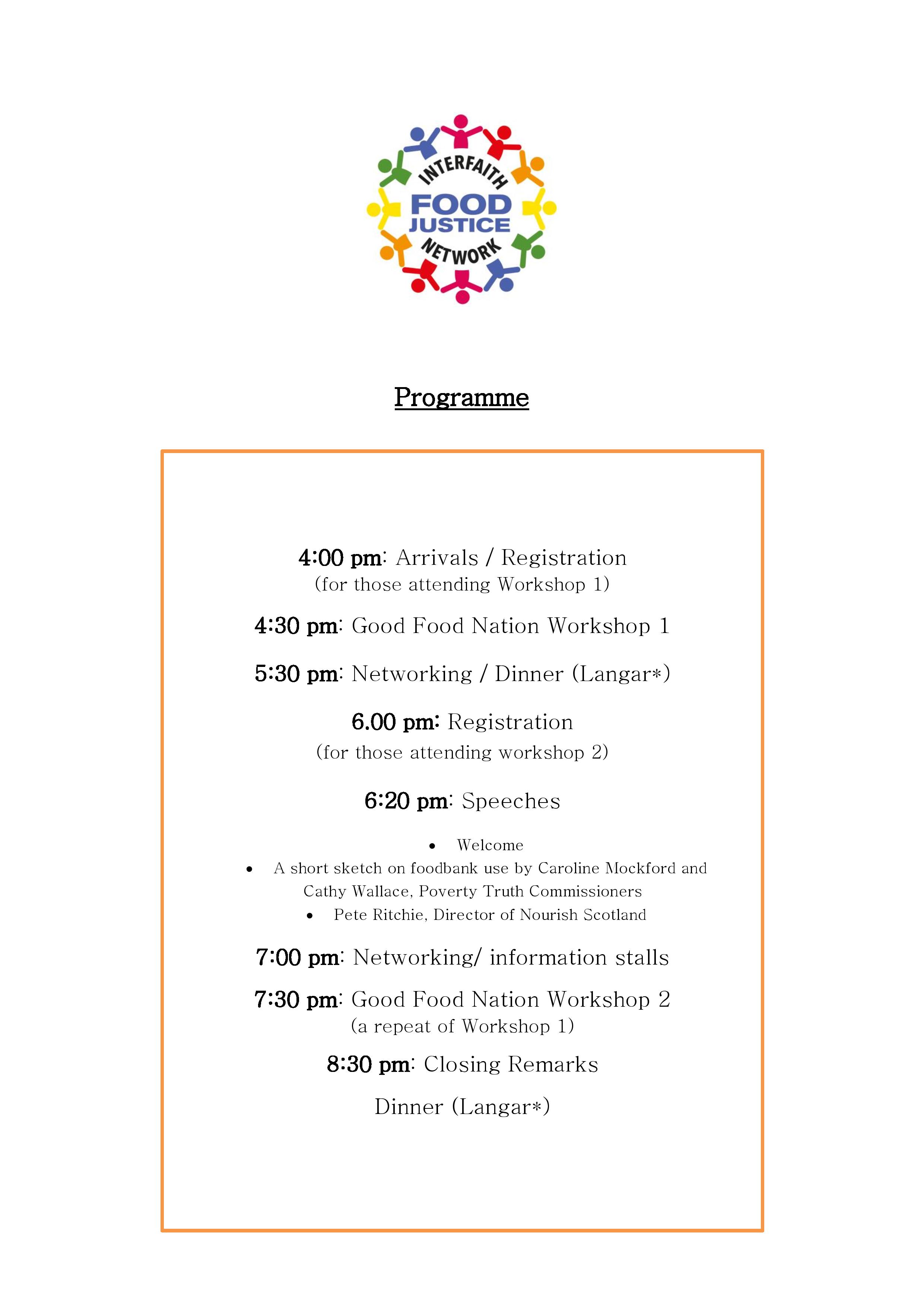 Good Food Nation Workshop
---
Nourish Scotland will deliver the workshop giving an introduction to the Scottish Government's Good Food Nation consultation (closes 29th March) which, we think, offers a once in a generation opportunity to change our food system. This will be a chance to get to grips with the key issues and discuss the questions of the consultation together.
Dinner/ Langar and visitor etiquette
---
Langar is the term used in Sikhism for the community kitchen in a Gurdwara where a free, vegetarian meal is served to all visitors by volunteers. This traditional punjabi cuisine will be available throughout the event. People usually sit on the floor and eat together but there are also tables available.
Those attending the later session can either arrive early to eat before the speeches begin, or eat after the event closes at 8.30pm.
Before entering the Langar hall, people are asked to wash their hands, remove their shoes and both men and women are asked to cover their heads. Headscarves are provided and there will be volunteers present to guide you.
Visitors are asked not to bring alcohol or cigarettes into the Gurdwara.
Information Stalls
---
There will also be information stalls by organisations concerned with: community food; food poverty; food waste; food growing; and nutrition, including: The Soil Association; Oxfam Menu for Change; Nourish Scotland; Glasgow Community Food Network and more.
Background
---
This event builds on the launch of the Interfaith Food Justice Declaration back in November 2016, which states that:
"...Though from different traditions, we share beliefs that move us to action when people in our communities go hungry: access to food is a basic human right, and it is our duty and honour to do what we can to ensure everybody can access food with dignity..."
Declaration posters will be available to take away. Read/ sign the full declaration here.
Who is this event for?
---
We welcome people of all backgrounds from diverse cultures and religions including:
People involved in food initiatives of all kinds (community cafes, soup kitchens, foodbanks and more)
People who have experience of food poverty
Anyone who is concerned about poverty in our local commmunities
Anyone with an interest in or our food system and how it impacts on people and planet
Unfortunately, we will not be able to re-imburse travel expenses and there is no creche.