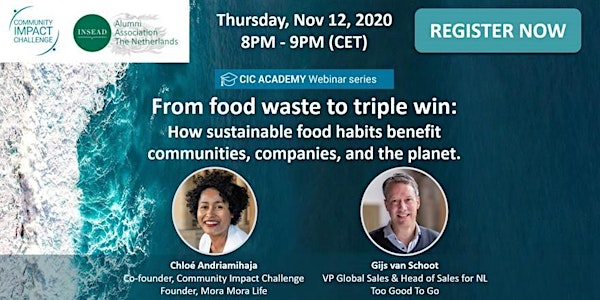 From food waste to triple win! WEBINAR Thursday, November 12, 2020
From food waste to triple win! WEBINAR Thursday, November 12, 2020
About this event
This event is organised by the Dutch INSEAD Alumni Association in collaboration with the Community Impact Challenge Academy.
In this intimate, casual, fireside-chat style conversation, two inspiring business leaders promoting sustainable food habits will lead a dynamic discussion on the prevalence of food waste.
The INSEAD alumna Chloé Andriamihaja (Co-founder of the Community Impact Challenge and Founder of Mora Mora Life) and Gijs van Schoot (VP Global Sales & Head of Sales for Netherlands at Too Good To Go) will explain how we can activate simple solutions - as individuals, inside our families and communities, and within our businesses.
Grab a glass and join us to find out more about how each of us can take small actions today to revitalize the planet.
About the Community Impact Challenge (CIC) and CIC Academy:
The Community Impact Challenge (CIC) is an INSEAD alumni-driven, long-term initiative, and aims to create a positive impact aligned with the United Nations' Sustainable Development Goals (SDGs). As part of this initiative, the CIC Academy creates and curates thought-provoking content to inform, engage, and inspire.
The new challenge - from 15 October to 13 December - is focusing on Sustainable Food Habits, with the view to reduce the carbon footprint of its food production, transport, and consumption.
Join the challenge to have a customised experience on the app which offers a mix of gamification, relevant facts and useful tips to support your food habit changes.
Organiser of From food waste to triple win! WEBINAR Thursday, November 12, 2020
Welcome to the Eventbrite homepage for the INSEAD Alumni Association in the Netherlands. The Dutch INSEAD Alumni Association exists to serve INSEAD alumni in the Netherlands. It is among the oldest INSEAD national alumni associations, and one of the largest in relation to the number of alumni.
Our objective is to strengthen the INSEAD experience after INSEAD, to build an alumni network through social and business events, to raise awareness of INSEAD in the Netherlands and to provide a communication channel between the school and the alumni.
Our events are only open to INSEAD NAA-NL members and members of other INSEAD National Alumni Associations.
By registering for this event, you agree that all photographs, video recordings, audio recordings and/or written contributions containing statements, images and/or voice reproductions of yourself taken or made in relation to this event can be reproduced and diffused in their entirety or in the form of extracts by INSEAD and/or its affiliated entities, and that INSEAD and its affiliated entities have the royalty free right and licence to use, reproduce, exhibit, publish, disclose and/or distribute such photographs, video recordings, audio recordings and written contributions in their entirety or in the form of extracts, irrespective of their format and of the audience.