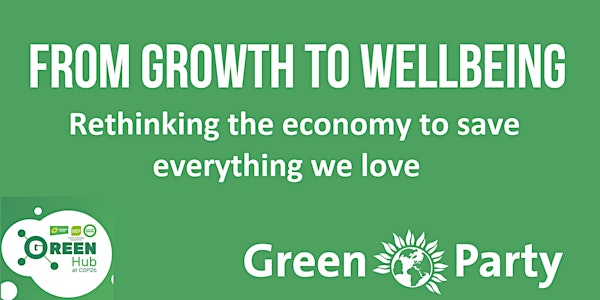 From Growth to Wellbeing: Rethinking the economy to save everything we love
Location
Renfield Centre
260 Bath Street
Glasgow
G2 4JP
United Kingdom
What would an economy that puts people and planet first look like, and how can we get there?
About this event
The elephant in the room at COP26 is the dogma of GDP growth. This event, chaired by Caroline Lucas MP, will explore how we can move from this destructive paradigm towards an economy that has human wellbeing and the flourishing of the natural world at its heart. Green parliamentarians will be joined by experts, campaigners and practitioners who are leading the transition to a new economy that puts people and the planet first – at local, national and international level. 
We'll explore what 'system change not climate change' really means and how people can get involved – especially in their local communities. We'll discover why transforming the economy is critical to addressing the climate emergency, and how to build support for the fundamental economic rethink we urgently need. We'll hear about inspirational alternatives to economics-as-usual already being implemented, such as doughnut economics, community wealth building, and the wellbeing economy.
Speakers:
Anne Marie Bihirabake, Vice President of the Burundian Green Movement, President of the Eastern Africa Green Federation, and co-convenor of the Global Greens working group for COP26 (tbc)
Guppi Bola, co-founder of Decolonising Economics, Chair of the Joint Council for the Welfare of Immigrants
Maggie Chapman, MSP for North East Scotland, Economy spokesperson for the Scottish Greens
Dorothy Grace Guerrero, Head of Policy and Advocacy, Global Justice Now
Amanda Janoo, Knowledge and Policy Lead for the global Wellbeing Economy Alliance: WEALL
Caroline Lucas, MP for Brighton Pavilion, Green Party of England and Wales (chair)
This event will also be livestreamed on Facebook here: https://www.facebook.com/Green-Hub-COP26-Glasgow-Live-111211524701156/