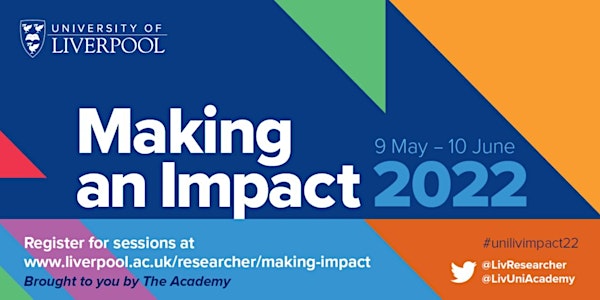 From Liverpool to Impact: Panel discussion on business development
A session with University of Liverpool Alumni sharing lesion from their outstanding careers.
About this event
What is it like to work with researchers and universities from the perspective of a business? Join a panel of Liverpool alumni who will share lessons from their outstanding careers in business, including entrepreneurship, tech transfer, investment, research and innovation in a global business, board level conversations and consultancy.
Presenters:
Peter Gallagher
Peter Gallagher A board-level FMCG R&D Executive successfully developing and executing breakthrough global business strategies with established and emerging technologies to deliver innovative product solutions. Peter is currently his own LLC consultancy covering multiple sectors: Foods/Personal Care preservation, tissue/organ regeneration (ex MiT start up), Biotech (new products from algal fermentation) and innovation models/strategy for Liverpool City Combined Authority and Alder Hey children's hospital. His final role in Unilever EVP for Strategic Sciences covering new technology development across a $60Bn enterprise. A broad based portfolio of creating new technologies across Unilever, developing new/digital models of working with outside partners and helping to pioneer modelling within R&D. Previously as VP for R&D Skin Cleansing, Peter led a global team of R&D Design experts, to develop the next generation of skin cleansing innovations. This involved the development of new technologies that bring to life new benefits for consumers. Recent important innovations that have been developed by Peter's team include Lifebuoy hand washing products and Dove Bodywash based upon a new revolutionary active system. Peter joined Unilever from University and started his career as a Hair researcher. Over the past 32 years, he has held a diverse range of roles, including a marketing position at Cheseborough Pond's in the US. He has been head of the Hair Care R&D Innovation Centre for South East Asia and China, based in Thailand, and Vice President of Skin Care for Europe, based in Germany. He was recently appointed a visiting Professor at Liverpool University and has recently become a Doctor of Science.
Bryan Bodek
Bryan Bodek Bryan Bodek is Chair of NovaBiotics Board, which he joined in 2009. He was previously Chairman of Trenchard Aviation and brings more than 30 years' experience of advising public and private companies in all aspects of their business.
Bryan's background is in corporate finance/company law and he has served on the boards of three public companies. He has significant experience in leading successful health care licensing/marketing deals and acted as Vice Chairman for University of Manchester tech transfer office for 9 years. Bryan is a qualified lawyer and was 2011 Ernst & Young U.K. Entrepreneur Of The year for business to business goods and services.
Mark Woorward
Mark Woodward studied Computer Studies and Industrial Management at Liverpool between 1984 and 1987. He joined start up business Solicitec, selling software to lawyers, became Managing Director at 27 and helped grow the renamed Visualfiles to be the largest supplier of Case Management software in the UK. He then sold the business in 2006 for over £20m and retired aged 40. Two years later he set up EW Business Development to invest time and money into start-up businesses in the North of England. Since then he has invested in eight businesses particularly focussed on green technologies. Having sold three of the businesses during lockdown for over £60m, he now spends most of his time with his new business Flotilla who help businesses measure and reduce their carbon footprint.
The Researcher Development Framework (RDF) attributes developed during this session are relevant to the following sub-domains:
Domain A: Knowledge and Intellectual Abilities
A1: Knowledge base
A2: Cognitive Abilities   
A3: Creativity    
Domain B: Personal Effectiveness
B1: Personal Qualities   
B2: Self-Management
B3: Professional and Career Development
Domain C: Research Governance and Organisation        
C1: Professional Conduct
C2: Research Management        
C3: Finance, Funding and Resources       
Domain D: Engagement, Influence and Impact
D1: Working with Others            
D2: Communication and Dissemination
D3: Engagement and Impact
Accessibility Adjustments and Alternative Format requests
If you require any accessibility reasonable adjustments or have any questions about this session, please contact the RSA at ResearchStaffAssociation@liverpool.ac.uk at least 7 days before the session date so that your requirements can be referred to the facilitator(s) who will make every effort to address them where possible.
Academy Researcher Development Inclusivity Statement
The Academy is committed to providing an environment which recognises and values people's differences, capitalises on the strengths that those differences bring to the institution and supports all staff and students in maximising their potential to succeed. In line with the Academy's firm commitment to equity, diversity and inclusion, we offer all postdoctoral and research-related opportunities to develop and network irrespective of a researcher's gender, ethnicity, age, self-identification, disability, religious affiliation, or any other criteria used to separate and define.
Academy Code of Conduct
All events organised or facilitated by The Academy follow a Conduct of Conduct irrespective of the number of participants or session format. The Academy thanks all participants in advance for your cooperation to help ensure a safe and constructive environment for everybody. The Code of Conduct is available here.
Important: We take your privacy very seriously and will only use your email address to send you information about this session and evaluating this session (unless you opt out during registration). After that, you can opt-out at any time of receiving our communication by simply sending an email to researcher@liverpool.ac.uk
Stay in Touch: For the latest news and information about research staff development opportunities and resources follow @LivResearcher & @LivUniAcademy on Twitter. Further details about the University of Liverpool's Researcher Development activities can be found here.