Sales Have Ended
Ticket sales have ended
Sorry, tickets have now sold out. Please join the waiting list and we'll be in touch should a space become available.
Sales Have Ended
Ticket sales have ended
Sorry, tickets have now sold out. Please join the waiting list and we'll be in touch should a space become available.
Description
Being a leader is different to being a manager – suddenly you're responsible for the direction and success of not only yourself and your team but also the wider business. Expectations are far higher and success or failure has more visible consequences.
Successfully stepping into a leadership role requires an advanced level of personal awareness and direction. Everyone has their own style of leadership, but how can you ensure you're on the right track to meet all the expectations? How can you play on your current strengths and easily identify and achieve short and long term development goals?
Propel your career forward by developing your leadership qualities. Understand how to build on your existing managerial skills and forge your own personal leadership path.
Join industry leadership expert Heli Heartland to develop your personal strengths so you can step up as an impactful leader to drive success through your team and business.
This workshop will cover:

The impact and value of leadership on a personal, team and business level.
Understanding who you are as a leader.
Creating success by setting expectations and delegating effectively.
Influencing and setting the course for your team and business.
Decision making: creating focus when making impactful leadership decisions.
How to unify your team to drive them forward around shared business goals.
You'll leave with:

Increased ability to develop your own leadership qualities, and those of your team.
An understanding of pitfalls and opportunities when taking on more senior responsibilities.
An individualised plan to help you set and achieve your personal leadership goals.
Clear direction on check in points to review your progression as a leader.
Greater confidence to lead, collaborate with and influence teams and senior peers.
Support your transition into leadership. Return to your office ready to drive your own career and shape your own leadership journey.
Speaker
Heli Heartland, Founder, Coach and Strategist at Rock Your World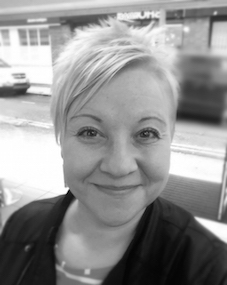 Heli is a high-impact, creative and analytical Coach and Trainer with background in strategy and client direction. With her cross-industry expertise from design and branding to research and innovation, a global outlook and a sharp intuition, Heli has the ability to create conditions for growth and success to people and business.
Heli works with design leaders to develop business by consulting and advising leadership and client teams on best growth strategy, new business opportunities, innovation, people decisions, and learning & development strategy and tools.
Heli also works 1-on-1 as a coach and mentor to help managers and leaders navigate through transitions, with focus on leadership development and personal growth. She volunteers as Executive Coach to the UK Marketing Academy and as Career Mentor to Aalto University's international graduates.
Over the past 20 years Heli has worked with and for a great range of corporates and small businesses across digital marketing, branding, open innovation and market research; including Moving Brands, Applied Works, NESTA, 100%Open, Nokia, TeliaSonera, Microsoft, O2, TNS, ESRO, Social Fabric, Publicsquare, Poke London, Hugo & Cat and GREY.
Additional information
Prices include VAT.
*DBA member traveller rate:
To make our workshops more accessible to those based outside London, we are offering a discount to individuals whose offices are located more than 60 miles from the DBA office (EC1V 9HX). If this includes you, please book using the rates above. We will then contact you to verify your postcode.
To see if your office is located more than 60 miles please click here.

When booking please provide the name of the person who will be attending the event - we will use this for their delegate badge and materials.

All DBA events and training courses are subject to standard terms and conditions which can be read in full here.
If you have any queries please email us at bookings@dba.org.uk or call 020 7251 9229.
Event image: © Dreamstime