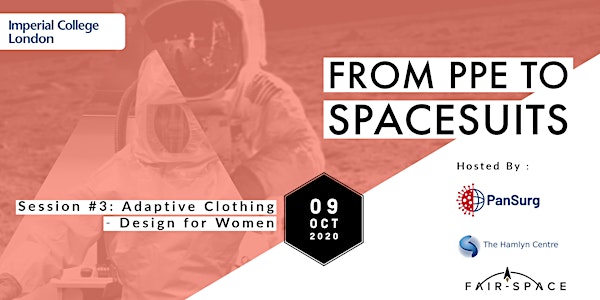 From PPE to Spacesuits #3: Adaptive Clothing - design for women
This is more-than-a-webinar! Join us for an out of the Earth conversation on inclusive design, from PPE to Spacesuits.
About this event
Are the current PPEs universally designed? Is a unisex three-size-fit-all design enough? Is universal design inclusive design? So much of PPE and spacesuit design and manufacturing is about standardisation, the truth is the human body is not standardised. One approach spacesuit makers take is to modularise to allow for customisation. How can the garments and equipment be designed for diversity in space and in operating theaters? Could the existing approach to designing PPEs by standard sizes be excluding the majority from the usage of such garments and equipment, rather than including?
Join us for 1 hour of inspiration and deep insights online. Our exciting line up of panellists will present their ideas and have a panellists discussion linking to moderated Q&A with your input.
Panellists:
1. Anne McClain, NASA Astronaut
Major Anne McClain is a Senior Army Aviator and has logged more than 2,000 flight hours in 20 different rotary and fixed-wing aircraft. She was selected in June 2013 as one of eight members of the 21st NASA astronaut class. Anne McLain most recently served as Flight Engineer on the International Space Station for Expedition 58 and 59. Expedition 59 crew contributed to hundreds of experiments in biology, biotechnology, physical science and Earth science, including investigations into small devices that replicate the structure and function of human organs, editing DNA in space for the first time and recycling 3D-printed material. McClain conducted two spacewalks totaling 13 hours and 8 minutes on her mission into space. She has spent a total of 204 days in space.
2. Nicole Stott, Founder of Space Art Foundation, Artist, Senior Technical Advisor to ILC Dover Inc, retired NASA Astronaut
Nicole is an astronaut, an aquanaut, a Senior Technical Advisor to ILC Dover Space Systems, an artist and the founder of the Space for Art Foundation.
As an astronaut, she has lived and worked in space as a crew member on both the International Space Station (ISS) and the Space Shuttle for a total of 104 days. Personal highlights of her time in space were performing a spacewalk (10th woman to do so), flying the robotic arm to capture the first HTV, painting a watercolor, working with her crewmates and the ground team on science that is all about improving life on Earth, and of course the view out the window.
She is also the founder of the Space for Art Foundation, bringing space and art together for children in hospitals and refugee centers around the world by sharing the awe and wonder of space exploration, the inspiration of Spaceship Earth, and the healing power of art .
Her first book titled "Back to Earth" is currently in work.
3. Daniel J Klopp from ILC Dover Inc, NASA's spacesuit (xEMU) maker
Dan holds a Bachelor of Science degree in Physics, Chemistry and Mathematics, along with an MBA degree with a concentration in Marketing. He spent the first 18 years of his professional career working for Hewlett Packard Company in a variety of roles with different product lines. After working for several other corporations, Dan joined ILC Dover in the role of Director of Product Marketing with responsibility for ILC Dover's Space Systems Division and Respiratory Personal Protective Equipment Division (along with several other product lines).
Dan is helping ILC Dover prepare for future human space exploration in low earth orbit and beyond, as well as helping improve the protection of healthcare workers and others working in hazardous environments here on earth.
4. Dr Arghavan Salles, Bariatric Surgeon, Scholar in Residence at Stanford School of Medicine
Dr. Arghavan Salles is an Iranian American bariatric surgeon in California. Dr. Salles' research focuses on gender equity, well-being, and the challenges women face in the workplace. From September 2016 to June 2019 Dr. Salles was an Assistant Professor in the Department of Surgery at Washington University, where her lab conducted research on gender bias and inequities in medicine. As well as researching and advocating for equity and inclusion, she is also an activist against sexual harassment in medicine and surgery. During the pandemic she has cared for COVID patients in the ICU in New York and Arizona and has shared her video diaries on WIRED magazine sharing her experiences (including some views on PPE).
Moderation
The event will be chaired by Stephanie Pau from The Hamlyn Center, Imperial College London, the producer of this series. Get in touch if it sparks new ideas for collaboration! stephanie.pau@imperial.ac.uk.
Links to the online event will be emailed to you on the day of the event. (Specifically, 8 hours, and then 30 minutes before the event).
Don't forget to sign up to this mailing list to get posted on all the other future events in this series: http://eepurl.com/ggr0GP
The series is funded by FAIR-SPACE hub (Future of AI and Robotics for Space), in conjunction with the theme on Human-Robot Interaction, for the future of Space. Production is co-organised by Pansurg, The Hamlyn Center, part of The Institute of Global Health Innovation at Imperial College London.