Hear about the exciting transition from neuroscience researcher to entrepreneurs from three speakers who have navigated it!
About this event
This event aims to inspire neuroscientists from any level to think about alternative career paths and how to use their unique skills and technical background to build a start-up. Hear more about this exciting transition from three successful neuroscientists-turned-entrepreneurs.
Speakers
• Matthew Phillips is the co-founder and CEO of Learney, which is a personalised learning platform for science and technology. Before that, he obtained his PhD from UCL Sainsbury Wellcome Centre and worked at DeepMind and Entrepreneur First.
• Sarah Hamburg is the co-founder of phas3, which is a boutique consultancy focused on Web3 technology. She previously obtained her PhD from the UCL Division of Psychiatry and worked at Capco and JP Morgan.
• Anthony Bourached is the co-founder and CEO of Oxia Palus which uses novel technologies to recreate lost artwork. He is also currently a PhD candidate at UCL Institute of Health Informatics.
Chairs
Juliana Sporrer; Max Planck UCL Centre for Computational Psychiatry
Alex Pike; UCL Institute of Cognitive Neuroscience
Attending
We will email attendees a link at least 24h prior to the start of the event.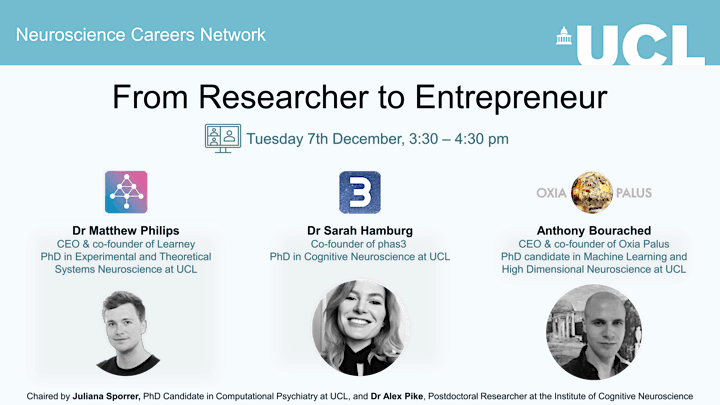 Organiser of From researcher to entrepreneur
The UCL Neuroscience Careers Network (NCN) seeks to promote the professional development of UCL Neuroscientists. The network provides opportunities for neuroscientists to meet their peers, to share ideas, experience and initiate collaborations. It also provides a platform for careers advice and the dissemination of information regarding jobs, training and funding opportunities. The NCN is organised by a committee made up of representatives from a variety of departments under the UCL Neuroscience Domain and includes both post-doctoral researchers and PIs.
For more information, please visit the UCL Neuroscience Career Network webpage.