From Surviving to Thriving - The growing phenomenon of self-employment and entrepreneurialism.

Monday, February 23, 2015 from 6:00 PM to 8:00 PM (GMT)
Event Details
Kick Ass Talks Presents:
How to go from Surviving to Thriving
Get your massively discounted ticket for just £10 today.
PLEASE NOTE ...only very few tickets will go at this price.
The full price on the door is £20.
The explorations of the growing phenomenon of self-employment and entrepreneurialism.
• What is it that drives people to give up the reliable nine-to-five to go out on their own?
• How do they cope with the challenges?
• What are the rewards?
With lots of vivid examples, Mike develops his theme in entertaining and informative style.
You'll walk away with:
• Your head full of strategies
• Tactics for navigating the exciting world of being your own boss
• Feeling confident on how to make the transition from being employed to self-employed.
Mike brings his drama and acting skills to all of his talks to create a highly entertaining and inspiring talk.
There are humorous anecdotes a-plenty mixed in with serious hardheaded advice for those venturing on the road of self-employment.
Frequently, there is audience participation – for those feeling brave enough(don't worry, you won't be picked on – but if you do fancy a moment in the limelight, you just might get it!)
About the Speaker
Mike is a former Drama Teacher and Actor. He's now running several small enterprises: he has a drama business producing plays and musicals, he coaches business people in presentation skills and organizes role playing exercises for corporations to give staff members confidence in a variety of professional situations.
He's a highly experienced public speaker. A former member of Powertalk International, he was winner of The All England Speech Competition in 2009.
Mike's acting roles have informed all of his performance work. He's played so many roles in his time that he's forgotten half of them. But they have included the lead in Macbeth, John Proctor in The Crucible and this year, he was Rudyard Kipling in a touring production of My Boy Jack.
Be prepared to be entertained, informed and inspired! 
Kick Ass Talks Presents to you: Mike Venables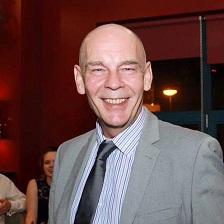 From Surviving to Thriving
This event is for you if:
• You are thinking about running your own business
• Have started you own business but unsure how to move forward
• If you are feeling stuck in your current role and want a change
• In need or inspiration or motivation

Format of the evening
18.00 – 18.30
Mingle & Network
18.30 – 19.30
Keynote Speaker
19.00 - 19.50
Q & A & Network
20.00
End

Purchase your ticket today to secure your super low early bird price!
What others have said about Kick Ass Events:

"The personal branding event that I attended was well organized and the topic was very relevant to me." Katherine Nthenge

"Kick Ass event are always informative, educational & a helpful way of building networking contacts & learning from each other." Maria Ramil

"Really enthusiastic and 'can-do' people who come to these events.""Very useful, all the speakers were very helpful." Denise Bennett
"Great event with topics that I've wanted for clarity. Good crowd and fabulous mix of personality. Would highly recommend and endorse a visit to a of Kick Ass Event." Sonia Consperl Irving
"Fabulous evening, very informative!"

"Very interesting and thought provoking. Also relevant to all businesses. Intimate and cozy chat so size of room was appropriate, good questions and excellent advice given." Leonora Babb-Benjamin
Have questions about From Surviving to Thriving - The growing phenomenon of self-employment and entrepreneurialism.?
Contact Kick Ass Talks
When & Where

Birmingham Open Media
1 Dudley St
B5 4EG
United Kingdom


Monday, February 23, 2015 from 6:00 PM to 8:00 PM (GMT)
Add to my calendar